Zoom funerals became popular during the Covid pandemic. Using online video conferencing technology, Zoom enables you to broadcast a funeral or other event without exposing attendees to Covid risk. Zoom funeral etiquette varies from in person attendance.
During the Covid-19 pandemic, people died as usual. Due to social distancing and other Covidprotocols, crowds of people could not gather for funerals and other end-of-life services to say goodbye to friends, family, and other loved ones. Online funerals captured on programs such as Zoom allowed mourners to participate without leaving their homes. Virtual memorial services also became popular as funeral directors helped grieving families adjust to what was happening in the world.
Due to the predominance of online live streaming, rules for Zoom funeral etiquette emerged to answer questions about how to participate, what to wear, and what to do.
Now that most parts of the world have opened up and allow in-person visitations and funerals, virtual events are still an increasingly common occurrence. People have realized that virtual funeral services allow distant relatives to participate and attend even if distance or other circumstances makes it impossible. Now elderly Aunt Sally from Omaha can be part of the funeral of cousin Millie in Pittsburgh without leaving her home.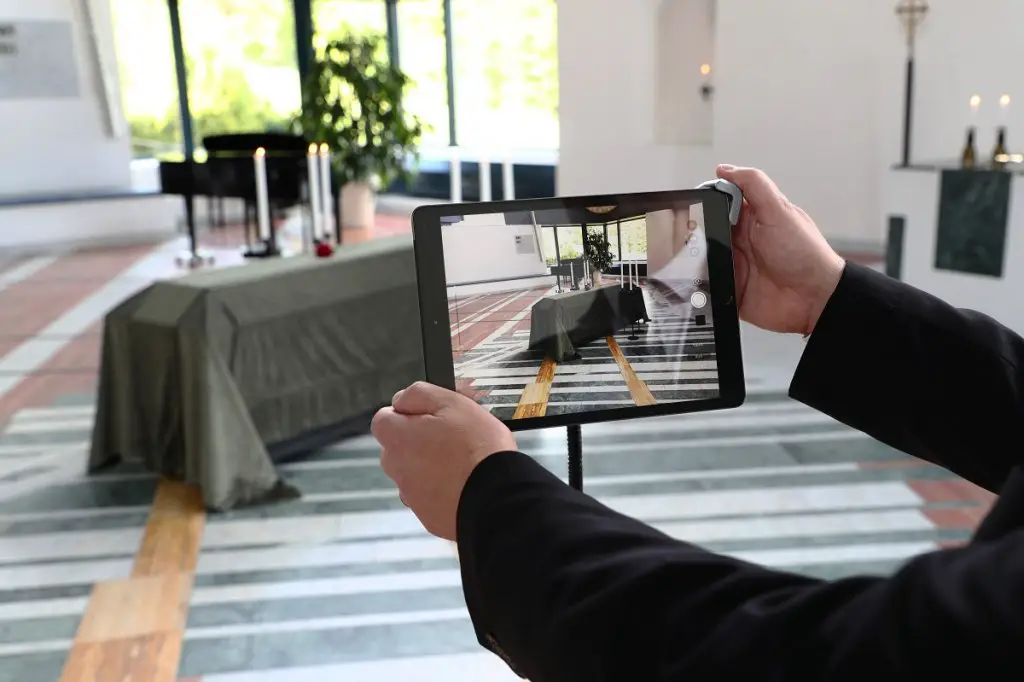 What Is A Zoom Funeral?
A Zoom funeral is a virtual funeral, visitation, or celebration of life that allows people who are not present at the funeral home or church to pay their condolences by attending an online event.
Although some people use the term Zoom as a generic term to refer to a virtual event, there are other types of virtual meetings. You can have a virtual meeting via Skype, Google Meet, Zoom, and other types of technology and programs.
How Is A Zoom Funeral Different From A Traditional Funeral?
Live streaming the service for people who are not present in person for a Zoom or other virtual funeral allows mourners to watch the online funeral on a computer, tablet, or cell phone.
As in a traditional in-person funeral, bereaved families and friends are all present in the same place, either a funeral home, church, or other venue. The family members plan a service, and those who can be in attendance come in person to the venue. It can be a formal church service, such as a Catholic Mass, or one performed by a funeral director. The only difference is that the event is now videoed to reach a wider audience.
The funeral home, church, or other venues need not be terribly tech-savvy in order to live stream the event, as the programs have become much more user-friendly. Technically, all you need is a webcam, a microphone, a computer, and the internet to send the service into cyberspace. For a quality presentation, the venue requires a strong wifi connection, quality lighting, and technical hookups such as outlets, extension cords, tripods, etc.
Funeral directors should be in the loop when you plan to live stream events. Many funeral homes can help orchestrate the process or even handle the video. They will need an NFDA funeral webcasting license from the National Funeral Directors Association to allow the broadcast of copyrighted music.
For those who need more help scheduling online events, especially for a large funeral, virtual funeral planning services, such as GatheringUs, offer beginning-to-end event planning, tech support, recording, invitations, thank-you notes, and coordination on the day of the funeral. The services run from $1,000-$3,000, depending on the duration of the event, day of the week, and the number of guests.
How Do You Set Up A Zoom Funeral?
When setting up a Zoom funeral, the family must decide if it will be a live stream broadcast on social media for anyone to watch or if it is by invite only. If the immediate family wishes to make it a very private event, they can put a post on social media and send invitations by email, text, and other methods. Friends and family can RSVP to receive the link to join the service. This ensures that only people you want to attend can view the service.
If you are not concerned about others seeing the service, you can live stream the event on a streaming program such as Facebook Live. Then anyone who is part of a group or has access to the link can join in.
To set up the service, the host needs the basic equipment (webcam, microphone capable of getting good sound, and a computer of some type) and adequate internet bandwidth to send the service across the internet. A good webcam can help to keep out unwanted background noise.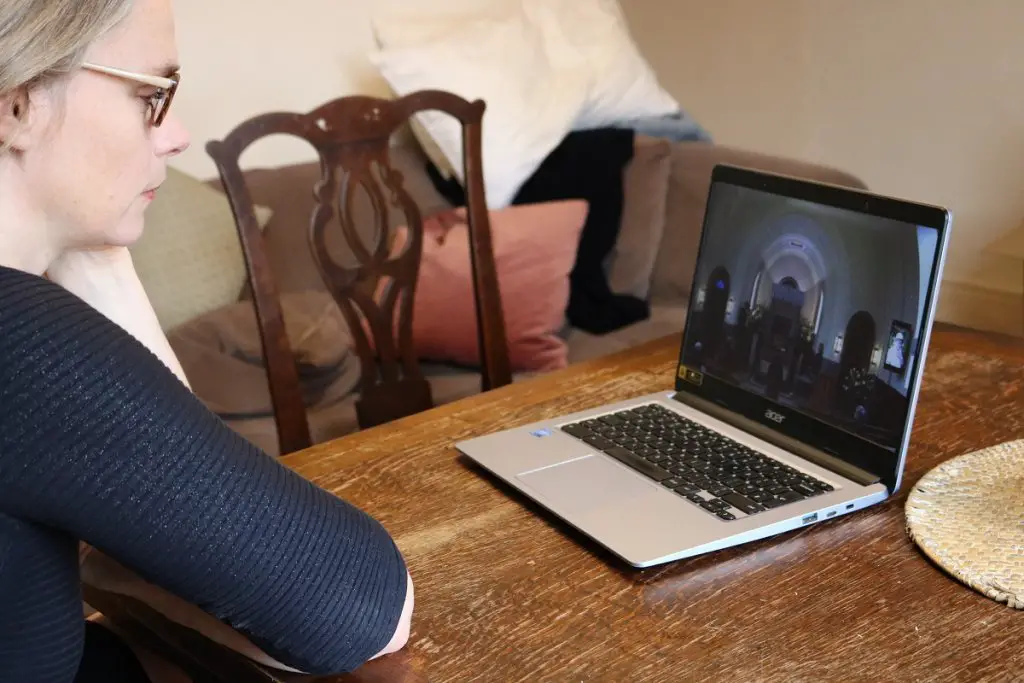 What Are The Benefits Of A Zoom Funeral Service?
A Zoom funeral service is a great option for people engaged in funeral planning.
Safe: With people concerned with the coronavirus and other pathogens, a virtual service enables people to attend and stay safe.

Ease: It is remarkably easy to plan and execute a virtual service.

Convenient: For friends and loved ones on the other side of the world or living far away, they can now attend a funeral they might not normally be able to attend.

Comfort: Sometimes, funerals can be very awkward events. A virtual service enables someone who might not feel comfortable going in person to pay their respects.
Are there downsides to virtual funerals? The biggest one is the possibility of technical difficulties.
How Do Guests Log In To A Zoom Event?
Guests are sent a link to a Zoom event from the hosts. As long as the guests have Zoom capabilities on their devices, either a computer, tablet, or phone, they can access the service through the link.
The link gives instructions for downloading Zoom and getting into the meeting.
How Do You Know Who Is Attending Your Zoom Funeral?
With Zoom, sending out virtual event invitations ahead of time allows you to know who is invited to attend your event. People should respond (RSVP) that they wish to attend. You can also have a virtual guestbook that people can sign.
At a Zoom funeral, guests can set their names when they sign in so that everyone else in attendance can see who is attending.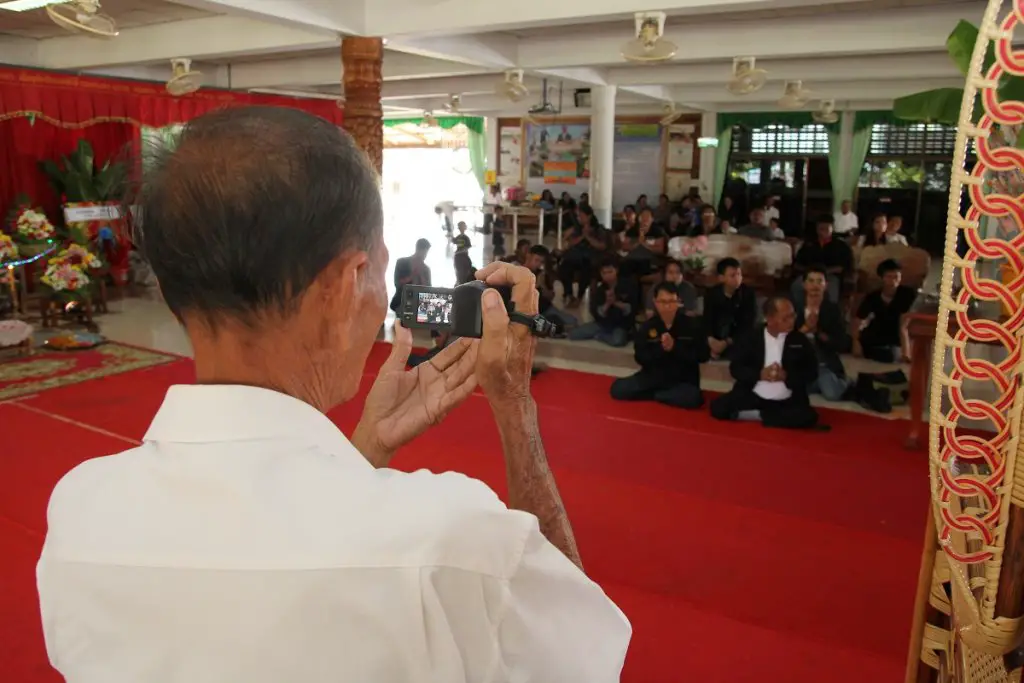 Can You Be Seen On A Virtual Funeral?
Whether you are seen or not depends on the type of event. In a Zoom meeting, you have the option to have a camera on you or not. Some people choose never to use a camera and just allow their initials or name to be shown. In other words, you can view a Zoom funeral even if you don't have a camera.
Sometimes the funeral is just live-streamed, and it is not interactive. In those cases, you would not be visible. That is not the most customary way Zoom is used, however.
Can You Speak At A Zoom Funeral? What About Your Guests?
Those planning a Zoom funeral can include speakers from anywhere if they so desire.
Someone from afar might deliver the eulogy virtually for a Zoom funeral or visitation. For a memorial service, you might invite people to say a few words or share memories about the deceased.
The format of the service is up to those planning it. If you want to allow people to speak and have a large group, one way to do that is to have people say they want to say something in the Zoom chat log. Notifications are sent, and the host can acknowledge people waiting to talk one at a time. That would ensure everyone who wishes to speak gets the chance.
If you plan to speak, be sure you are in a place void of background noises. Avoid having music playing or things going on in the room, such as a dishwasher running.
Sometimes the officiant will mute everyone in attendance until after the funeral portion is finished to ensure there are no distractions.
Zoom Funeral Etiquette – Is There A Dress Code?
When attending a Zoom funeral, what should you wear? You should dress in business casual apparel if you have a camera and plan to be visible. If you do not have a camera or have no plans to use it, you could dress however you are comfortable. In other words, there is only a dress code if people will see you.
As you choose clothing, plan not to wear anything too flashy or distracting. Think about dark, somber, conservative clothing like you would wear to an in-person funeral.