Pre-planning your funeral is one of the best gifts you can provide your loved ones after your passing. A funeral planning checklist will ensure your wishes are followed and prevent many financial and emotional stressors.
Death silences even the most vocal of people but pre-planning your own funeral allows you to make your final wishes known. When you pass from this life, having made many of the decisions about your arrangements takes the burden off your loved ones at a difficult time. If you prepay some expected expenses, you also alleviate the financial stress of funeral planning.
Pre-planning also allows you to put your stamp on the proceedings. This can be especially important if your religious or personal beliefs vary from those likely to plan your funeral. Even those close to you might not be aware of all your preferences.
Though your plans might not be legally binding, you can hope that your family will respect your wishes. Planning a funeral involves making up to 75 large and small decisions, so pre-planning on your part helps those around to carry out your plans.
Many funerals will have easy-to-follow funeral planning guides, but we've boiled hundreds of guides down to this thorough funeral planning checklist.
Gather Information To Aid In Planning
When you pre-plan your funeral arrangements, you should come prepared to provide the following information:
Personal Information
Your full name
Your father's name
Your mother's maiden name
Your level of education
Your social security number
Affiliations
Fraternal organizations
Service organizations
Union memberships
Any special recognitions you have
Military Service Information
Military service
Branch rank
Date of enlistment
Date of discharge
Name(s) of war/conflict(s) toured
Serial number
The information you provide to the funeral home will be needed when they need to order death certificates, help you file for benefits, file insurance claims, and publish your death notice or obituary. These items should be kept among your important documents so that your family can find them should they need them.
In the video below, Funeral Fundamentals' expert discusses how to prepare for a funeral pre-planning session and what documents are necessary to start the process of planning your funeral.
You should also provide the funeral consultant with the contact information of a family member or other responsible person in case they cannot reach you.
Tackle the funeral pre-planning checklist below, and you'll find peace of mind that your wishes will be followed.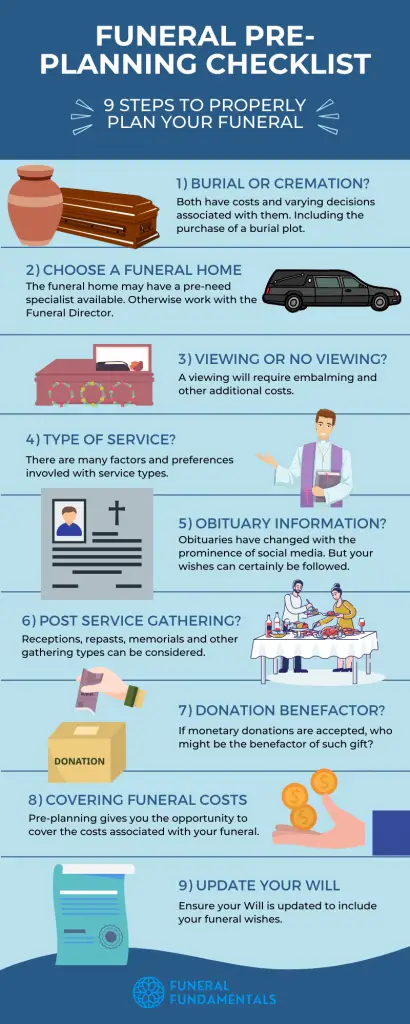 What Is Your Overall Plan For Your Funeral?
When you get married, you can do so at the city hall or the Palace Hotel in New York City. In either case, you'll be married, but the amount of fanfare will vary, and the resulting bill will differ by thousands. The same principle applies to laying you to rest.
After you die, what do you want to be done with your remains? Do you want to be buried in the family plot or cremated with your ashes spread over the waters of a favorite lake? Do you want a small gathering of family and friends, or do you anticipate a large crowd of mourners? Do you want a viewing or a closed casket? Do you envision a religious service celebrating your life or a few words and a song proffered at the gravesite?
Sit down to make a concrete plan to share your vision with those charged with making the funeral arrangements. It would be helpful if you even decided who you want to lead any decision-making after you have passed.
Your Funeral Planning Checklist: 9 Steps For Funeral Pre-Planning

1. Do You Want Burial or Cremation?
Traditional burial has been the preferred method of disposing of the body for most people, while cremation was a less-considered and less-used option. Letting the body decay naturally is in line with religions that emphasize that man goes from "dust to dust," Many rituals – not to mention the entire funeral industry – developed around death and burial.
Times have changed. As of 2016, cremation rates exceeded 50% and are expected to rise to 64% by 2025 and 70% by 2035.
Why is cremation becoming a popular choice for more people today?
Many major religions such as Catholicism and Judaism once forbade it, but now only a few groups such as Mormons, Islamics, Eastern Orthodox, and Orthodox Judaism oppose the practice. Church attendance is slipping along with adherence to tradition, so people planning funerals are less influenced by religious doctrine,
Land is at a premium in many areas, so some consider burial a waste of resources. Burial also involves embalming the body using the toxic chemical formaldehyde, which can seep into the ground and pollute waterways. Green burial options are more environmentally sound, but you still occupy sometimes-scarce real estate.
Burial involves many components that increase the cost. Many of the expenses that raise that cost can also occur with cremation, but the cremation costs are a minimum of a few hundred dollars less, according to the National Funeral Directors Association. Direct cremation, where the body is burned without a viewing, can save thousands.
Burial ties a person's remains to a geographic location. At least 25% of Americans live more than 50 miles from their place of birth during their lives. If your place of death is far from a burial plot you bought in the past, transporting your remains across the country is very costly. Cremated remains are portable.
Deciding whether you want burial or cremation impacts many other decisions you need to make about your funeral. If you prefer cremation, you can still opt for the burial of your ashes in a cemetery.
If you're going to be buried, purchasing a plot in a cemetery or securing space in a mausoleum in advance ensures you a place there when the time comes. Your family will need to pay for opening and closing the grave and a headstone or plaque.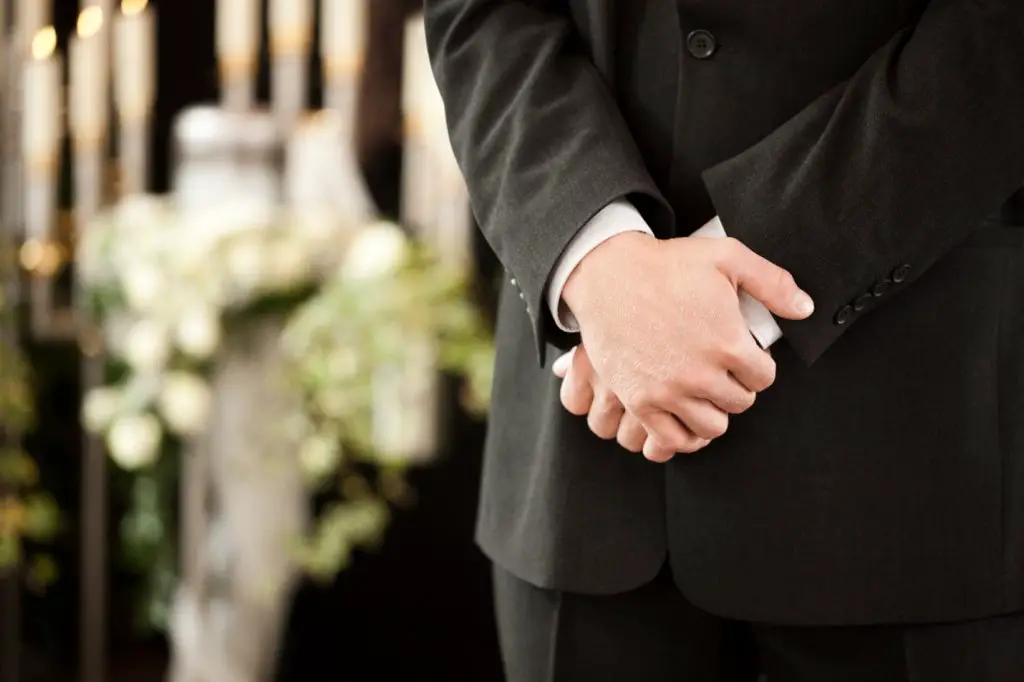 2. What Funeral Home Do You Want?
When a person dies, funeral homes do what is necessary to respectfully dispose of the body, whether by burial or cremation. Choosing one in advance will allow you to pick a convenient one that will provide the services you want at a reasonable price.
When you interview funeral directors about pre-planning your funeral, you should get a good sense of whether they are accommodating, sensitive to your religious or cultural needs, committed to customer service, and easy to work worth.
Funerals can be very costly, and the home should be transparent about its costs. The funeral consultant should offer you a price list of services and indicate what basics are required by law and upsells you might want to consider.
For example, local regulations might require you to be buried in a coffin, but a 24-carat gold-plated one is an upgrade you can live (or die) without if it exceeds your budget.
Many funeral homes today offer both burial and cremation services. They can discuss the comparative costs with you so you can decide.
If you want to prepay your funeral, you can do so at a funeral home or through a third party to lock in the costs of included items. The funds are held in trust until you pass. What you pay does not include the price of a cemetery plot, the repast, clergy fees, death certificate fees, transportation costs to the funeral home, flowers, or death notices.
Many industry experts agree that pre-planning your funeral is essential, but prepaying is not always a sound idea. Having a funeral insurance policy to cover costs is a safer and more flexible way to pre-fund your funeral.
3. Do You Want a Viewing?
Before burial or cremation, family and friends may share their condolences with the family at a visitation, viewing, or wake. The deceased's body is displayed in a closed or open coffin, which is finally closed just before funeral services and burial. If you do not like the idea of being displayed, you can request "no visitation."
While adding substantially to the costs, offering calling hours can provide some closure for visitors. If you don't want a public viewing, you can still have a private family viewing, even with a low-cost cremation.
Why is it costly?
To prepare the body for viewing, the funeral home must embalm the body, provide cosmetic and hair styling services, have staff on hand during the viewing and use space for the public viewing and the family.
They may buy flowers to supplement what others send, provide stands or tables for displays of photos and memorabilia, set out a memorial register or guestbook for visitors to sign, offer prayer cards or memorial cards to remember the deceased and provide equipment for slide shows and videos.
The costs for offering visitation are the same whether the body is destined for burial or cremation. However, embalming is not required if there is to be no visitation before cremation.
4. What Type Of Service Do You Want?
The funeral service is a ceremony that celebrates, honors, and remembers the deceased's life. While you can have a graveside service, most are held in a house of worship, lodge, or funeral home. You can even have a memorial service after cremation.
The services usually include readings from Scripture, songs, hymns, and musical performances by organists and soloists. Services held in a church might be accompanied by other rituals, such as a Catholic Mass or a final walk by the casket for visitors and the family before closing the casket for other denominations.
Someone who served in the military might want their family to receive a folded flag and have a 21-gun salute.
You can specify the rituals, music, and readings you want as you plan your service. If your religion differs from your family practices, pre-planning allows you to state your preferences.
You can specify a particular religious leader or another officiant to lead the service and establish who will handle arrangements, give your eulogy, serve as pallbearers, and perform other functions if you want.
If you choose cremation without visitation, you may want a memorial service rather than a traditional funeral.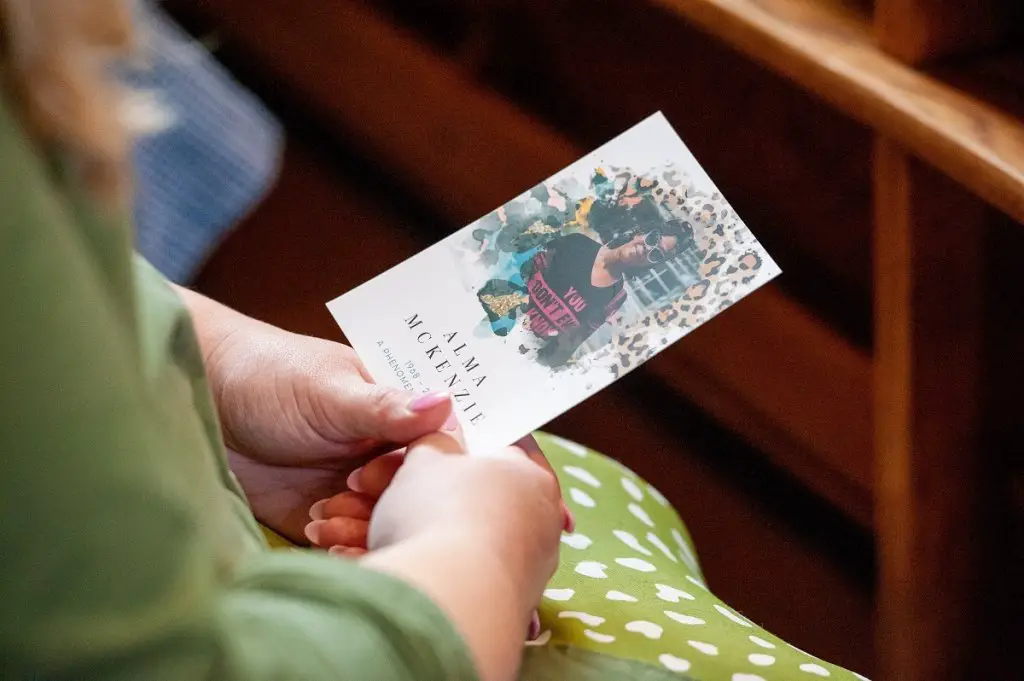 5. What Do You Want In Your Obituary?
Your obituary offers mourners a brief overview of your life. Containing more than the basic facts in a death notice, the obituary can impact a sense of who you were by including stories and anecdotes about you, along with an outline of your life.
Even if family members enhance your obituary, it is helpful if you prepare a draft with the pertinent details.
While newspapers used to publish long-form obituaries routinely, now many major newspapers only include more well-known people. An obituary will be helpful to for funeral programs for the service, funeral home websites, small-town papers, and newsletters published by organizations you belong to.
Many families run death notices in the paper, especially if they are announcing services. Both obituaries and death notices can be run on social media.
The prominence of social media has raised a new issue as the accounts go on forever unless it is closed. In your pre-planning, you can specify who will deal with your accounts to ensure they are not hacked. Every platform has rules for maintaining or closing the accounts of deceased members.
6. Do You Want A Gathering Afterward?
Many families offer a luncheon or evening repast to those who attend the funeral. If held at a church, a bereavement group may coordinate food donations, but the gathering can also be held at the funeral home, a restaurant, or a private home.
In pre-planning your funeral, you can state your preferences about whether to have a repast, where to have it, and what foods you might like served in your honor.
7. Do You Want Donations Directed to a Particular Charity?
When you die, close family and friends may want to send flowers or make a monetary contribution to your family or to a cause you hold dear.
For example, if you had cancer, you might prefer donations to the American Cancer Society or a local hospice to flowers. Or you might have a favorite organization such as Heifer that assuages world hunJude's St. Jude's that aids sick children.
You can make a lasting mark on the world by specifying a charity of choice.
8. How Will You Handle Funeral Costs?
This is often the most challenging part of the funeral planning discussion, but with some preparation and basic knowledge, you should have plenty of resources to help.
We highly recommend pre-planning and pre-funding your funeral for two primary reasons;
Your wishes will be clear, and you will prevent any confusion or complex decision-making for your loved ones.
You can take care of the financial burden off the shoulders of your loved ones.
Bonus Benefit: Another fantastic benefit of pre-funding your funeral is that your policy's price is locked in today and won't rise with inflation or price hikes between now and your time of death.
For more information about Funeral Insurance policies to pre-plan and pre-fund yours, click here.
The person you name as beneficiary would get the money you intended to pay funeral costs, medical bills, and any other debts and disperse the funds. This approach is more flexible than buying a prepaid funeral plan from a particular funeral home.
Any life insurance policy can be used to pay for a funeral, although some people buy final expense insurance policies to cover their funeral and end-of-life expenses.
Most funeral homes will wait for insurance payments to settle final bills. The funeral home may request a deposit because the insurance company takes six to eight weeks to pay out.
When pre-planning a funeral, it is best to verify that the funeral home will wait to receive your full payments from your insurance.
Social Security provides a small payment of $255 to the families of some deceased, but the amount does not make a dent in funeral expenses!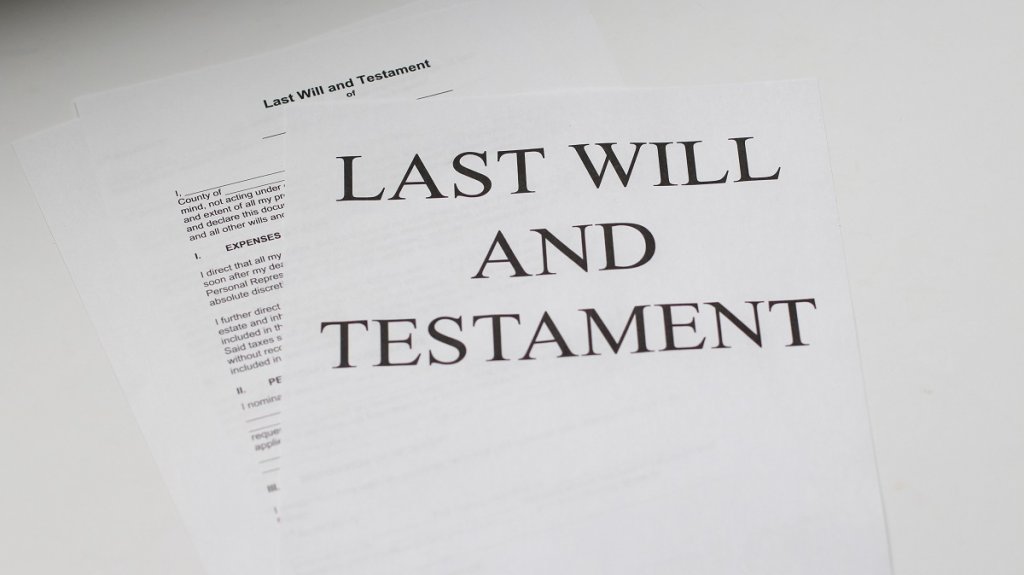 9. Do You Have A Will?
In addition to planning your funeral, you should also have a will that specifies who will handle your estate, manage your final affairs, and receive your property after you pass.
Funeral pre-planning does not negate the need for a will, which may be one of the most important documents you will ever create.
Without one, the ability to make decisions about your property goes to the state, which can take months or years to decide your case. Meanwhile, any funds remaining in your accounts will be frozen.
Having a will in place will make it easier on your family as you provide direction for distributing your property, finding a home for your pets, closing your physical and digital accounts, and carrying out your funeral the way you want it to be.