A funeral program that is handed out to guests contains the information about the funeral service and often the obituary of the deceased. Setting up a funeral program can be done by hand but templates available online and various software programs make the job easy and the results professional looking.
When mourners come to a funeral, having an usher hand them a funeral program serves as a guide to the service and a memento to keep, especially if it includes the obituary. The program should mention what will happen during the service and who is responsible.
Many templates are available to create the perfect funeral program.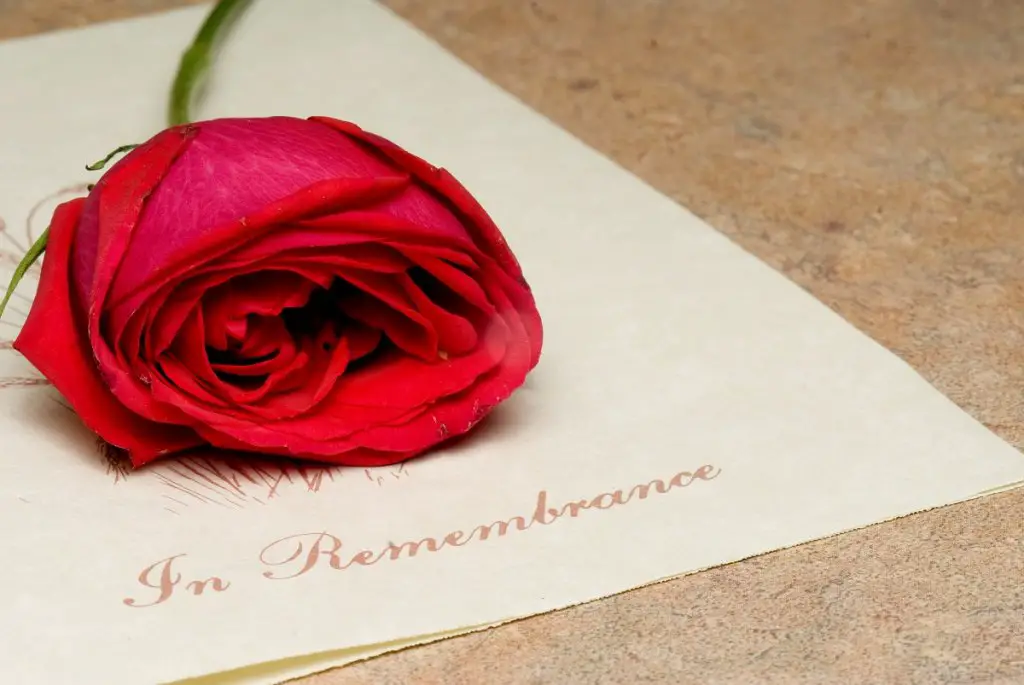 What Should Be Included In A Funeral Program?
As you work to create a custom funeral program, there are some things you should be certain to include.
Name: This means the full name of the deceased. Be certain to include the maiden name, if applicable.)
Important Dates: Be sure to include dates of both birth and death.
Times & Places: Funeral and burial information, including location and time, helps ensure everyone knows where to go.
Officiant: Whether it is a pastor, a funeral director, or someone close to the family, listing the officiant's name is proper etiquette.
Eulogy: Give the name of the person delivering the eulogy and relationship to the deceased, if you care to share that.
Survivors: Include any surviving family members and special friends.
Pallbearers: List the names of people serving as pallbearers and feel free to include the relationship to the deceased if you wish.
Readings for the service: Include titles and author if it is a poem or other reading, or a passage citation for a scripture.
Song titles and artists
Special groups, clubs, and organizations that were important to the deceased
Order of service: The outline will tell people what is going to happen and perhaps give directions as to whether they should sit, stand, or read in unison.
Extras to Include
You can add other things to the program if you wish. Some people include a brief bio on the person's life, like a longer version of an obituary. Placing some nice photos of the deceased is often done if you have room in the program.
The obituary might include places of employment, education, names of pets, or any other facts you want to share. Sometimes a particular group or organization has been extremely helpful to the family. You can add a thank you to these people in your memorial program if you want to. Commonly, people thank hospice groups, church groups, and close friends for their love and support.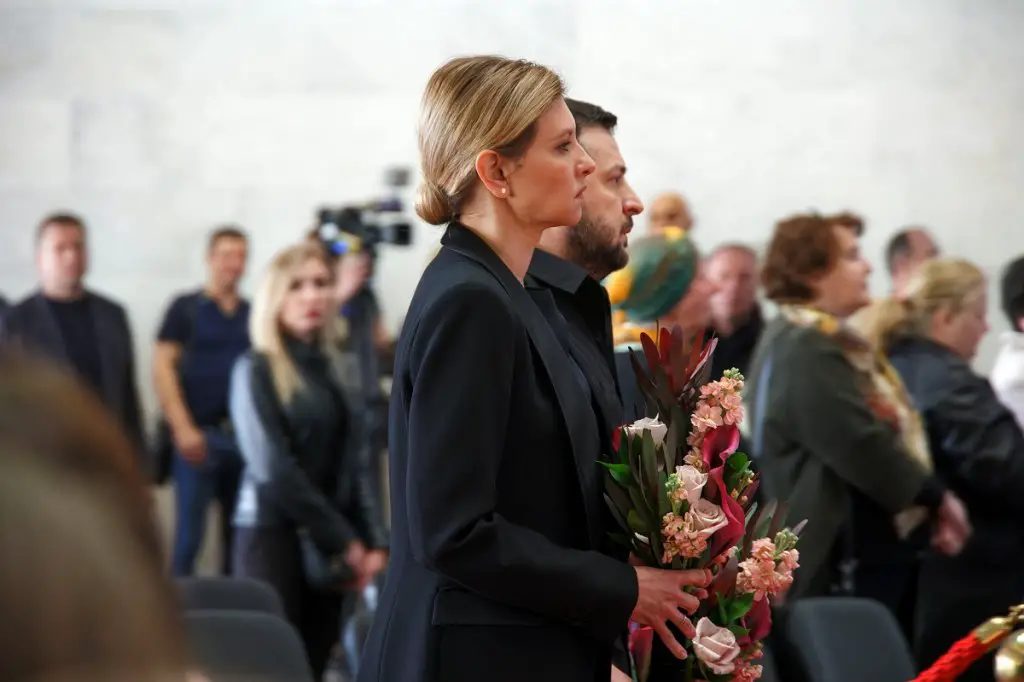 Structure Of A Funeral Program
There are many different ways to structure a memorial program. Keep in mind that for some people, the funeral brochure you create will become a valued keepsake.
While you can have a professional make your brochure, it is fairly easy to make a high-quality pamphlet on your own. These items can either be printed at your home and, if you don't have a good printer, there are many printing services available.
Your funeral bulletin should include a funeral order of service and other pertinent information. Much of the key information you should use are the items you included in the obituary. If you peek at the available obituary templates, you will have a good starting point.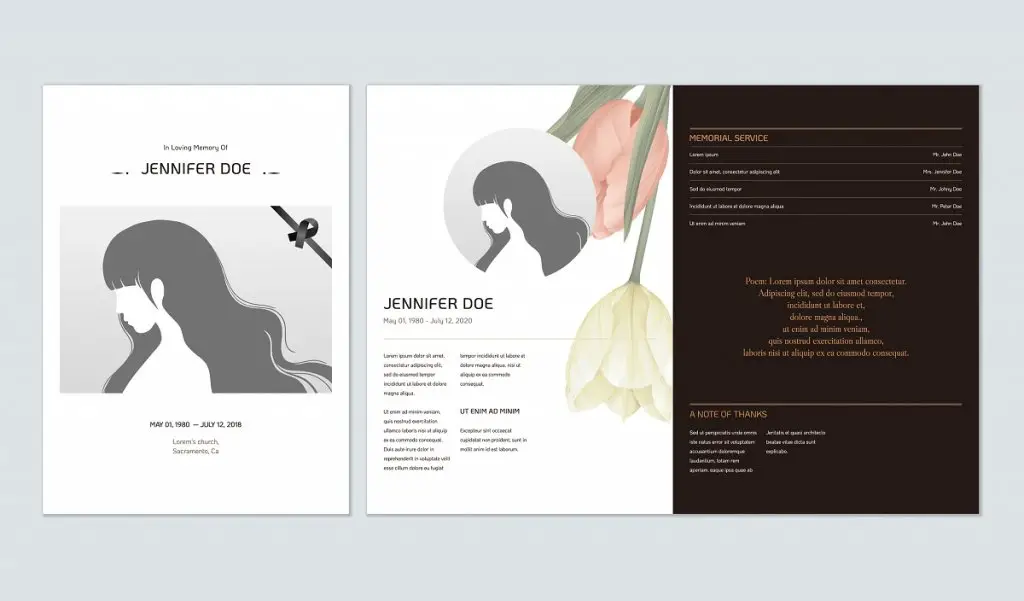 Available Templates To Use
Looking for a DIY way to plan, create and make the programs for the service of your loved one? Here are some options. While some do incur fees, there are also free options. Check out these websites to see some beautiful sample memorial programs.
Elegant Memorials: As you design your funeral program, you might want to consider a company that helps you create the program and offers immediate printing options.

Funeral Templates: You don't have to be a graphic designer to create your own program with this easy website. Once you do the designing, you will be supplied with a printable program.

The Funeral Program Site: No matter what layout you are looking for as you plan the celebration of life of your loved one, this site has options for you.

Etsy: Check out Etsy for another great option for a program for the memorial service.

Template Lab: This program has many free templates for those creating their program on a budget.

Canva: Another free option to use as a funeral program template is Canva.

Microsoft Word: If you have Word on your laptop you can create a funeral pamphlet without looking any further. However, many people find a template to be helpful.
Selecting The Template
When looking for the best template for the program you want, ask yourself some general questions. For example, can everything you want to include fit on a one-page pamphlet? Do you prefer a bi-fold or tri-fold brochure?
If you want to include a picture (or multiple pictures) on your memorial service program, be certain there are adequate spaces in the template you choose.
Is the font you prefer available in the program you are looking at? Also, you might want to see if they offer other services. Sometimes you can get memorial bookmarks and memorial cards, also called prayer cards, from the same company.
Customizing The Template For Funeral Programs
There are many great ways to customize your piece so that you get the perfect obituary program as you prepare to say goodbye to your dearly departed. As you customize the template there should be things you can change, such as the font, color schemes, images, etc.
There are many beautiful funeral poems and songs that you can include in funeral service programs. Adding these preferred details is just another great way to customize things in the memory program. Don't forget to pick some special photos to include in the program. You can include a short note explaining the date or context of the photo or just let it stand alone as an image.
A funeral service should be reflective of the person you have lost, right down to small details such as the program. If the template does not include the particular language you were hoping for, such as "in loving memory," check and see if there is a way to include them. Most template programs offer a lot of flexibility intentionally.