Many cremations are accompanied by cremation memorial services in a church or funeral home, at the graveside, or after the cremation. These services allow the family members of the deceased to memorialize them in a service that resembles a funeral with less cost but no less care.
When a loved one dies, one big challenge for family members is to find ways to celebrate the deceased's life while allowing others to grieve. If you've chosen cremation as the method of final disposition, pairing it with a memorial service is a thoughtful way to help family, friends, and other people who knew the departed to grieve together and have a sense of closure.
After the cremation and family members are left with their loved one's cremains, what then? What can you do with the ashes?
What Is Included In A Cremation Memorial Service?
A cremation memorial service is quite similar to having a funeral service. A memorial service can be held immediately after a cremation or at a later date.
A cremation with a memorial service does not require the presence of the cremated remains or cremains. However, many opt to place the urn on an altar or a simple table alongside a portrait of the deceased. Some faiths, such as Catholicism, require that either the body or the cremains be present at the service.
If you are preparing for a cremation memorial service, you need to consider the following:
Itinerary: Decide how the memorial services should proceed and who will participate in specific portions of the service.
Location: The memorial service can be held in a funeral home, a church, backyards, or other spaces you can rent.
Speakers: You may need to invite a pastor or a priest, depending on the family's religious affiliation. You can also ask family and friends to give eulogies during the service.
Music: Ask yourself if you need a choir or perhaps arrange a list of songs for the cremation memorial.
Guests: Factor in the number of guests that will come because this will determine the location and other provisions you need to prepare for the service.
Food: You can hire a professional caterer to prepare the food for you or ask family and friends to bring some food when they participate in the service.
Flowers: You must make necessary preparations ahead of time if you need floral arrangements for the altar, tables, and venue.
What Happens At Graveside Services?
Families who use any of the in-ground or above-ground methods noted below might wish to have services at the cemetery.
Graveside services for departed loved ones might have a ceremony that usually consists of prayers, readings, and eulogies before the burial of the cremated remains. A typical graveside service lasts for about 30 minutes.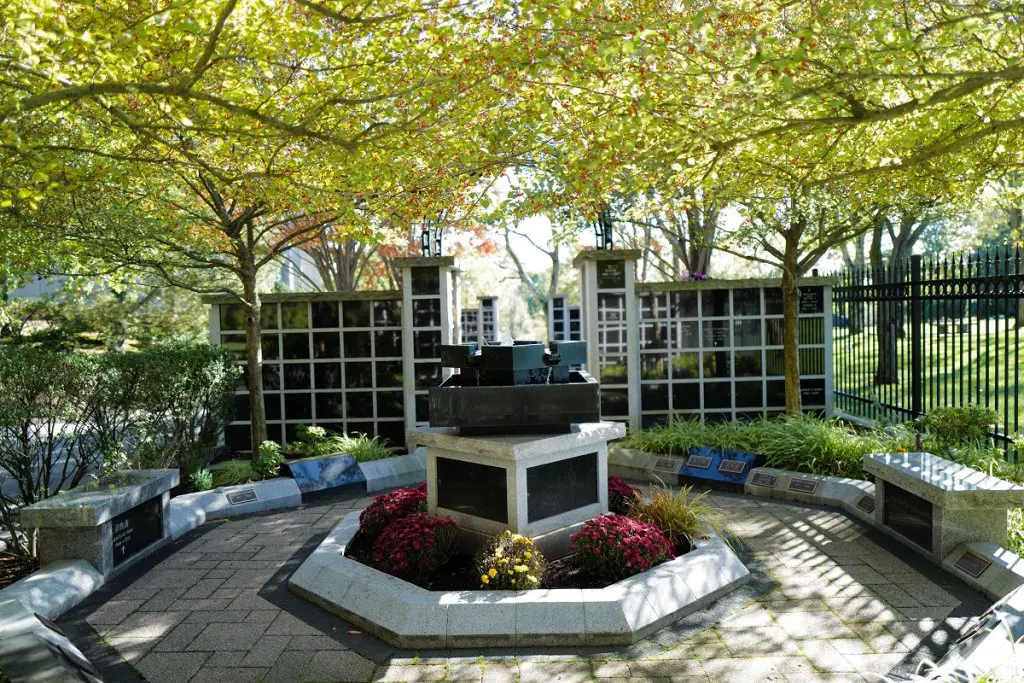 Traditional Ways Of Managing The Cremains
After a cremation, the family can display their loved one's ashes at home, but many choose to bury or otherwise display them after the crematory returns them. This usually involves purchasing an urn.
The crematorium will give you the loved one's cremains in a cardboard box or plastic bag. Many people chose to buy an urn to hold the ashes afterward for display or burial. Depending on the material used, a cremation urn may cost between $75 to more than $2,000. It can be made from marble, stone, ceramic, glass, metal, or eco-friendly materials such as clay, paper, or wood.
Burial Or Display Options
In-Ground Burial
Cremated remains can be interred in cemeteries in individual, side-by-side, or family burial plots.
With many families opting to bury the cremated remains of their loved ones, headstones are no longer just for traditional burials. If you want a headstone, permanent memorial, or cremation monument, you must plan ahead since it can take weeks to months to produce.
You need to choose the material to use, include details, and fulfill documentation requirements. Commonly used materials include marble and granite. Make sure to check cemetery regulations for monument specifications.
Future generations of your family can visit this permanent resting place to pay homage to family members who have passed on.
Columbarium or Lawn Crypts
Many families opt to inter the cremated remains of their loved ones in a columbarium which consists of small niches that may house one or multiple urns. They can be set up on a wall of mausoleums or as standalone columbariums in memorial gardens.
Some prefer lawn crypts or vaults in mausoleums as the final resting place of family members who have passed on may welcome both whole bodies and cremated remains in the crypt or mausoleum.
Memorial Garden
Many cemeteries offer space in their memorial gardens for cremated remains. You also create a similar space if you are burying the departed on private property.
If your dearly departed loved communing with nature, it would be apt to create a memorial garden in their honor. You can plant their favorite trees or flowers. You can also hang memorial wind chimes and light memorial candles to help you meditate and pray for them.
Install A Cremation Bench
If your loved one enjoyed the outdoors or has a favorite spot in the community park, you can sponsor a memorial bench in their honor. This cremation bench can be inscribed with their name, important dates, or sayings that will remind your family and friends about the kind of life they led.
Some benches have a space for your deceased loved one's remains built into the structure or in an urn compartment.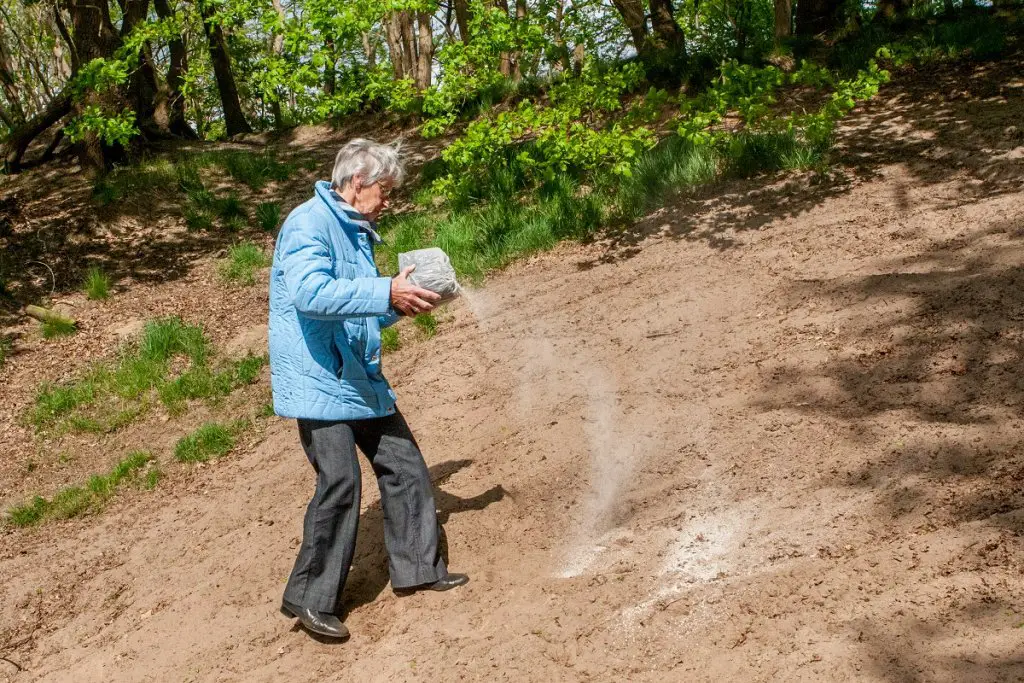 Scatter Cremation Ashes
Another popular way to honor a dearly departed loved one after the cremation is by scattering their cremains at a location that's meaningful to them. Some even travel to places dear to the deceased before finally scattering the ashes and saying their final goodbyes.
Combined with a direct cremation, this method can be the most economical method of laying the departed to rest. However, you can also have the ashes added to fireworks, so the deceased goes out in a blaze of color or even in bullets to give the deceased one last hunt.
Holding After-Cremation Or Celebration Of Life Gatherings
After-cremation and celebration of life gatherings might be held at a much later time, giving the family ample time to plan such events and decide how you want to celebrate the life of your departed loved one.
Celebration of life gatherings center on remembering and sharing stories of how an individual lived or how one brought joy to other people. These events are focused on happiness and not grieving one's loss. The preparation for such gatherings is similar to how you will plan a memorial service right after someone has passed.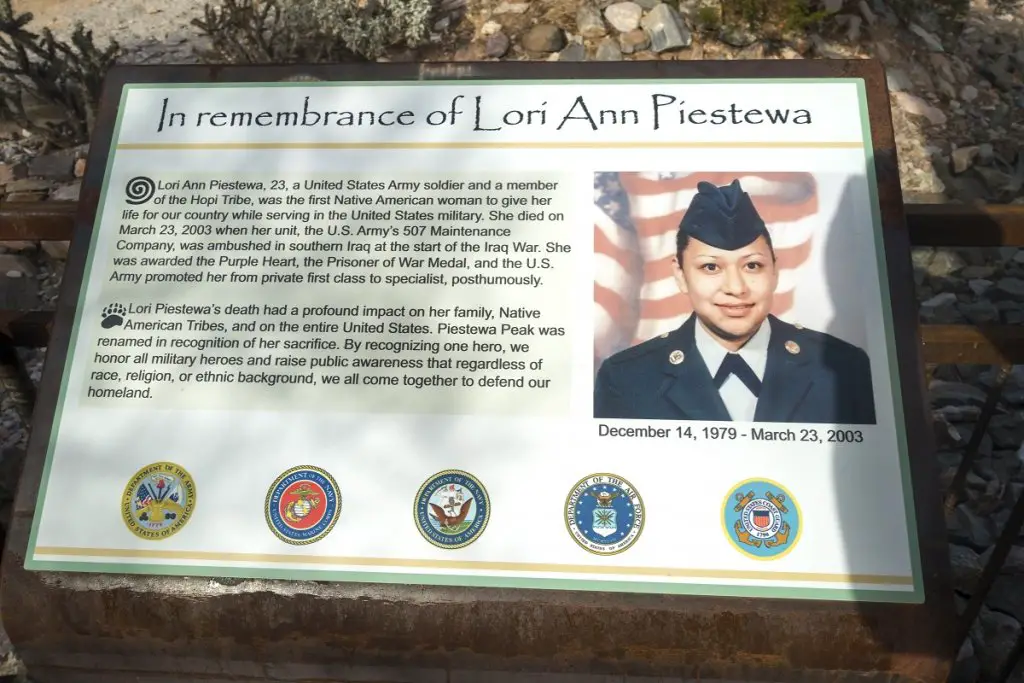 How Do You Memorialize Someone Who Is Cremated?
Memorializing the dead after the cremation has been a part of most cultures for centuries. There are countless ways to memorialize a loved one after their passing, which depend significantly on family traditions, religious practices, and local customs. Below are some best ways to memorialize a loved one who was cremated:
Custom Memorial Jewelry
Today, there are artisans and jewelry makers who can craft cremation jewelry to help you keep your dearly departed close to you. You can get pendants, bracelets, and other accessories that will keep a portion of the ashes of your loved one inside as cremation keepsakes.
Personalized Memorial Plaque
Memorial plaques can serve as grave markers or a sympathy gift you can give to other family members who want to remember the person who passed away constantly. It may include an image and a favorite quote that would reflect the life of the departed.
Donate To Charity In Their Honor
You can also support charitable causes dear to the loved one who just passed away. If their passion was feeding the hungry, helping sick people, or supporting less fortunate kids as they finish their studies, donations could continue to fuel it.
Establish A Virtual Memorial
You can also honor the memories of your dearly departed by creating an online memorial for them. This may be handy if the deceased has family and friends in other states or countries. You can include photos and share stories in the virtual space that people can visit anytime and anywhere as long as they have an internet connection.
Remembering The Family Pet
Many of the same practices of cremating, burying, and memorializing humans are also used for pets.
Generations of children may have buried a diseased cat or hamster in a shoebox, but cremation services with the remains entrusted to pet urns are very popular today. Many pet memorial options such plaques, stone, and jewelry can keep Rover close to the heart,