When planning a reception after a funeral or memorial service, the funeral food you serve should be tasty yet easy to prepare, store, and serve. It may be not be a full meal, although having a buffet-style funeral luncheon is common. The menu might include hot entrees, sandwiches, salads, desserts, and beverages.
Saying goodbye to your loved one often includes some luncheon. While the person was alive, you probably enjoyed having a meal with them, so saying goodbye in an atmosphere with food is perfectly fitting.
A funeral reception is often held after the funeral or memorial service. If the burial occurs right afterward, the repast starts once family and friends return from the cemetery. When the graveyard services are later, the event begins after the service.
The purpose of the reception is to honor the deceased, not to host a gourmet meal for hundreds. However, having foods the deceased loved and representing their culture is an excellent way to honor them.
Foods should be easy to make, serve, and store for the family and easy for guests to eat, as they may be seated at a card table or balancing their plates while standing in a crowded hall.
NOTE: You may come across the term Funeral Repass or Repast. These can be considered the same as a reception as they're often held after the funeral ceremony, serve food, and offer attendees the opportunity to celebrate the deceased's life in an informal setting. For more on funeral repasts, click here.
Planning Your Reception
Funeral receptions might be among the least formal gatherings accosted with other services, but they still require plenty of planning – mainly since food is involved. Here are some of the main concerns.
Where Will It Be Held: When planning the reception, you should decide where to hold it. The funeral home might have a place to hold a lunch, which is convenient if the services were there. If you are having a church service. You are usually able to reserve the parish hall for your luncheon.

If money is not an issue, you might want to lean towards a restaurant. After the funeral service, you can go to the venue where food preparation, service, and cleanup are all done for you. For a small crowd, a reception at home might be a convenient option.
How Many Do You Expect? It is also essential to know how many people to prepare for. Is your family large? Are you inviting only immediate family, or do you plan to make a public announcement for anyone who attends? The number of people you are planning for can help you to determine what to serve.

Should You Serve A Full Meal Or Just Appetizers Or Dessert? What you serve could depend on the time of day you expect the services to end. Please note that you are not likely to put on a full meal as a bereaved family. However, some families do choose to go that route.

Who Will Prepare The Food? If dining at a restaurant, all the work is done for you. Likewise, you can have someone cater for the event to put less work on you. If you do not have the financial resources to do that, you could likely get assistance from friends and family. Many families on a budget serve a funeral luncheon potluck style. Lastly, sometimes churches have committees that offer to pitch in and serve lunch for members of the parish who have a funeral.

Will it Be Served Buffet Or Served At The Table? People do not expect to be waited on at a funeral luncheon. Don't be afraid to serve the meal buffet-style in an informal atmosphere.

Budget? Please don't break the bank when planning the funeral meal. Your friends, family, and colleagues who offer help want to assist you during your time of need. Bringing food to the luncheon is the perfect way to let people help.
Funeral Foods To Serve
As you prepare the menu, don't be afraid to keep it simple. What you want are food choices that are delicious and familiar while being convenient to make and consume.
Catered luncheons might offer a choice of one or two meats, pasta, potatoes, vegetables, salads, and desserts. A sandwich tray might be included as well. Potlucks are by definition, varied, but the host usually tries to have guests bring a variety of dishes.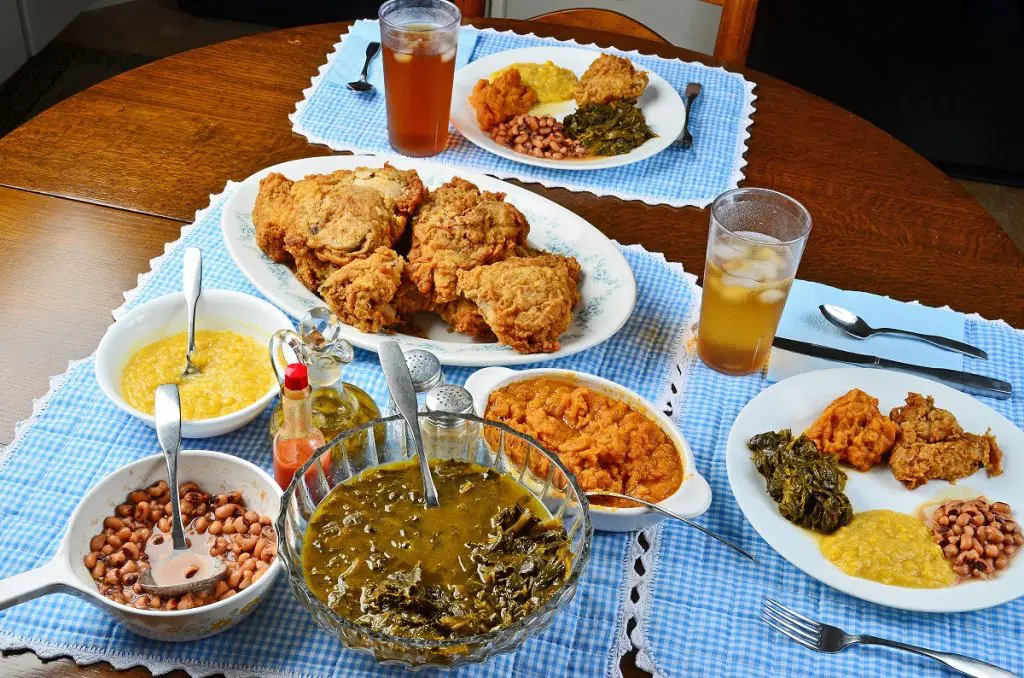 Those raised in the Southern tradition might expect fried chicken, macaroni and cheese, collard greens, cornbread, and sweet potato pie on the menu. To celebrate the deceased, a themed repast might feature Mexican, Italian, Middle Eastern, Chinese, or Greek food.
Here are some excellent food ideas to adapt to any cultural preferences:
Casseroles are always a good comfort food, precisely what a grieving family needs. Doesn't everyone have a special casserole recipe that they bring to potlucks?
Hamburger Casserole: Many casseroles are made with ground beef and macaroni. Multiple people can bring one of these, which will all be unique.
Tuna Noodle Casserole
Ham and Scalloped Potatoes
Baked Ziti
Green Bean Casserole
Potato Casserole
Main Dishes served with sides are worth considering as a central component. A protein source helps to fill people up.
Fried Chicken
Ham
Meatballs
Lasagna
Kielbasa and Sauerkraut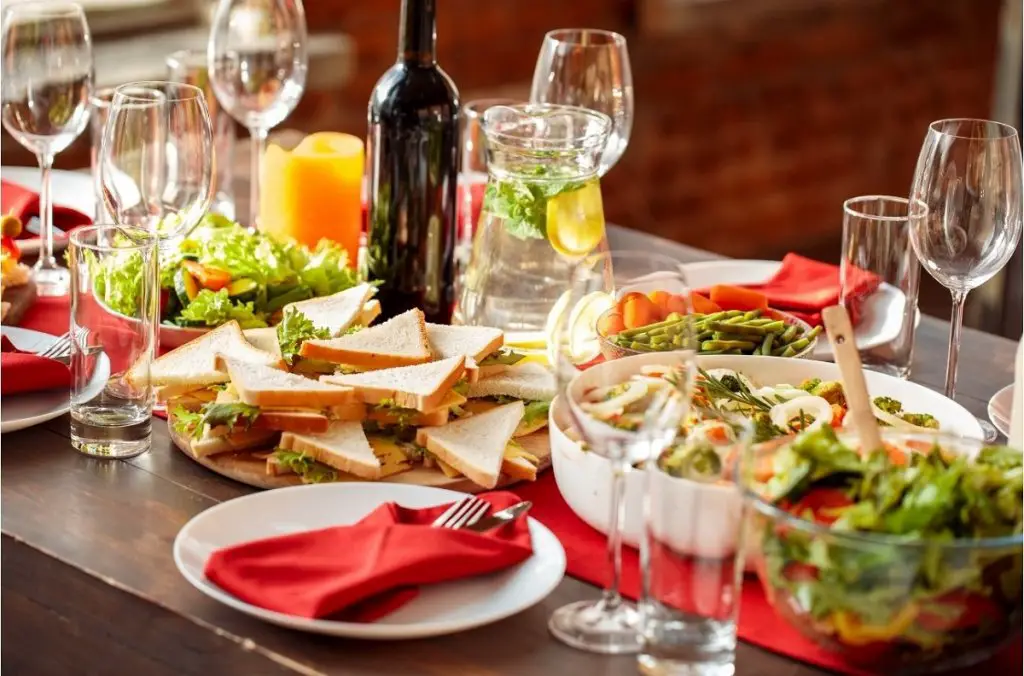 Sandwich Trays that include deli meats and cheese, chicken salad, or egg salad are often the stars of buffet lunches.
Salads are another good filler food. Whether you have a favorite salad recipe or you hunt online to find one, salads are a hit.
Potato Salad
Fruit Salad
Lettuce Salad
Taco Salad
Pasta Salad
Other Side Dishes can really include a variety of things certain to be crowd-pleasers.
Baked Beans
Deviled Eggs
Cheese and Sausage
Corn Flake Hash Brown Potatoes
Macaroni and Cheese
Vegetable Tray and Dip
Chips
Extras:
Dinner rolls
Cops and dips
Pickles
Olives
Butter
Mayonnaise, Mustard, and other condiments (if offering sandwiches of some type)
Desserts can be any sweet treat. Ones that you can eat as finger foods are especially popular. Don't forget to cut desserts into small pieces so that people can try more than one.
Cakes
Pies
Brownies
Cupcakes
Chocolate Chip Cookie Bars
Fruit Cups
Zucchini or Banana Bread
Beverages often served at funerals are:
Coffee
Water
Soda
Lemonade
Punch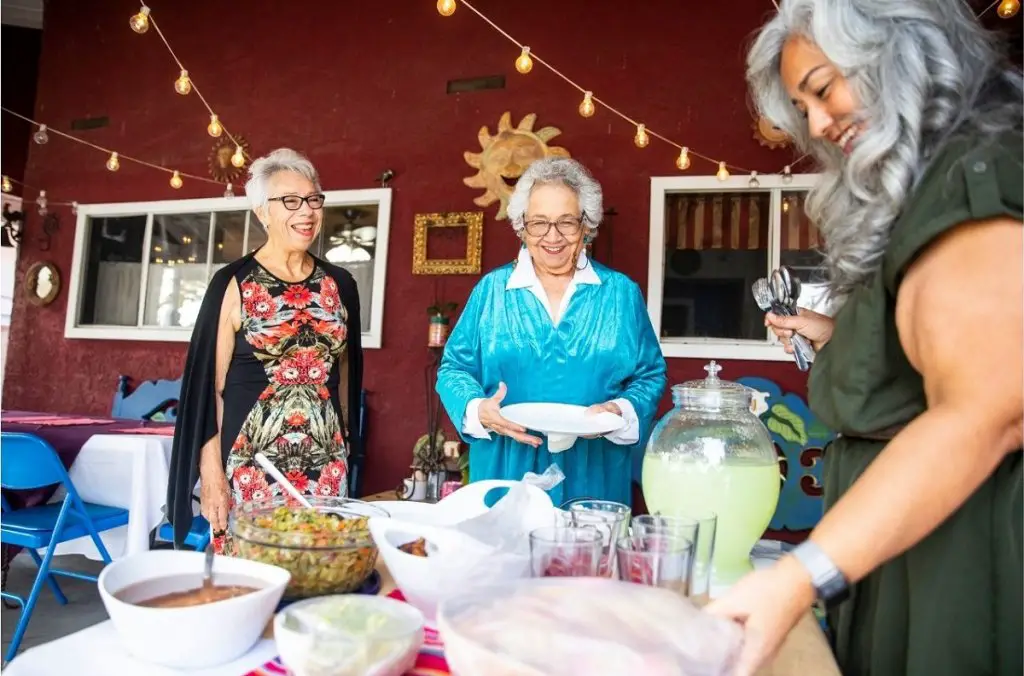 Tips For A Successful Funeral Reception
If you prepare the food yourself, you will want to lean towards foods you can prepare beforehand. Items that can be placed in a slow cooker and kept warm are easy to serve when the time comes.
Other foods to consider include anything you can make, cover, and stick into the refrigerator is also suitable for a funeral meal. That includes salads, snack trays, and anything like that. Be sure to check out the venue beforehand to ensure you have enough refrigerator space to store all the items.
Be sure to think about who your guests will be. If you have families coming, check to see that you have kid-friendly food on hand.
Don't forget to list other items you need, like plates, cutlery, serving spoons, and napkins. When you are grieving, it is very easy to overlook necessary things.