Christian funeral readings for both Catholic and Protestant denominations often come from the Old Testament and New Testament of the Bible. The readings stress that Christians will be together with God in Heaven and that the earthly body will be someday reunited with the soul.
At funerals, reading verses from the scriptures, prayers, and other sources pays tribute to those who passed away and offers words of comfort to the family. If you are having a religious funeral, it is common to work passages from your religious documents into the service with the Christian funeral readings your select.
Many secular sources can be used to honor those who are not religious. Those looking for a non-religious tone might choose poems, passages, or quotes that offer comfort.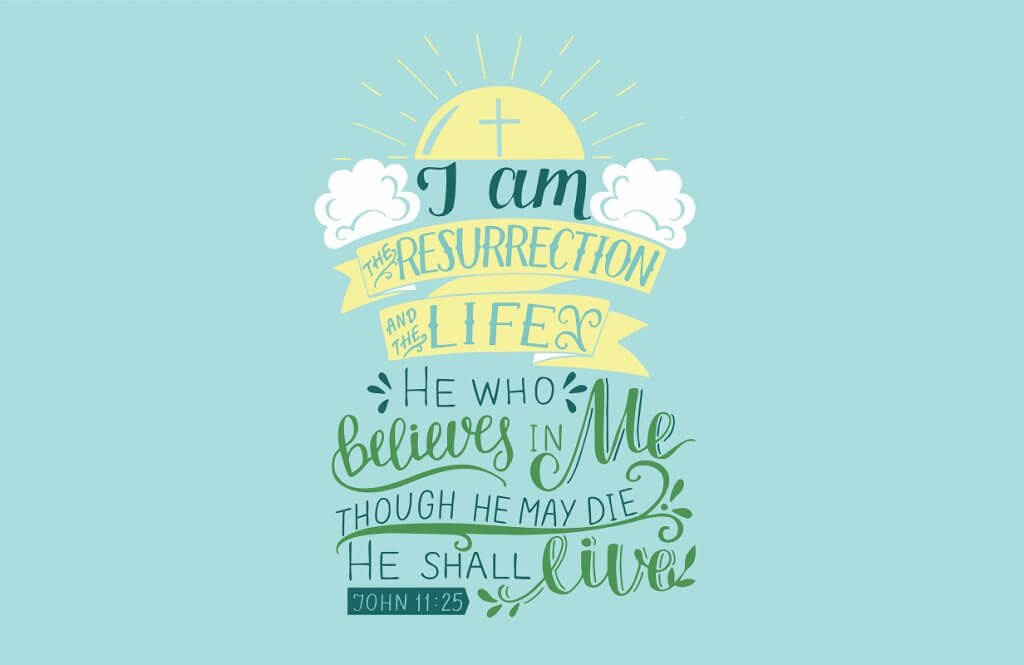 Why Are Readings Done At Funerals?
Many religions include the readings as part of their funeral rituals. Planning a funeral service may cause pause as you contemplate what readings are most appropriate for the deceased.
In any faith, some readings can provide comfort to the grieving during their time of need. That is often because mourners take comfort in hearing about their dearly departed heading into eternal life.
Speaking from the heart and listening to your gut instinct will allow you to offer comfort both to yourself and everyone assembled to say goodbye to your loved one.
What Are The Sources Of Christian Funeral Readings?
Christian religions typically choose scriptural readings from the Bible. These readings often come from the books of Psalms, Corinthians, Thessalonians, Ecclesiastes, Isaiah, and others.
Funeral services for Protestants, Catholics, Lutherans, and other religious sects include readings from the Bible intended to offer comfort. You will find readings from both the Old Testament and the New Testament.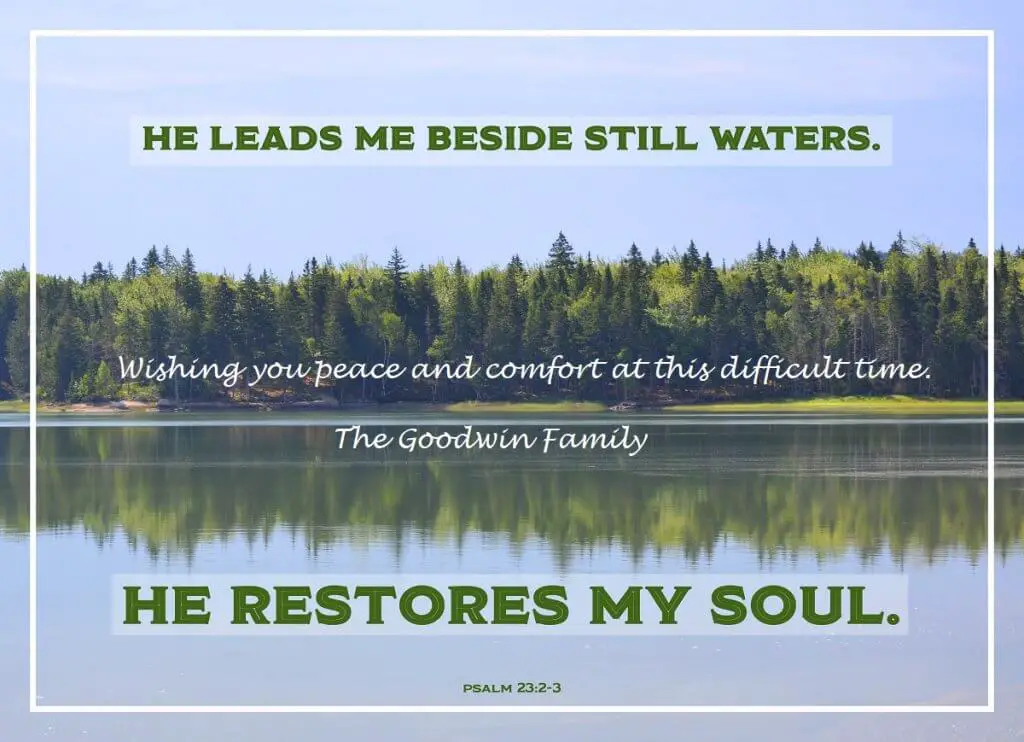 Are Different Readings Popular For Catholics Vs. Other Christian Denominations?
At a Catholic funeral, there are typically three or four readings. The first reading is always from the Old Testament, followed by a Psalm; the next two are from the New Testament and include a reading from the Epistles or Revelations, followed by a Gospel reading from the books of Matthew, Mark, Luke, and John.
The readings used in a Catholic service may not differ from those you hear at other Christian funerals. Catholics and other Christians focus on the love of Christ and the reward of the kingdom of heaven. In all Christian funerals, you will hear scripture readings.
The big difference is that there is a great deal of ritual and tradition in a Catholic funeral mass. A Catholic funeral mass or liturgy has the major components of any other Mass with the funeral ritual worked in. In other religions, the funeral is far more about the deceased person and focuses on their life, without including all parts of a regular church service.
Popular Christian Readings
At Christian funerals, there are certain Bible readings that are commonly heard, but there are hundreds of suitable choices that are easy to find with an online source such as Biblegateway.com.
Old Testament:
Psalm 23
"The Lord is my shepherd; I shall not want. He has me lie down in green pastures; He leads me beside the still waters. He revives my soul; He guides me on paths of righteousness for His glory. Though I walk through the valley of the shadow of death, I fear no harm, For you are with me. Surely goodness and mercy shall follow me all the days of my life, And I shall abide in the house of the Lord forever."
Psalm 27:1-4
"The Lord is my light and my salvation; whom should I fear? The Lord is my life's refuge; of whom should I be afraid? One thing I ask of the Lord; this I seek: to dwell in the house of the Lord all the days of my life. That I may gaze on the loveliness of the Lord and contemplate his temple."
Isaiah 25: 7-9
"On this mountain, the Lord of hosts will provide for all peoples. On this mountain, he will destroy the veil that veils all peoples, The web that is woven over all nations; he will destroy death forever. The Lord God will wipe away the tears from all faces; The reproach of his people he will remove from the whole earth: for the Lord has spoken. On that day, it will be said: 'Behold our God, to whom we looked to save us! This is the Lord for whom we looked; let us rejoice and be glad that he has saved us!"
Isaiah 41:10
"Fear thou not; for I am with thee: be not dismayed; for I am thy God: I will strengthen thee; yea, I will help thee; yea, I will uphold thee with the right hand of my righteousness."
Isaiah 57:1
"The righteous perish, and no one takes it to heart; the devout are taken away, and no one understands that the righteous are taken away to be spared from evil. Those who walk uprightly enter into peace; they find rest as they lie in death."
Ecclesiastes 3:2-3
"There is an appointed time for everything and a time for everything under the heavens. A time to be born, and a time to die; a time to plant, and a time to uproot the plant. A time to kill, and a time to heal; a time to tear down, and a time to build…"
Lamentations 3:17-26
"My portion is the Lord says my soul; therefore will I hope in him. Good is the Lord to one who waits for him, to the soul that seeks him; It is good to hope in silence for the saving help of the Lord. The Word of the Lord."
New Testament
Matthew 11:28-30
"Come to me, all you who are weary and burdened, and I will give you rest. Take my yoke upon you and learn from me, for I am gentle and humble in heart, and you will find rest for your souls. For my yoke is easy, and my burden is light.
John 14:1-3
"Do not let your hearts be troubled. You believe in God; believe also in me. My Father's house has many rooms; if that were not so, would I have told you that I am going there to prepare a place for you? And if I go and prepare a place for you, I will come back and take you to be with me that you also may be where I am."
Romans 14:7-9
"Brothers and sisters: No one lives for oneself, and no one dies for oneself. For if we live, we live for the Lord, and if we die, we die for the Lord; so then, whether we live or die, we are the Lord's…."
Corinthians 4:14-15
"Brothers and sisters: Knowing that the One who raised the Lord Jesus will raise us also with Jesus and place us with you in his presence. Everything indeed is for you, so that the grace bestowed in abundance on more and more people may cause the thanksgiving to overflow for the glory of God."
Philippians 1:21-23
"For to me to live is Christ, and to die is gain. If I am to live in the flesh, that means fruitful labor for me. Yet which I shall choose, I cannot tell. I am hard-pressed between the two. My desire is to depart and be with Christ, for that is far better."
2 Timothy 4:6-8
"For I am now ready to be offered, and the time of my departure is at hand. I have fought a good fight, I have finished my course, I have kept the faith: Henceforth there is laid up for me a crown of righteousness, which the Lord, the righteous judge, shall give me at that day: and not to me only, but unto all them also that love his appearing."
Revelations 21:1-4
"Then I saw 'a new heaven and a new earth,' [a] for the first heaven and the first earth had passed away, and there was no longer any sea. I saw the Holy City, the new Jerusalem, coming down out of heaven from God, prepared as a bride beautifully dressed for her husband.
"And I heard a loud voice from the throne saying, "Look! God's dwelling place is now among the people, and he will dwell with them. They will be his people, and God himself will be with them and be their God. 'He will wipe every tear from their eyes. There will be no more death or mourning or crying or pain, for the old order of things has passed away."
Philippians 3:20-21
"But our commonwealth is in heaven, and from it, we await a Savior, the Lord Jesus Christ, who will change our lowly body to be like his glorious body, by the power which enables him even to subject all things to himself."
1 Corinthians 15:51-57
"Behold, I tell you a mystery. We shall not all fall asleep, but we will all be changed, in an instant, in the blink of an eye, at the last trumpet. For the trumpet will sound, the dead will be raised incorruptible, and we shall be changed. For that which is corruptible must clothe itself with incorruptibility, and that which is mortal must clothe itself with immortality. And when this which is corruptible clothes itself with incorruptibility and this which is mortal clothes itself with immortality, then the word that is written shall come about: 'Death is swallowed up in victory. Where, O death, is your victory? Where, O death, is your sting?' The sting of death is sin, and the power of sin is the law. But thanks be to God who gives us the victory through our Lord Jesus Christ."
2 Corinthians 5:6-10
"We know that if our earthy dwelling, a tent, should be destroyed, we have a building from God, a dwelling not made with hands, eternal in heaven. We are always courageous, although we know that while we are at home in the body, we are away from the Lord, for we walk by faith, not by sight. Yet we are courageous, and we would rather leave the body and go home to the Lord. Therefore, we aspire to please him, whether we are at home or away. For we must all appear before the judgment seat of Christ, so that each may receive recompense, according to what he did in the body, whether good or evil."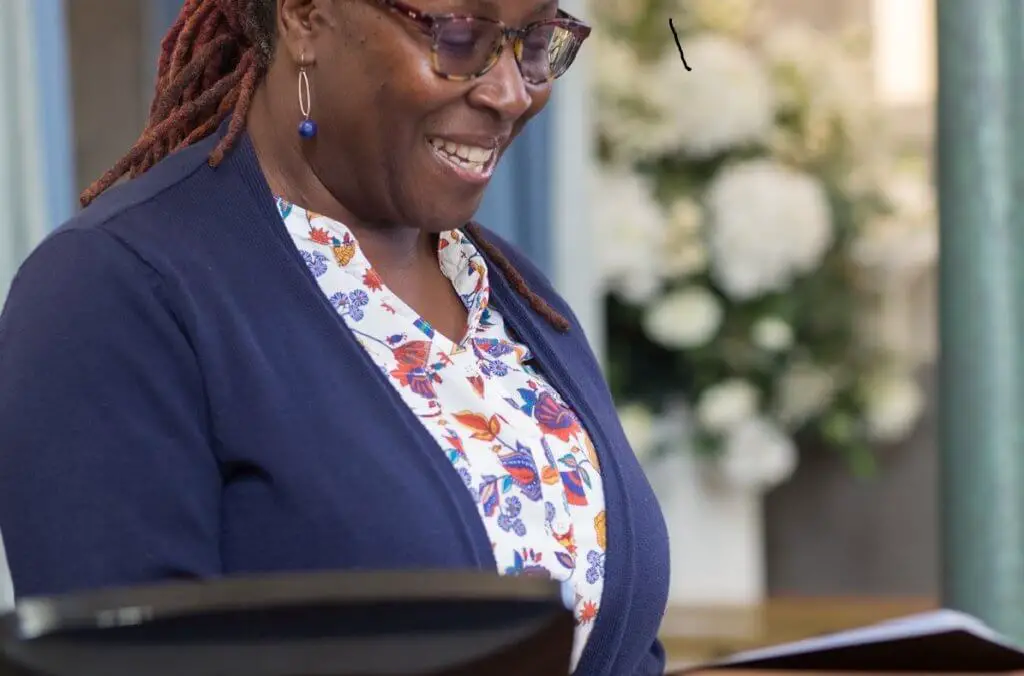 Who Does The Readings At Christian Funerals?
Readings at a Christian funeral or memorial service can be done by a minister or a layperson.
Sometimes the service is at the funeral home, and the funeral director presides over the service. You can also invite close friends or family members to do readings.
If you have someone offering a eulogy at the funeral, you might ask someone else to do readings before that point in the service.
In other words, there are often no hard rules on this.
What Types of Readings Are Done For Those Who Are Not Religious?
When choosing readings for secular funerals, poems are a popular choice. For a great place to find options, check out Poems for Funerals.
If, after reading this article on Jewish Funeral Readings, you are interested in what other faiths use as readings in their funeral services, check our companion articles: