Christian funeral etiquette observes traditions while paying respect to the deceased and supporting the grieving family members with condolences, memories, and fellowship. Services vary by denomination. but usually include a wake, a short funeral service, burial that may follow immediately or later and a reception for family and friends.
Christians are monotheists, believing in one God who created all the heavens and the earth. There are multiple churches and denominations umbrellaed under Christianity. While each has their sect has its own customs and nuances, there are similarities in Christian funeral etiquette when people leave this world.
What Is The Dress Code At Christian Funerals?
Christian funerals are similar in dress code. Although the family of the deceased often wears black, anyone can show their support by wearing black to a funeral. It is appropriate to wear any other dark color to a Christian funeral, such as navy blue, gray, or brown.
Since some customs are relaxing, so if the family makes a particular dress code request that goes against tradition, it is okay to comply. Sometimes you might see something in an obituary or death notice like "the family requests all guests dress in bright colors," or "since Mike loved hunting so much and practically lived in hunting clothes, please wear your camouflage to the visitation and funeral." I once lost a young student whose family requested the visitors wear rainbow clothes and unicorn horns. Most everyone did.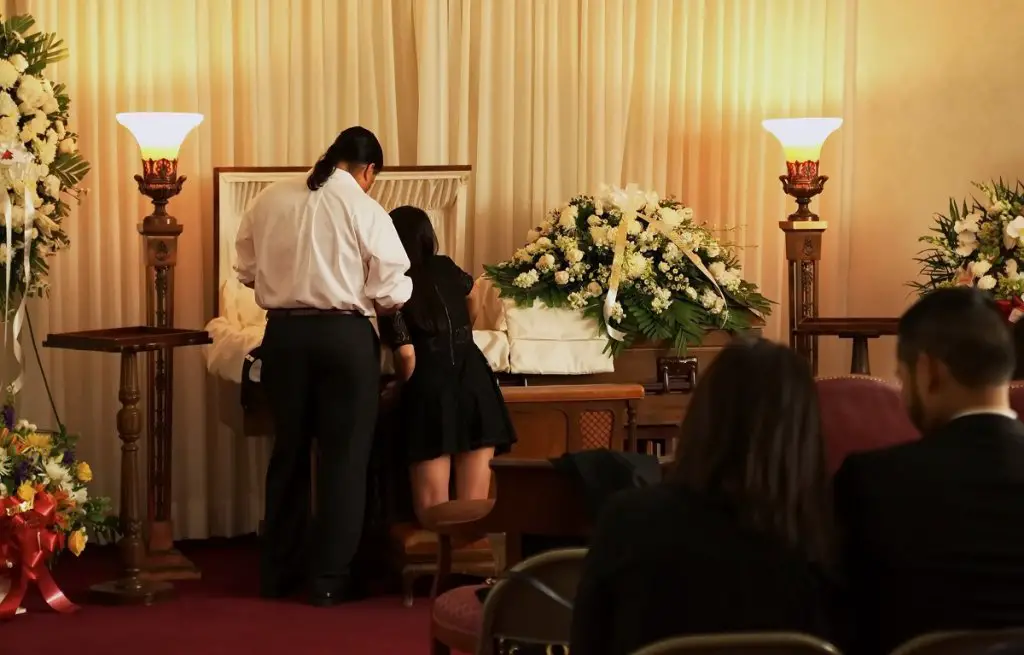 What IsThe Christian Funeral Etiquette Regarding Wakes?
There are many Christian religions, over 200 in fact. The most common and largest are Roman Catholic, Protestant, Eastern Orthodox, and Lutheran. They share many beliefs and practices in times of death.
Those who practice the Christian faith usually have a wake service fairly quickly after the person passes away. Although embalming is acceptable in most Christian religions, it is not required. The same is true of the custom of having an open casket so that as close friends and family say goodbye, they do have the option of seeing their loved one for the last time. (Having an open casket and embalming go hand-in-hand as the process retards decay.)
A wake may be held either the day or night before or on the morning of the funeral, depending on the preference of the family. If a wake service or vigil is held the day before, it is often done in a funeral home. Wakes held on the same day are typically held at the church where the funeral service will be held.
Wakes can be anywhere from an hour long to six hours long. That often depends on how many visitors the family is expecting. Some families arrange for the wake to last an additional day if the family is large or the deceased had many friends or colleagues.
The decision of when and where to hold the wake is made based on the preferences of the immediate family.
The eulogy is often given at the wake rather than the funeral. Sometimes guests are invited to say a few words about the deceased. If you have a fond memory to share, you should feel free to do so.
What Do Mourners Bring To A Wake Or Funeral?
If you plan to send funeral flowers, you should take care of them ahead of time and send them to the funeral home. (Make sure to have the proper address on hand when ordering flower arrangements.) If the wake is being held at a funeral home, the funeral director will take care of moving any flowers that have been sent from the wake to the funeral.
If you send sympathy flowers or plants, you might consider sending them directly to the home.
Cards of sympathy are customarily given to family members at a wake, not at a funeral service. However, many churches have started to set up a table to accept such gifts to make it easier on the family. Although sometimes it is seen as more polite to hand a card directly to the family, doing so at a funeral service is awkward at a time when the family is already struggling.
Since a funeral is likely to be very emotional, you might want to bring a small pack of tissues or a handkerchief along.
What Do Attendees Do During The Service?
During the service, you should do your best to follow along, participate as appropriate and not break any rules of that faith. You can find the basic order of service for any funeral if you look online, contact the church to ask questions, or find a friend of that faith; the funeral program will guide you when you are there.
The first few rows of pews are usually held in reserve for immediate family, close family members, and very close friends. Although this may seem like an odd way to look at it, seat yourself in order of how well you knew the deceased. A casual work acquaintance would sit further toward the back, leaving room for family and close friends up front.
If the church offers holy communion, you should know ahead of time if it is appropriate for those who are not part of that religion to participate.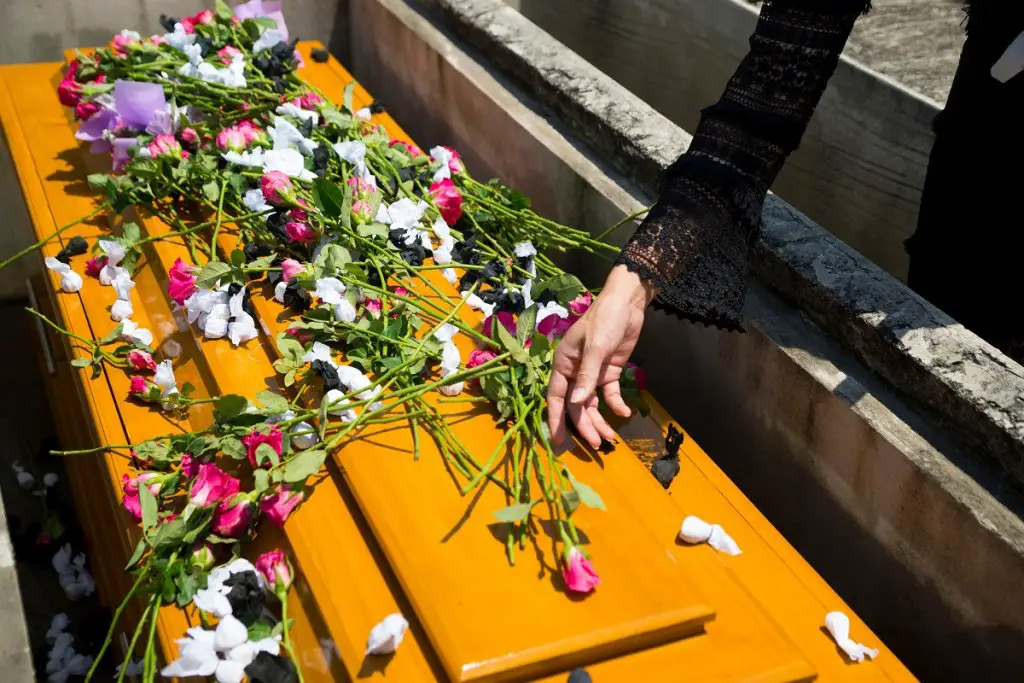 What Do Mourners Do At The Gravesite?
First, you should find out if it is appropriate for you to go to the graveside service. The obituary might state that the burial is private and for immediate family and others invited to go to the burial site.
The rite of committal takes place at the cemetery. It is a part of the burial service where the person is sent from the earthly world to the afterlife. This is technically the last part of the Christian funeral, even though a reception is still to follow.
Mourners should stand quietly and respectfully and follow the lead of others. At some funerals, people are invited to place a flower on the casket or toss a small handful of dirt onto the casket once it is lowered. Only join in after immediate family if guests are invited to do so.
Reception After The Service
The reception after the service can be a very small affair of the only immediate family, or it can be quite large, including the entire church congregation in attendance at the funeral. The reception can be at a restaurant, someone's home, church banquet hall, or some other location.
Sometimes the reception is a full meal and others it is just coffee and cake or some dessert. If you know that a luncheon will be served buffet and potluck style, it is appropriate to find out if there is something you can make or purchase to help defray costs and workload for the grieving family.
When the repast is over, close family may continue the celebration at a family member's home with a few invited guests.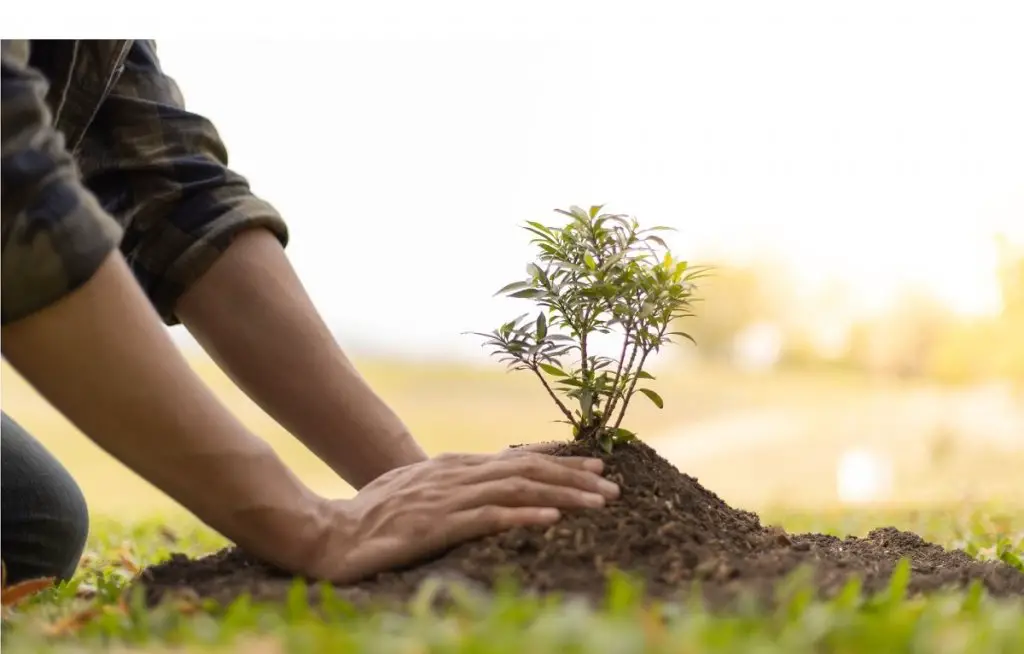 Role of Flowers, Gifts, and Money
Flowers, gifts, and money have similar yet very different roles. Flowers are sent as a memorial to the deceased but also to help make the visitation and funeral beautiful. However, since they are typically cut flowers that wilt and wither away after a few days, many have strayed away from this custom. You can also send plants like the popular peace lily or a small tree to be planted outside and enjoyed for years to come.
It has become more popular to send gifts to the memorial service, such as a beautiful set of wind chimes, a garden or patio stone, or another keepsake gift. Gifts such as this are a lasting reminder of the person they have lost.
You can also just put some money into a sympathy card. This is typically done if you know or suspect that the funeral was unexpected, following a long illness with extensive medical bills, or that money is simply a hardship for the family.
In some churches, you can also make a donation to sponsor a service to be done in memory of the deceased.
Sometimes the family specifically requests you not send flowers or gifts. Rather, they want you to donate to a charity or cause dear to their hearts. If you are moved to do this, you should certainly do so.
Conclusion
As you can see, Christian funeral traditions are pretty similar, and a general understanding will help you navigate any funeral within Christianity. Whether you are attending a Protestant funeral, a Catholic funeral, or one from another faith, you have the basic understanding to attend, grieve, appropriately support the family and say your final goodbyes to the deceased person.