Funeral flower arrangements can contain almost any flower, but roses, lilies, gladioli, orchids, daisies, and carnations are the most popular. While traditional types of arrangement such as funeral sprays, standing sprays, and casket flowers may contain these favorite blooms, there is room for unusual funeral flower in contemporary arrangements.
When planning a flower delivery to pay your respects and offer condolences to a family who has lost a loved one, plenty of options allow you to do so with style. Of course, you can send something very traditional and safe; however, that may not be the route you want to go.
Depending on the age, religion, background, and favorite hobbies of the deceased, you may wish to send flowers more reflective of their personality. With many contemporary floral designs out there – and florists ready to bring them to life – you are only limited by your imagination.
Of course, ask yourself how the family will feel to see what you envision sending arriving at the funeral home or church. Will it bring a small smile to their face? If the answer is yes, send it. Just remember that a funeral service is not the place for a big and splashy statement.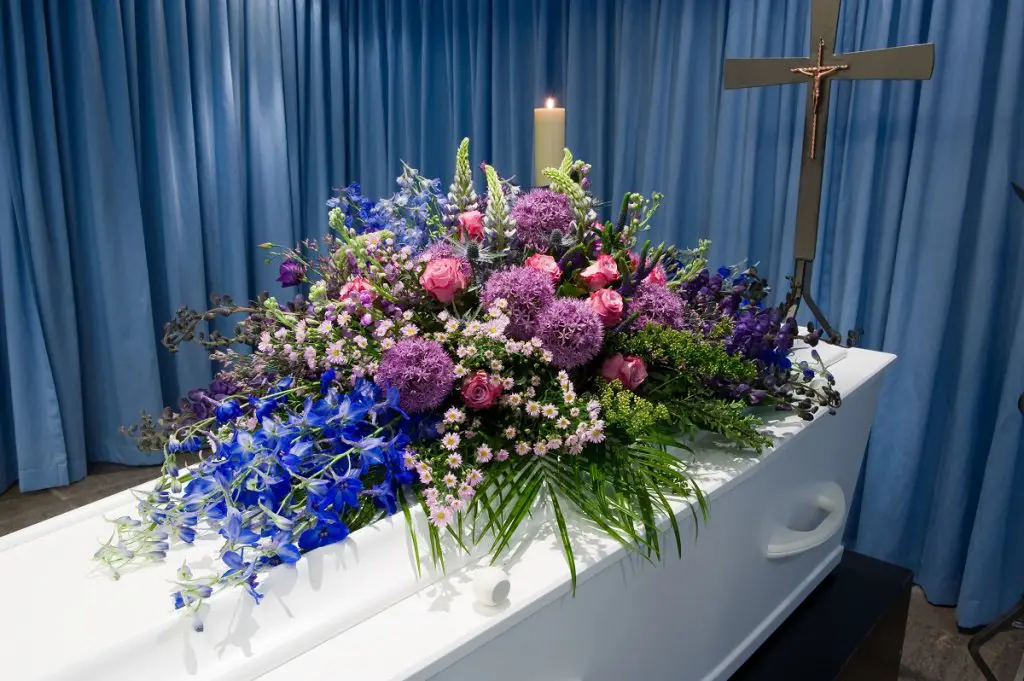 What Is A Flower That Is Often Used In A Funeral?
Whether you are talking about casket sprays or floral wreaths, some fresh flowers are more commonly used than others. Roses of all kinds are popular in funeral displays, including red and white roses. Pink roses are even used; however, they are usually a deep pink color that is almost a salmon tone.
Other beautiful flowers often used in funeral arrangements are chrysanthemums (or mums), gladiolus, hydrangea, and carnations.
What Are Appropriate Funeral Flowers?
When deciding what kind of floral arrangement to send to a funeral home, church service, or other memorial service venues, some types of arrangements are typical. Often, you will see casket sprays chosen by the immediate family members, traditional funeral wreaths, standing flower sprays positioned on an easel, and a variety of baskets and vases of cut flowers.
The floral choice, color, and design make any arrangement stand out. Even different colors of the usual blooms often seen in funeral flowers can liven up an arrangement.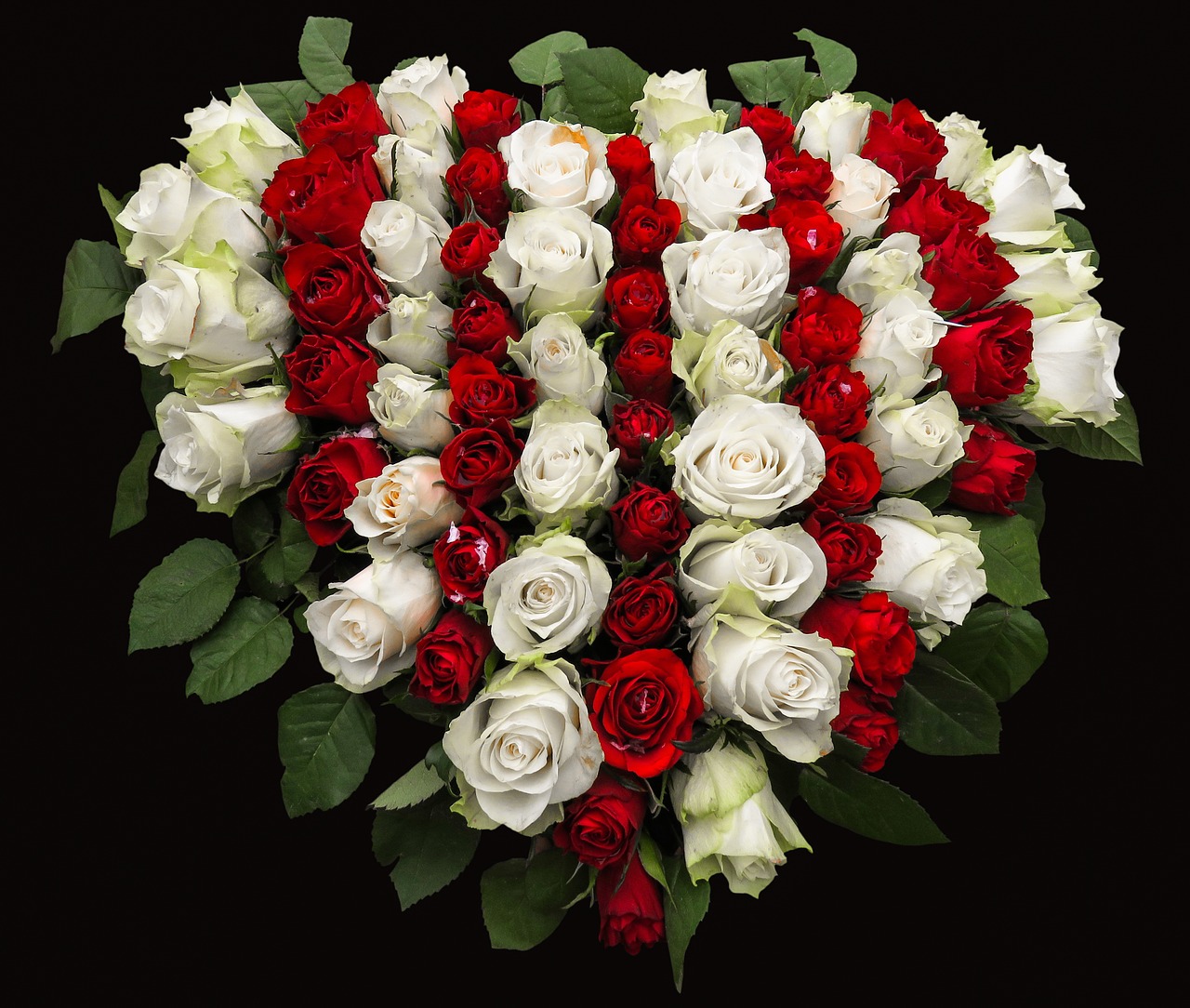 The floral tribute you send you should be appropriate in light of the religion and customs of the deceased and their family. but beyond that, utilize the creativity of the modern floral industry
Your funeral tribute need not be ordinary. Flower design comes in many different types, and it is okay to be creative within reason.
Before you order from a local florist, take a look at Pinterest and online floral providers for ideas for unusual funeral flowers. Your neighborhood florist may have a book of designs and an abundance of creative approaches too, but it is good to know what you want.
Are Some Flowers Inappropriate For A Funeral?
When selecting flowers, you need think about what kind of flowers to send to pay your condolences. For example, it is never appropriate to send flowers to a Jewish funeral. You also never send red flowers to a Buddhist funeral.
Some flowers come in bright and beautiful colors, such as tulips. While you usually would not send a large, bright display of tulips, adding some to an arrangement can add a friendly tone to the arrangement. A big bouquet of sunflowers might be better sent to the home after the funeral to cheer up the widow rather than to the church.
It has become more acceptable for people to send unique flower arrangements that depict the personality of the deceased and how they lived their life. Just avoid sending anything too unusual unless you know that the family will receive your gesture well and in the spirit it was intended.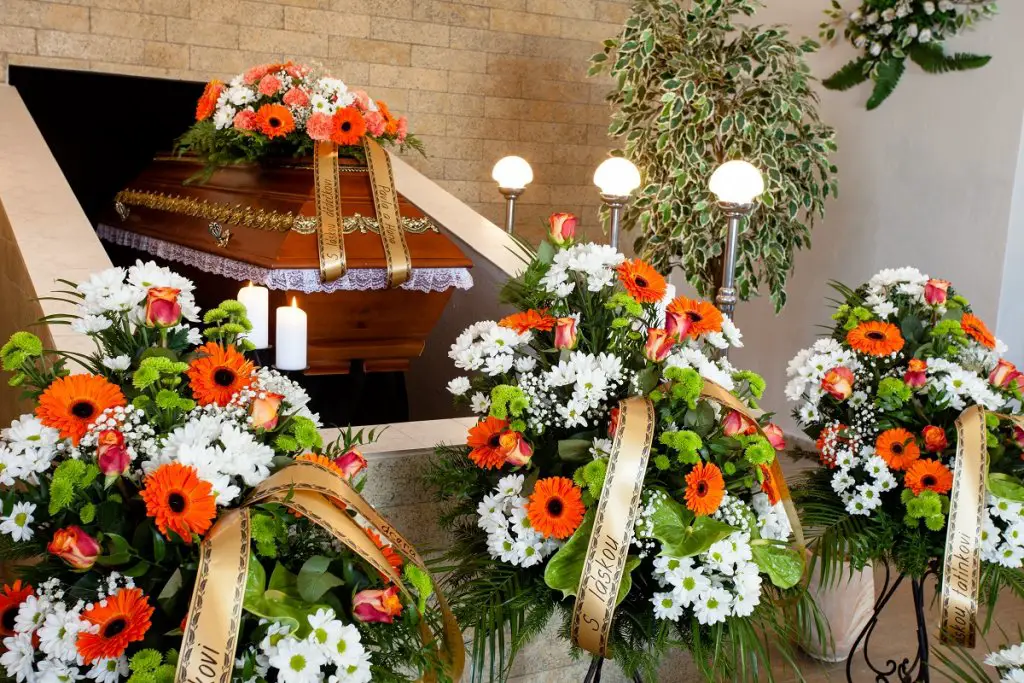 What Are Some Unusual Funeral Flowers?
A great example of a non-traditional funeral flower is a sunflower. The flowers have not been used in funerals until recently, but they can add a unique flair to an arrangement of mixed flowers.
Whereas a deep red rose is symbolic of sorrow and is usually paired with white, a unique idea would be to use yellow or peach-colored roses instead. Yellow roses symbolize friendship and joy and are a very appealing option for either a close friend or someone with a sunny personality.
Any flower that reminds you of the person is another great option. My grandmother loved violets, for example. Even though you may not see a lot of them at funerals, they were a wonderful choice for her funeral.
What Colors Are Typically Used For Flowers At A Funeral?
White: The most common color used in funeral flowers, white symbolizes purity and innocence.

Red: The color of love, red roses are also a very popular choice for funeral flowers. They are often paired with white blooms for a striking combination.
Yellow: Yellow is the color of friendship, and many people send this color for funerals. They can be bright as in a sunflower, but often are a more muted shade as in a yellow rose.

Blue: Since blue is the color of sorrow, you can't go wrong adding blue to the flowers you choose.

Lavender: This muted purple shade adds a nice splash of color to arrangements. Lavender stands for respect.

Orange: A less common color for funerals, orange is still a nice option in some situations. Orange can help the grieving think of happier times.
Unique Funeral Flower Arrangement Ideas – And Where To Use Them
Sometimes you can make a unique floral arrangement just by adding something interesting to them. For example, for an avid reader. You might add old books to the display. Someone who loved gardening would have adored flowers in an old watering can.
Was your loved one an accomplished Ironman finisher? You could have the flowers made into the Ironman symbol that their friends are certain to recognize.
Outdoorsmen's funeral flowers might be displayed in a pair of old work boots. A rancher's flowers could be on an old yoke. And why not make a flower wreath in shades of brown and green like camouflage for a hunter who loved to sit in a deer stand?
You can have flowers made in the shape of everything from a tractor to a unicorn, depending on what was important to your dearly departed. You always have the option of sending an unusual array to the home as sympathy flowers rather than to the funeral home for the services.