Funeral flowers include many traditional styles for inside, nearby, and covering the casket. Modern florists updated the style they offer for these classic sprays and present unique shapes and designs as well. Here are some funeral flower arrangement ideas that will make the flowers you send stand out.
Choosing what kind of flowers you might want to send to a funeral can be challenging as many things, ranging from your relationship to the deceased and the appropriate religious customs, determine the best choice. Here is a guide to funeral flower arrangement ideas to help you decide what to send.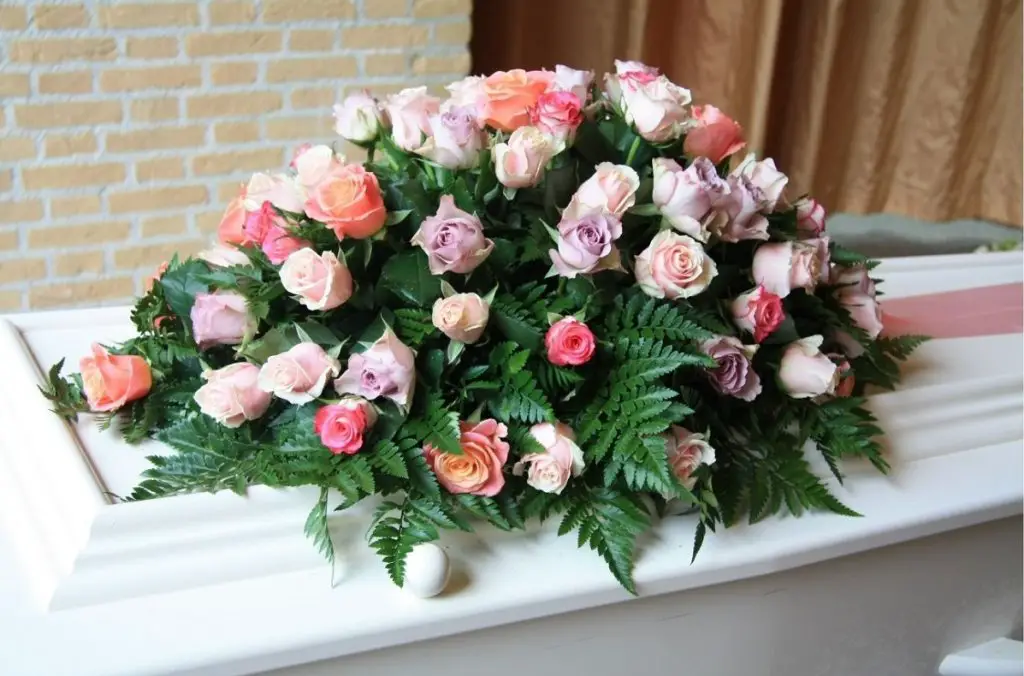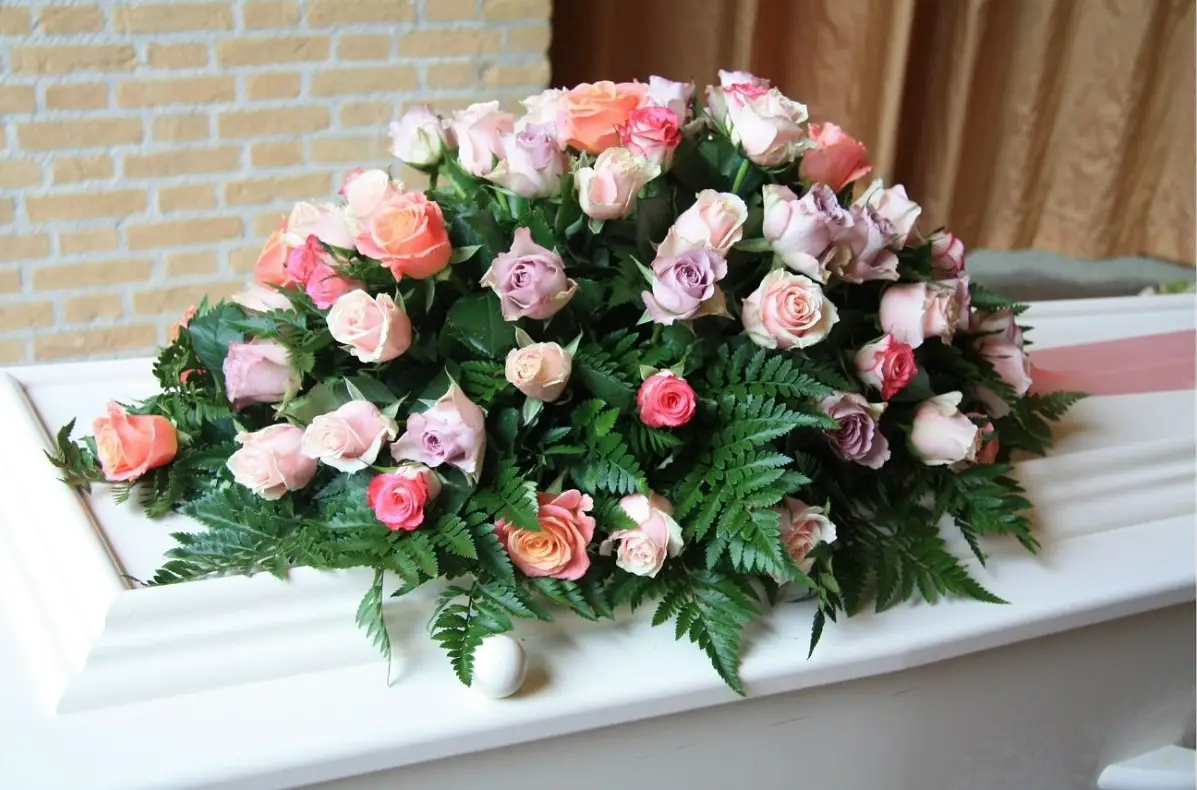 Traditional Popular Styles For Funeral Flower Arrangements
Thinking about sending flowers to a funeral? There are some basics you should know to choose something appropriate and fitting.
Casket Spray: Casket sprays are large arrangements made for the top of the casket. Choosing these is typically reserved for immediate family members, who often personalize them for "Mother" or "Loving Husband."

Interior Casket Spray: Smaller arrangements or garlands, also from family and often personalized, may decorate the inside of the casket.

Standing Spray: A funeral spray displayed on an easel so it can stand on the floor near the casket is also known as a standing spray.
Funeral Wreaths: Flower wreaths are usually made to display on an easel or some type of floor stand.

Baskets: Baskets can include a variety of cut flowers, or they can include a combination of greenery, live plants, and flowers if you wish.

Crosses: For a Christian funeral, a cross flower display might be a powerful reminder of the afterlife.

Urn Arrangements: These are made to fit around or as a backdrop of the urn in a cremation.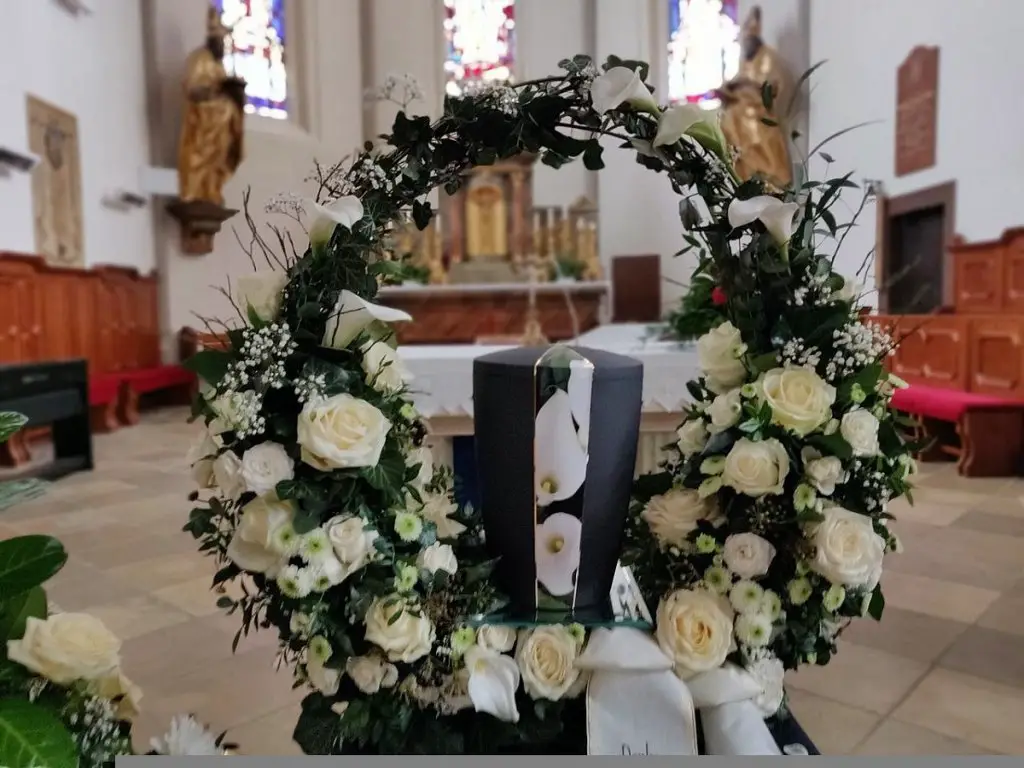 Rules For Sending Types Of Funeral Arrangements
When choosing which type of flowers to send, there are some basic rules of etiquette you should know. Funeral flower arrangements are different than sympathy cards, as is how you treat them.
When: You can call the florist as soon as you know the person has died and you know which funeral home is assisting the family. After you tell the flower shop the address and date of the services, they will take it from there.

The timing depends on to whom you are sending the flowers. If you intend them for the visitation and funeral, the florist will get them to the funeral home or church if you call early.

If you want them to go to a particular person in the family or are sending a sympathy bouquet or plant, you can send them later.

Where: Funeral arrangements, such as a funeral wreath, get sent to the memorial service or funeral service. Large pieces are seldom brought home.

However, if you are sending a sympathy arrangement to a family member that does not need to be displayed at the funeral, you can send it directly to the person for whom they are intended.

An example of this is if a colleague's sibling passes away. Perhaps you would not go to the funeral but wanted to send flowers to pay your condolences.

Addressing Card: When sending floral arrangements to the funeral, address the card to the deceased. You also include the name and address of the funeral home or church on the card.

What to Send: The type and floral design you intend to send depend on many factors. Your relationship to the deceased, the type of funeral service, and other things influence the type of arrangement and even the flowers themselves.

If you are an immediate family member who has lost a loved one, you might choose a casket spray of roses. Other family members might send a beautiful cross set up on an easel. In other situations, it is appropriate for you to send someone sympathy flowers such as daisies to their home or office after the funeral has concluded.

Know the Customs: It is also important to understand what is appropriate based on the deceased person's religion, culture, and customs. For example, in the Jewish faith, sending flowers to a funeral is not appropriate. Always double-check on this before sending flowers.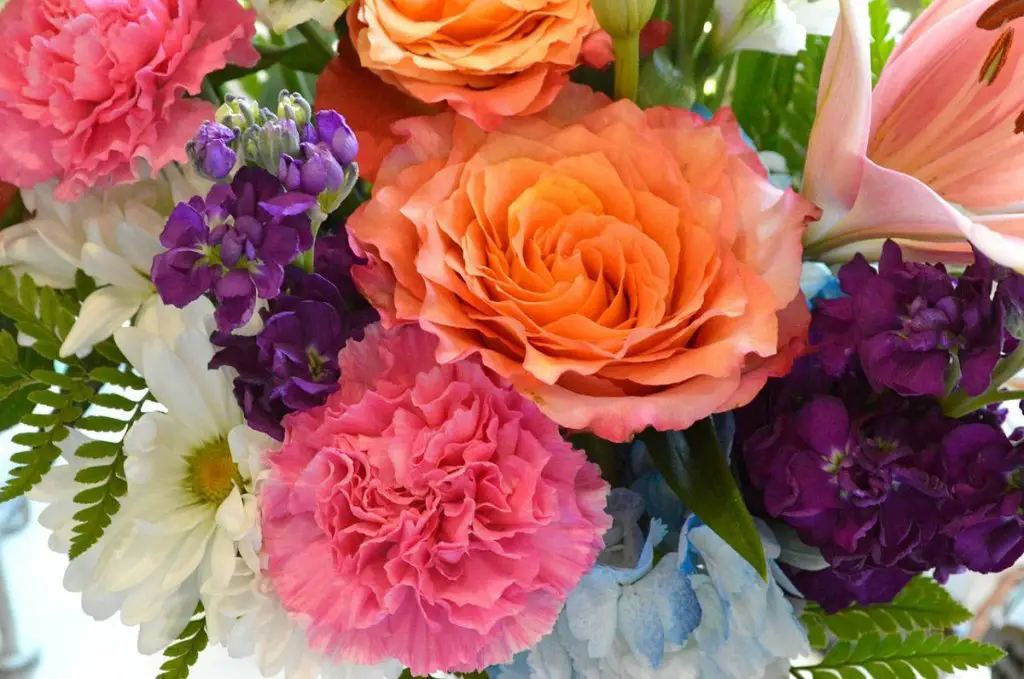 Do Certain Color Flowers have Different Meanings?
Different flowers signify can send a unique message based on the kind of flower and color. As you contemplate the best flowers to send, think about what message you intend to send.
Roses: Roses are a lovely choice for funeral arrangements, and the different colors convey a message. Red roses symbolize love, pink roses are usually dark if sent for a funeral, and they symbolize gratitude, and white roses stand for purity, much like the lily.
Carnations: This is a popular choice for fresh flowers for multiple reasons. First, they are inexpensive, and they also come in a large variety of colors. Red mean affection, while white mean innocence and rebirth. Carnations can be dyed in a variety of beautiful colors to personalize an arrangement.

Orchids: An orchid plant symbolizes everlasting love.

Gladioli: The use of gladioli in a flower basket or wreath represents strength and a person of strong moral fiber.

Lilies: Lilies are a popular choice for flower delivery for funerals because these white flowers symbolize the purity of the soul that has left the earthly world.

Chrysanthemums: Mums symbolize friendship and happiness.

Tulips: A symbol of spring and rebirth, tulips are a unique choice because they are not only beautiful flowers but remind people of the afterlife.

Daisies: The daisy symbolizes motherhood and rebirth.

Hydrangea: Another flower frequently used in funeral flowers, the hydrangea symbolizes gratitude.

Violets: This flower is used for a life lost much too soon. That can be literal, as in the death of a young person, or just saying that you are not ready to see the person leave you.

Peace Lily: Sometimes you want to send a plant that does not die like cut flowers, but you also want the beauty of flowers. The peace lily is a green plant with white blooms. This way, you have the best of both worlds.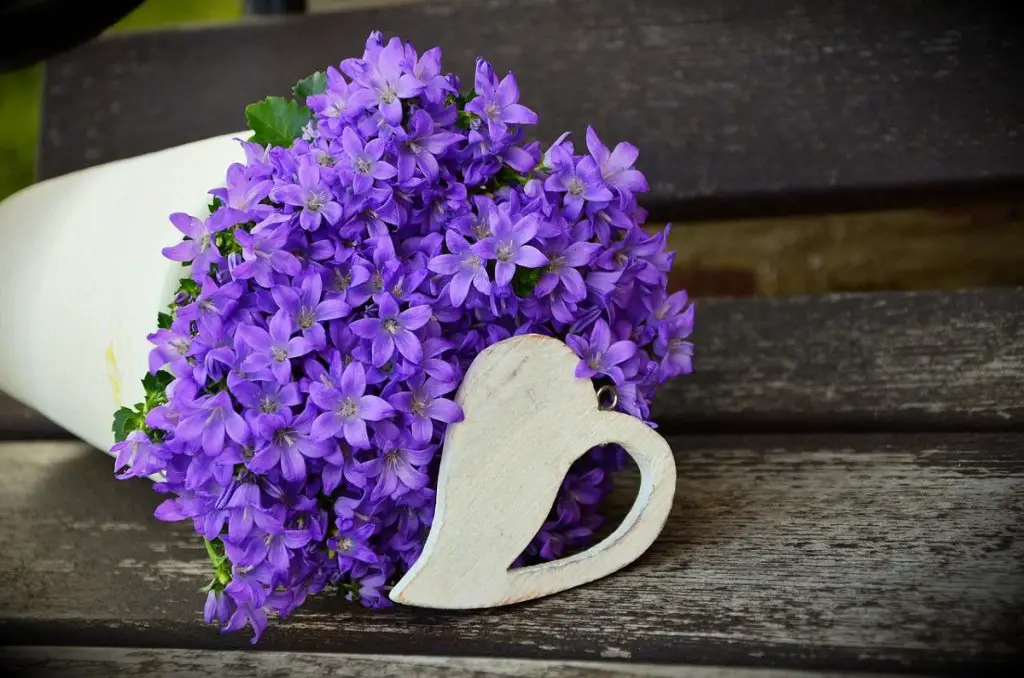 Unique Funeral Flower Arrangement Ideas
Sometimes when you lose someone, you want to send flowers that show your love and grief in a truly unique way. There are no limits to what you can do to express your feelings. However, if you are not a close family member, be careful about sending something too unique.
Funeral floral arrangements can be made in the shape of just about anything you can imagine to allow for a very special display. Some examples:
Watering Can: Choosing flowers for an avid gardener? Put the flowers inside a metal watering can. Not only will it be beautiful, but the mourning family will have a lasting reminder of their loved one.

Baskets: Another option increasing in popularity is to put flowers inside of a lined basket along with other items. Think of the possibilities. You could include yarn and knitting needles, a Cat Fancy magazine, or a stuffed animal.

Sunflowers: Was your loved one someone people gravitated to because they like sunshine? Sunflowers are a great option.

Urn Wreath: If your loved one is being cremated, you can have a beautiful urn wreath made to match the urn. The wreath can be created with greenery and complimentary flowers.

Bird Cage: Have you ever seen a birdcage used for a wedding card box? If you have, it is easy to imagine the possibilities of using a bamboo bird cage to display funeral flowers for a bird lover.

Rainbow: Funeral flowers do not always have to be somber. If a rainbow is an apt description of the personality of your loved one, you can choose a bright and colorful type of arrangement.

Tea Cup & Saucer: A very elegant and cute flower arrangement can be made to look like a teacup and saucer or a teapot.