Most pet owners regard the death of their furry friends to be as much of a loss as any other loved one. When their pet crosses the Rainbow Bridge, they feel lonely for the love and companionship they offered. Pet memorial gifts are an excellent way to honor and remember them.
Non-pet owners may not understand, but if you have pets at home, you totally get it. Your beloved pet just might be your best friend. Pet lovers will be quick to tell you that whether you have lost a beloved dog or a frisky feline, the loss of a pet might be the hardest goodbye you have ever faced.
Pet parents are starting to give and receive keepsake sympathy gifts when their pet "crosses the Rainbow Bridge." These gifts come in a variety of different styles, items, and price ranges. In other words, something is sure to be out there that touches your heart, whether you are the giver or receiver.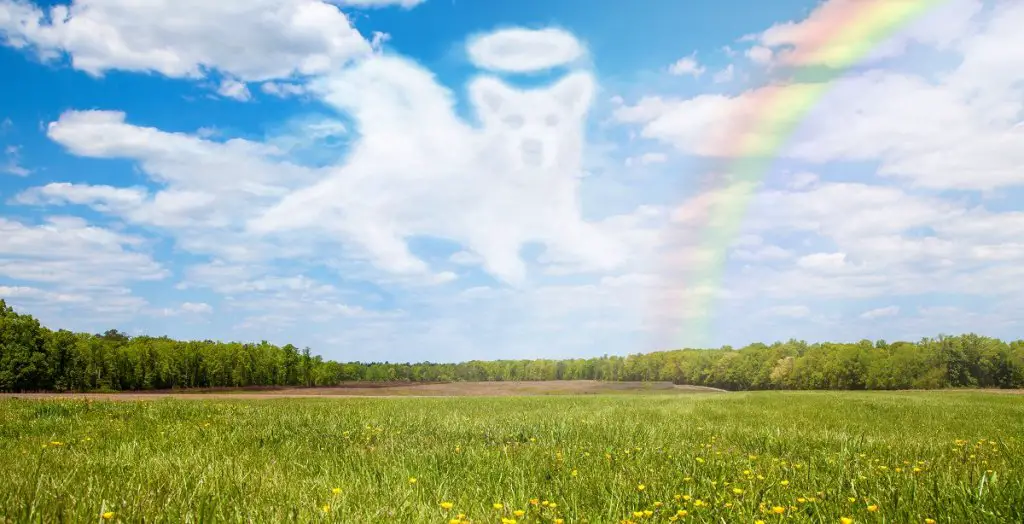 Why Are Pet Memorial Gifts So Popular Now?
The pet industry has boomed in recent years. The pet care and memorial industry is now over a $100 billion industry. People love and cherish pets like family members, and as any pet owner who has lost a pet can tell you, you grieve just like you do when you lose a human loved one.
What Are Pet Memorial Gifts?
Pet memorial gifts are gifts sent to a person when they lose a pet. There are many different categories of gifts. Some are simple things that anyone can purchase while others are much more personalized.
For example, when my beloved Golden Retriever Sweetie passed away, my veterinary clinic had a plaster cast made of her paw print. This simple, inexpensive gift has become a treasured item. Whether you are looking for a dog memorial or a cat memorial, there are excellent options available online, in pet stores, and in other types of stores. You can find some very cute custom items on Etsy!
What Is The Rainbow Bridge And Why Is It Connected To Pet Loss?
The Rainbow Bridge is a topic in many poems, short stories, and oral legends. As the story goes, when a pet passes away, this is where they go to wait for their owner. Adjacent to heaven is a beautiful meadow where the pet is restored to an injury-free, healthy body and where food and water are plentiful. While the pet feels peaceful and happy, he or she does miss its former owner from time on earth.
However, when the owner passes away, the owner also arrives in the meadow where the pet and owner are reunited. The pet runs excited to be reunited with its owner and they greet one another joyfully. Side by side the pet and owner cross the Rainbow Bridge and enter heaven.
In fact, in 2014 the head of the Catholic Church, Pope Francis, confirmed a statement he had made to a young boy who was mourning the death of his dog. The pope said that dogs, along with "all of God's creatures," can make it to heaven.
Types Of Pet Memorial Gifts
Looking for gift ideas for someone who has lost a pet? The words to the Rainbow Bridge poem and paw prints are common motifs.
Wind Chime: Among favorite pet sympathy gifts are wind chimes. They make some that are specific to pet loss, but you can also just purchase any set of wind chimes.
Pet Memorial Frame: A picture frame is another listed among best sellers. Getting a beautiful frame for your friend to put their beloved pet photo is sure to be cherished.
Memorial Garden Stone: A garden stone can be more generic, such as one saying something like, "forever in my heart," it could have an image of a dog of the same breed as your beloved pup, or it could have a custom pet image. Anything you choose would be a lovely addition to a garden or landscaping.
Box or Urn: A receptacle to hold the beloved pet's ashes is a great choice of a gift for a pet if you know the pet was cremated and the owner chose to keep the ashes.
Figurine: There are many beautiful figurines and statues made in the image of pets.
Pet Memorial Plaque: Some people will prefer a pet keepsake that can be put on the wall to one that has to stand on a table or other surface.
Pet Memorial Stone: This is a bit different than a garden stone as a memorial stone is meant to mark a grave of a pet. Often these include the pet's name on them.
Poem: There are many great, heartfelt poems about losing a pet such as "Pawprints Left by You." You can have a poem put in a photo frame, put into a sympathy card, or presented in another way.
Paw Print Gift: If you know someone is about to lose a pet, a unique pet gift is to get them a kit to make their own pawprint, like the gift I received from my vet.
Memorial Candle: Pet-specific memorial candles are also available if you are looking for a unique piece of home decor.
Book on Pet Loss: Mourning an animal is similar to mourning a human, but sometimes people need permission to mourn their "furever" friend. A book on pet loss can help with that.
Jewelry: Pet memorial jewelry comes in the form of charm bracelets, necklaces, and other pieces. There are many great ideas out there for this.
Donation: Another unique gift idea is to make a donation to an animal rescue or a research hospital that is working to cure whatever disease the pet died from.
Ornament: When my old cat died, I was touched and surprised to receive a pet memorial ornament to hang on the Christmas tree. Sent by a dear friend, it was a lovely sentiment. She picked from the favorite photos I had posted on social media, added my pet's name, and had it shipped directly to me.
Keychain: You use your keys almost daily, so a memorial keychain is another nice memorial gift.

Where Can You Find Them?
Do you have your eye on one or more of these gifts? So where do you find them? Places to try include:
Local Pet Stores
Farm & Garden Supply Store
Gift Shops
Amazon
Etsy
Whether you are looking for a dog memorial gift, personalized gifts, or something to memorialize your friend's pet lizard, there is an option out there for you. Don't be afraid to hunt a little for gift ideas to help memorialize either your or a friend's four-legged (or 2iwinged) best friend.