A funeral visitation may involve paying respect to the deceased's family with or without the body being present. What you wear to a funeral visitation may reflect the location and when it occurs, but dressing more formally is still appropriate.
As you contemplate what to wear to a funeral visitation, there are many things to consider, starting with where and when the event is held. If you are attending a visitation at a funeral home or a church immediately preceding a funeral, a dark suit might be the best option.
Business casual would be acceptable for visitation at a local service organization like the Elks Club or Moose Lodge or even a funeral home on a separate day from the funeral.

The point is that you need to ask yourself what specific events you will be attending and the level of formality for the event. This will help you decide what to wear.
Different Funeral Events That May Affect Your Attire
Sometimes we inadvertently misuse terminology, making deciding what to wear confusing. Let's start by defining each of these events:
Wake: A wake usually happens before the funeral. It is a gathering where the deceased person's immediate family gets together to allow friends to come to call and pay their condolences. Sometimes the body is viewed at the wake; other times, it is not. The urn may be present at the wake if the deceased has been cremated.

Today, most people equate a wake with the viewing at the funeral home, where mourners come during specific times to visit with the family.

Viewing: A viewing is where the deceased is present in an informal setting, and close friends and colleagues can come to pay their respects to the deceased and their family. Please notice that you can have a wake without it being a viewing. A viewing can also be a wake. A viewing can also happen at a church before the funeral.

Again, most people consider a viewing as the same as a wake at the funeral home.

Funeral Visitation: A funeral visitation can be held any time before the funeral, including immediately before. The family sees visitors who have come to pay respects. This may occur at the home or at the funeral home.

To add to the confusion, a wake is sometimes referred to as a visitation.
Funeral: A ritualized ceremony created to memorialize someone's death; a funeral can be religious or secular. They can also be held in a funeral home, church, synagogue, or another venue. The funeral is typically the most formal of the events related to death.

Memorial Service: A memorial service is less formal, and some people describe it as something between a funeral and a celebration of life. People might share memories or fun stories with one another, or poems might be read.

Celebration of Life: This is usually a more lighthearted, fun environment where visitors talk about the deceased person informally. In a celebration of life, you may be expected to share stories and fond memories unless you are grieving too much.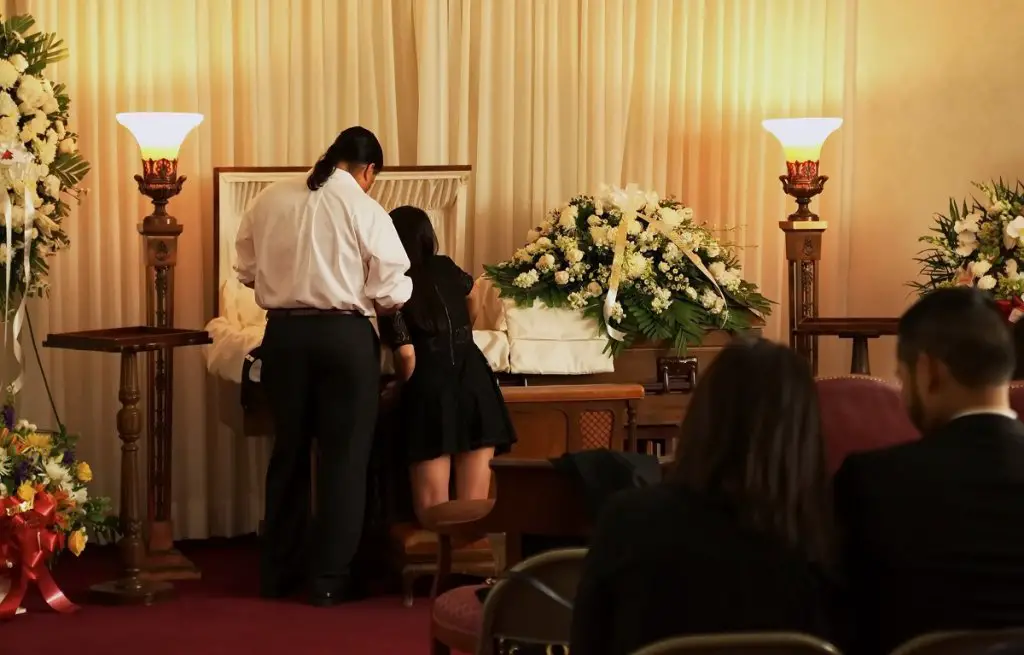 Variables To Consider When Deciding What To Wear To A Visitation
When contemplating what to wear to a funeral visitation, there are some questions to ask yourself.
What is the venue? If it is at a church before a formal Mass or other funeral services, plan to dress more traditionally. A funeral service held at a funeral home can be a bit more relaxed. Of course, a celebration of life at a local bar would be very casual.

What was the deceased like? If the deceased was always in dressy clothes and you never saw him or her in jeans, assume that the funeral would be more formal.

Are there religious or cultural considerations? For some cultures, wearing black to a funeral would be impolite and disrespectful. If your friend was from another culture or practiced a religion unfamiliar to you, find out more about their customs and their expectations for you.

What is the weather like? If it is cold outside and you will go to a graveside service, dress for the weather. No one expects you to be outside in your formal attire in a blizzard. Grab a coat, and feel free to put on boots.
Appropriate Attire For A Funeral Visitation
Suit: A black suit, or a suit in any other color, is one choice for both men and women. You can wear a pantsuit with a dress shirt underneath. Men can choose a long sleeve or short sleeve shirt and then add either a necktie or bowtie. Women can also wear slacks or a skirt suit. Females can wear a simple shell instead of a blouse if they wish.

Jackets: Rather than wear a full suit, you might put a blazer, sports coat, or another jacket with your dress pants or skirt. Dark colors always work.

Dress Pants: You can find dress pants in many different colors. Note that you do not have to wear black; choose darker colors such as navy blue or dark grey. For an informal visitation, khaki is one of the neutral colors you might also see.

Shirts: Most of the time, men wear button-down shirts to a funeral. If it is a very informal situation, a polo shirt could be more appropriate. It would help if you always left t-shirts behind when picking.

Dresses: When choosing to wear a dress to a funeral visitation or memorial service, pick something conservative. The rule of thumb is business attire or business casual. Dresses should be knee-length or below with a conservative neckline.

Skirts: The rule for dresses is similar to skirts. Keep them at a modest length, hitting around the knee or below.
Is There A Dress Code For A Visitation?
There are some additional things to consider beyond the actual clothing choices.
Avoid bright colors that will be too distracting to others and look overly cheerful on such a somber occasion. Muted colors are usually a much better choice for a funeral viewing. Keep your jewelry choices simple, like you would for a job interview.

Do not wear athletic shoes unless the service takes place where you have to hike. This situation could arise if you help a family spread the ashes of their loved one.

Always choose something tasteful and appropriate for the situation you will be attending, whether a black dress, khaki pants, or a polo shirt. Ask questions, and you are certain to look appropriate for the occasion.