A wake is an informal gathering held before a formal funeral or burial. Often held in a home, funeral home, or church gathering room, a wake offers family and friends time to remember the deceased. Food is often served at a wake.
When you lose someone dear to you, you may wish to plan a wake for friends, acquaintances, and colleagues to offer their condolences to the bereaved family and say their final goodbyes to the deceased.
Customs surrounding wakes vary somewhat worldwide. In the US and Canada, wakes tend to be held in funeral homes. However, mourners may stop by the home to visit with the bereaved or gather at another location to reminisce about the departed and comfort the family.
While the funeral is more focused on mourning the loss of a loved one, a wake is a celebration of the deceased's life. Usually unstructured, informal affairs, wakes take place before the funeral at a funeral home, private home, church gathering room, or social club.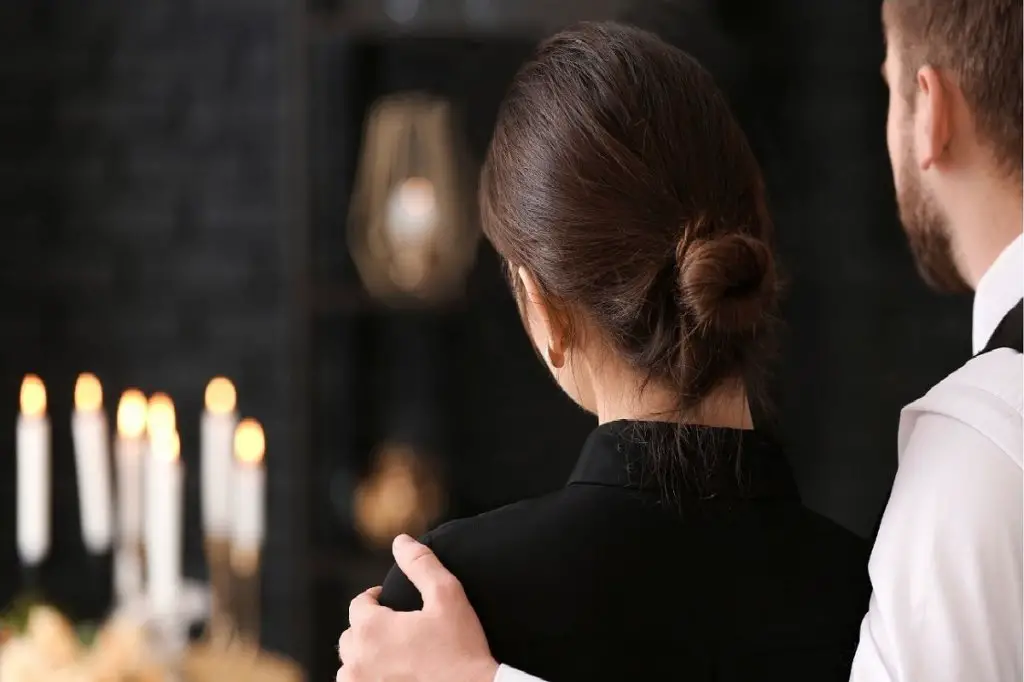 Wakes, Viewings, And Visitation – What's The Difference?
"Wake," "viewing," and "visitation" are often used interchangeably, although there may be some differences. In all three cases, the body is present in a casket – either open or closed.
A funeral viewing is seeing the deceased's body in the casket one last time.
A wake includes a viewing but may have religious ceremonies involved in addition to the socializing,
A visitation focuses on interacting with the grieving family at the funeral home or church hall but can also mean gatherings at other locations. Especially when held away from the funeral home, the body may not be present.
However, visitations are frequently held in the family home or other wake venues without the body present. These wakes have many similarities to funeral receptions or repasts, which are held after the services.
Customs Surrounding Wakes In The US And Canada
A wake in the US and Canada can also be called a viewing or a visitation and is usually held at the funeral home with the body present so that mourners can see the body a final time. If you look at death notices and obituaries in the local paper, you will see pre-funeral gatherings at the funeral home referred by any of these terms.
The family usually publicizes the details of the wake online or in a newspaper so that whoever hears or reads about the death can stop and pay their respects. There is no formal guest list, but anyone who knew the deceased or the family may stop by unless the notice states that services are private.
Depending on the number of people likely to attend, the family may arrange for a viewing for the two or three days before the funeral. A middle-aged person or any public figure who has a host of friends from work, church, and the community may draw enough visitors that the viewing may be held for several days. An older person with few living friends or relatives may have a viewing for an hour before the funeral.
When visitors come in, they sign a guest book. The table with the book may offer prayer cards or memory cards and donation envelopes for those who wish to offer some money to the family.
When people stop by the funeral home to view the body and comfort the family members, there may be some religious activities such as prayer or hymns, and for Catholics, praying the rosary, during each session of the wake.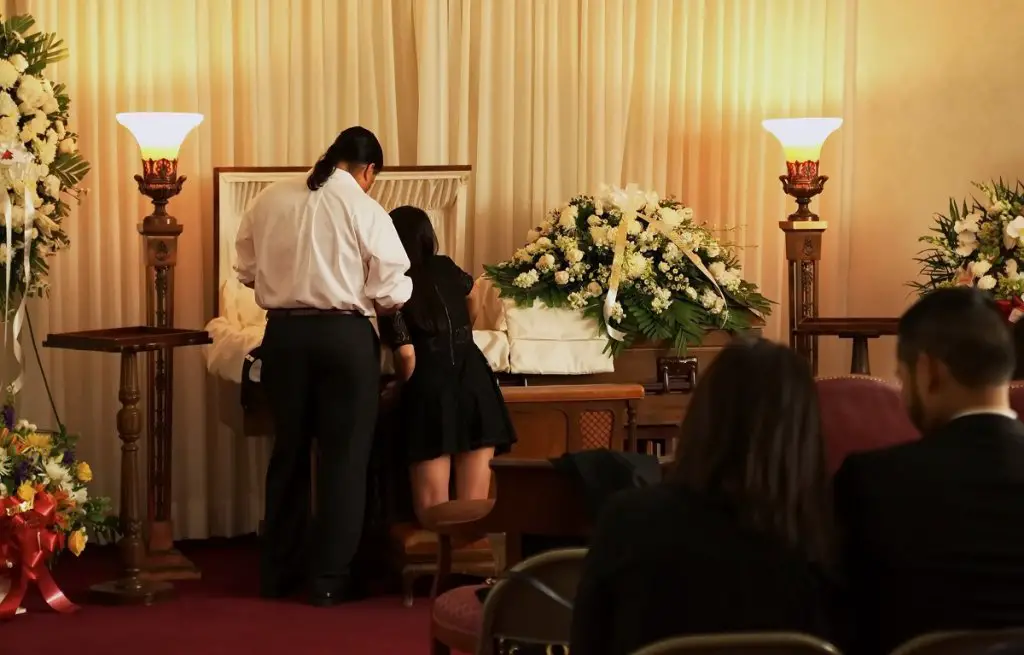 Planning A Wake At A Funeral Home
Holding a wake at a funeral home takes the stress of planning off the family as the funeral director oversees all the details from flowers to seating to laying out the deceased and arranging a private room for the family to receive visitors. These wakes do not go on very long as there is usually a time frame within which visitors are expected.
Light refreshments may be served in the private room, but these are usually confined to desserts and beverages. More substantial fare may be offered at the house and later at the funeral reception.
The funeral home charges for the facility by day or hour.
Visitations At Other Locations
Visitations can also refer to gatherings where close friends and acquaintances of the deceased offer their condolences to the grieving family. Friends may call at home or at another venue, but visitations where the body is present are more likely to take place in a funeral home or religious place of worship.
The rules for wakes, viewings, and visitation are not hard and fast and may differ among families and churches. Some families even choose to have a private viewing and a closed casket funeral. Others may choose a private funeral after several public viewing.
Holding the wake at a place that will host you for a longer block of time can be helpful, especially to visitors who are traveling a long distance and may not arrive within the short window most funeral homes provide. As covered above, the home of the deceased or a family member is the traditional venue for an extended wake as there are no fixed time restraints.
Traditional Wakes
In other cultures, a wake is usually held a few days or the day before the funeral service, whereas a viewing happens shortly before the funeral itself, often on the same day.
In Ireland and Mexico, for example, wakes are legendary events that last a day or two and are usually held at home with the body present. In visiting with the family, the life celebrations for the deceased can be lively yet prayerful. When visitors come to the home, the family may offer refreshments to be hospitable.
Each family can adapt the traditions surrounding the wake as they see fit.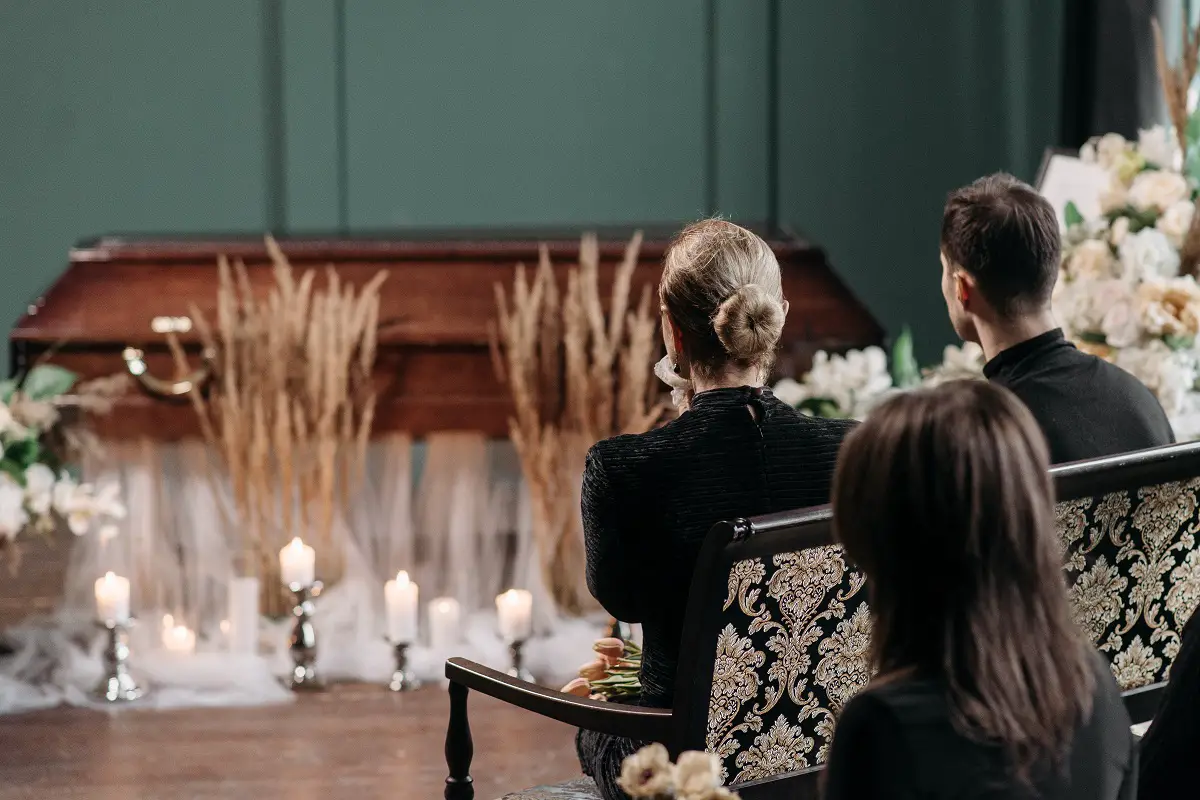 How To Plan A Funeral Wake
1. Choose A Funeral Home For Visitation
When choosing a funeral home during the funeral planning process, families should consider what the facility offers for wakes and visitation.
Is the main room well laid out, with plenty of seating?. Is there a private visitation room?
Will any wishes or instructions left by the deceased be honored?
Is there accessible parking, bathrooms, and ramps to accommodate all visitors?
Is it in a convenient location close to where the deceased will be ultimately laid to rest?
Can the venue support slide shows and memory tables to present photos of the deceased?
What are the charges?
Funeral costs add up, so the funeral home should offer the services you need at a price you can afford.
2. Have The Body Embalmed For Open Casket Services
A widespread practice around the world is to preserve the body after death – a process called embalming. This temporarily delays the natural effects of death on the body. It's especially important when there will be an open casket at the wake as it allows the mourners to see the deceased in a relaxed, peaceful state, which can give great comfort to the bereaved family members.
The funeral home should have a licensed embalmer on staff to perform this service.
3. Arrange And Announce Times And Dates For All Services
One of the first duties involved in planning a wake is creating an announcement to convey the news and extending an invitation to family, friends, and acquaintances. A simple announcement stating key details such as the date and location can be put in the local newspaper, on social media, or even via text or phone call. It's essential to inform people with as much notice as possible so they can plan accordingly.
4. Clarify Who Is Invited
A wake can be either private or public – this is entirely up to the family, as is the number of people invited. It is expected that family members and close friends should attend both the wake and the funeral of their loved ones. Acquaintances such as work colleagues or neighbors are often invited just to the wake to offer their condolences and say their goodbyes.
As death notices and published obituaries should state that the wake or funeral services are private if that is the wish of the family.
5. Display A Guest Book For Signing
Having a guest book available for mourners to sign is a good idea. A guest book is not the same as a condolences book; it's more to serve as a record of who attended as often the family is overwhelmed with visitors. They won't be able to recall every single attendee to be able to thank them at a later stage.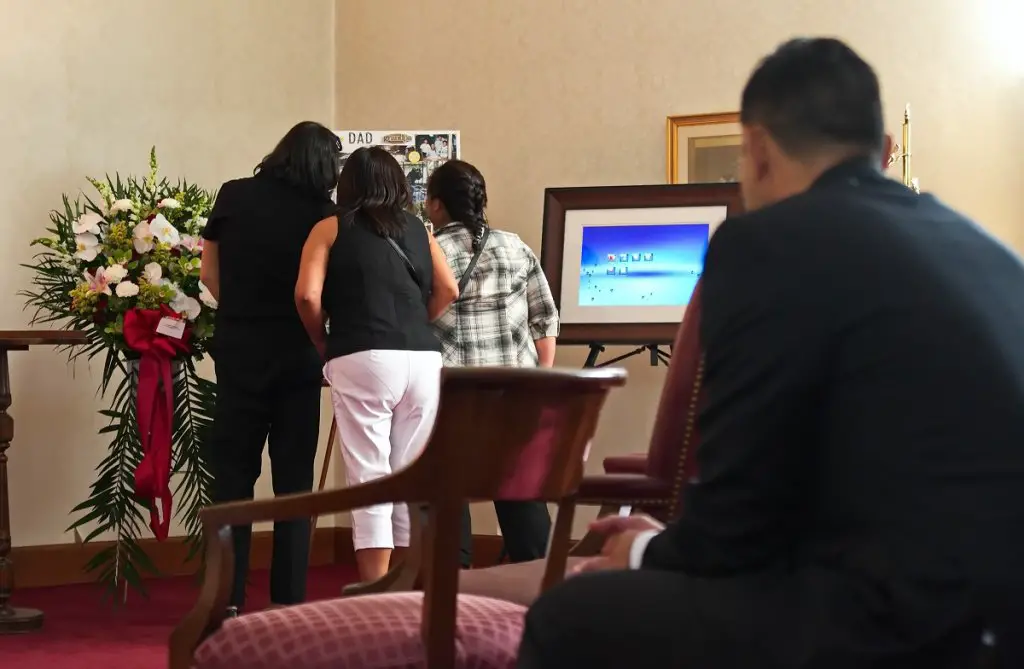 6. Prepare Picture Boards, Slideshows, And Playlists
Decorating the space with reminders of the deceased is very common as a wake is, after all, an appreciation of life. Many families celebrate the life of their loved ones with carefully selected photos arranged on a memory board or a slideshow that loops continuously. Contacting other friends and family to gather photos can create a fuller reflection of the deceased's life.
Similarly, creating a playlist is extremely popular for wakes. This can be made up of the deceased's favorite music or some more traditional music such as religious hymns. "Over The Rainbow" by Eva Cassidy, "Wind Beneath My Wings" by Bette Midler, and "You Can Close Your Eyes" by James Taylor are some favorites.
As music is copyrighted material, it's important to verify that the funeral home has the proper music license.
7. Planning For Refreshments
Wakes held at funeral homes typically have beverages and perhaps snacks or desserts brought by guests available for the family and friends.
A wake at home may have more food for those who drop by. Generally, a wake does not involve a sit-down meal; refreshments that can be enjoyed on a small plate while standing up are preferred. If the wake is held in a private home, you need to decide if you will engage a caterer or provide your own food.
A buffet-style layout including sandwiches, finger foods, and cake is practical. Tea, coffee, and soft drinks are usually served; alcoholic beverages are common but not expected.
A potluck is also popular; often, people will ask how they can help, and having them bring food to share allows them to feel involved.
After the funeral, the family may host more of a meal, but this is personal preference, not a requirement.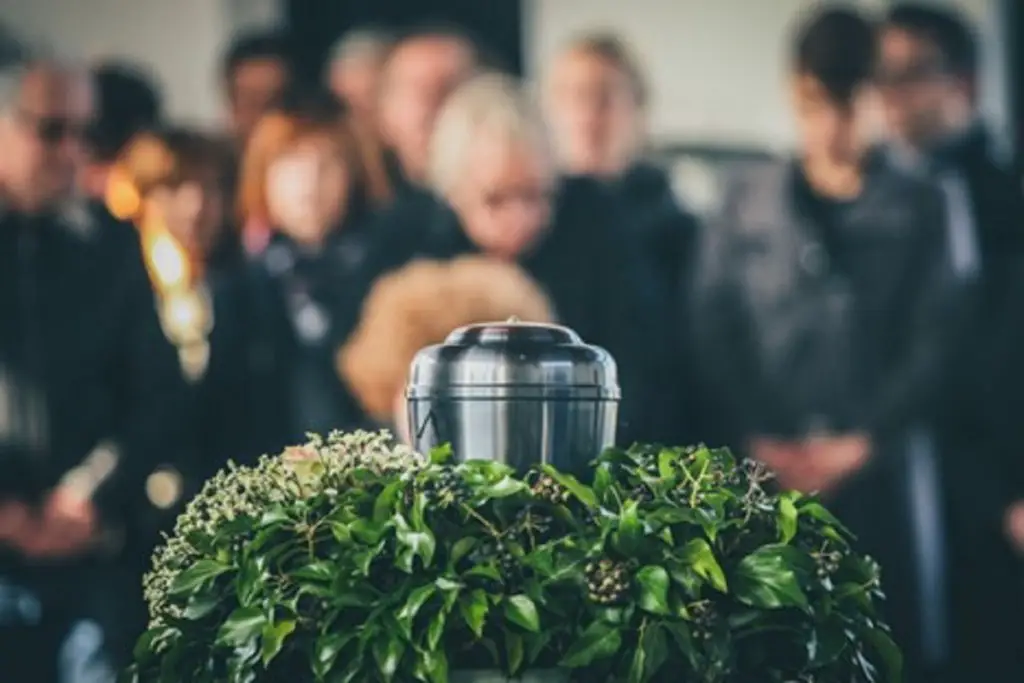 8. Wakes For Cremation Services
There is a misconception that you cannot have a wake if cremation is chosen due to the nature of the embalming process and the chemicals used. This is simply untrue; many people choose to be embalmed before cremation expressly to allow their family members the chance to say goodbye at the wake.
The main difference will involve the casket as this cannot contain any metal parts and must be fully combustible. There is an option to rent a traditional casket for the wake and then transfer the body to a cremation-friendly casket afterward.
Another option is to have a wake without a body that is more of a memorial service.
9. Should You Consider A Home Wake?
While the deceased is treated with the utmost respect and care in a funeral home, the family may feel that services there are impersonal.
A hundred years ago, families waked their unembalmed bodies at home and covered the smell of decay with flowers. Today most people use the services of a funeral home, but there is currently a movement underway to bring back natural home wakes.
A home wake can provide the intimacy and immediacy that some wish for. The body is washed, prepared, and laid out – often in an open casket – to be "watched over" for up to 3 days. Bear in mind that keeping a body at home will involve the use of cooling methods such as dry ice or frozen gel packs. A home wake is usually followed by cremation and green burial.
Home wakes are usually much more informal and unstructured, allowing visitors to stay longer and to reminisce and exchange anecdotes about the deceased.