A funeral repast or repass, also called a funeral reception, is an informal gathering held after funeral services to share memories usually over a meal. The food may be catered or prepared by friends and family, The event gives mourners the chance to offer condolences to the family, celebrate the life of the deceased, and bring closure to the funeral.
After the funeral, which is often dominated by rituals of various faiths, many cultures have some reception after the funeral to give closure to the event. Often called a repast or repass, this post-funeral reception can be as formal or informal as you wish.
Depending on the number of people expected to attend the funeral and the comfort level of whoever is hosting the event, it can be immediate family only, a slightly larger group, or an open invite to anyone who attended the memorial service.
The repast venue depends on the number of people who will attend and the financial situation of the hosts. The prominent bishop of a large local church might have a catered reception at a restaurant, but these events often occur in church halls, lodges, party rooms, or at the family home.
Many funeral directors will host a luncheon site. Most funeral homes have no catering staff but work with local caterers. Having the repast at the funeral home is particularly convenient when the services take place there.
We have compiled some excellent information, advice, and planning tips for you if you plan a repast after a funeral or memorial service.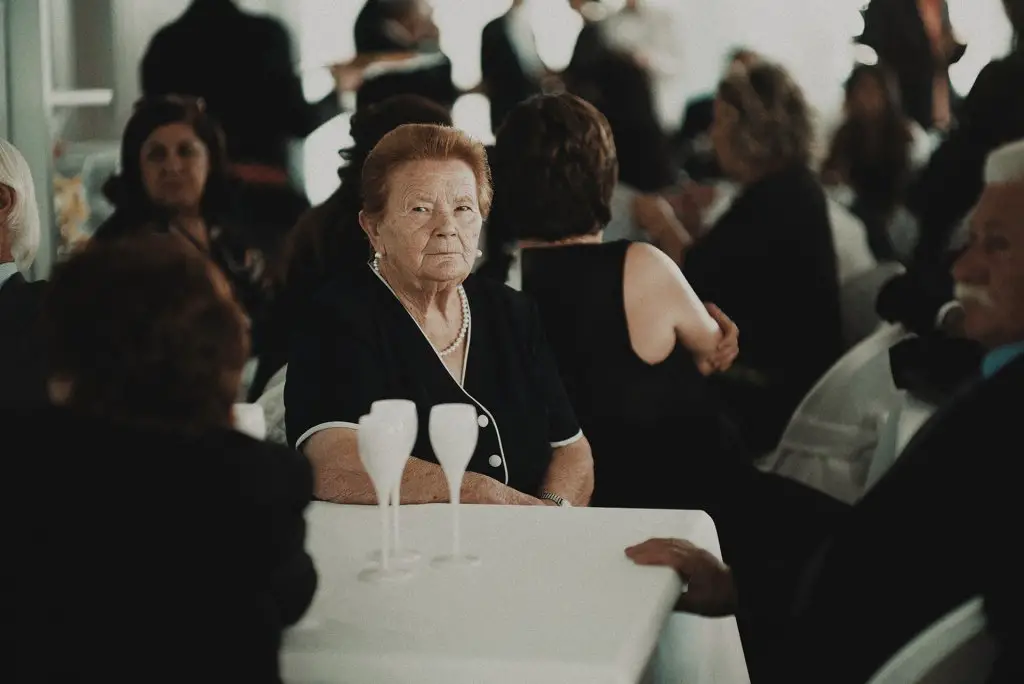 What Is The Purpose Of A Funeral Repast?
A funeral repast is an opportunity for people to break bread together while mourning the passing of someone dear to them. The funeral dinner gives people another chance to support the family in need.
The funeral process can be quite daunting as the immediate family navigates the funeral planning and implementation, and a meal with close friends of the deceased can offer a lot of comfort during this difficult time.
Traditions And Etiquette
Even if the funeral repast lacks the service rituals, there are still guidelines for what it is like and what happens there.
Attendance: If it is announced at a service that all are welcome to the funeral reception, you should feel free to attend. However, if you hear about it through the grapevine, you should not assume everyone is invited.

Conversation: While it is okay to share a fond memory of the deceased, follow the cues of the bereaved. If family members keep changing the conversation, follow their lead.

Food: Hiring a caterer is extremely popular, but the friends and family of the bereaved may provide the food or host a potluck-style meal. Even if a funeral committee hosts the banquet, offering food to the repast is a lovely sentiment.

What is Served: Funerals often end around lunchtime, so offering a full lunch is appropriate. No rule mandates meals so that the menu can be beverages and desserts.

Offer Comfort: This is a very appropriate time to offer comfort and emotional support to the family. Even if you have already attended the wake, service, and burial, the family may still appreciate your presence.
Where Is It Held?
Funeral Home
Church Banquet Hall
Local Restaurant
Community Center
Family Home
Park
Pavillion
Some families have a repast for those at the funeral and follow up the reception with a smaller informal gathering at the home of a family member.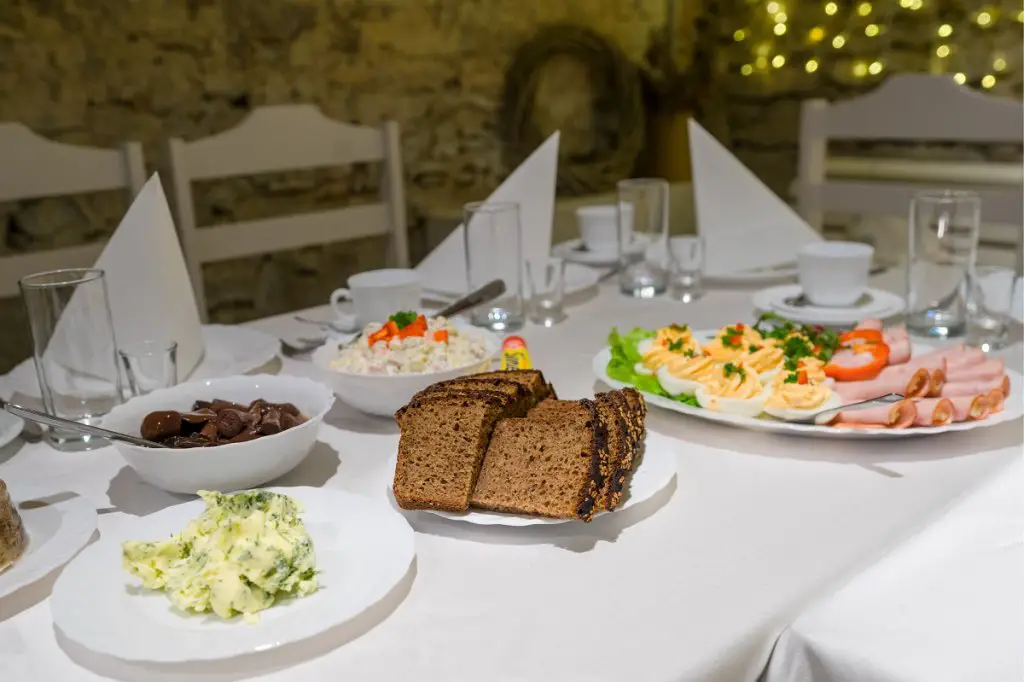 What Is Served?
The funeral repass varies as to what is served. Professionals can cater it, or friends and family members may supply food items. Luncheon is done at a restaurant that might offer an open menu of food items or a limited menu.
The luncheon may be buffet-style or family-style, where plates of food are brought to the table.
Some thoughts on what to serve include:
Main Dish: Popular main dishes for funeral meals are chicken, baked ham, or sloppy joes if you are looking for a hot food item. Sometimes, it is easier to put out deli trays of cold food items for sandwiches that might include sliced ham or turkey or to offer things like chicken salad or egg salad.
Casseroles: Everyone has a favorite casserole that you can count on them to bring to a potluck lunch. If you plan the meal and people offer to help, please let them!
Other Side Dishes: These dishes can be anything from meatballs to your favorite appetizer.
Salads: Salads are a great filler food, so many salads are available. Pasta, lettuce, taco, potato, macaroni, and spinach salads nicely complement any menu.
Desserts: Don't hesitate to make dessert easy. Pies and cakes are an excellent addition, but you can serve cupcakes, bars, jello, cookies, or fruit cups for easy cleanup. Variety is excellent and will please various tastes and age groups.
Beverages: Punch, lemonade, and water are all easy options. Don't forget to put out an urn of coffee for people to have with dessert. There is no requirement to serve alcohol.
For more insight into common funeral food and how to prepare for service, click here.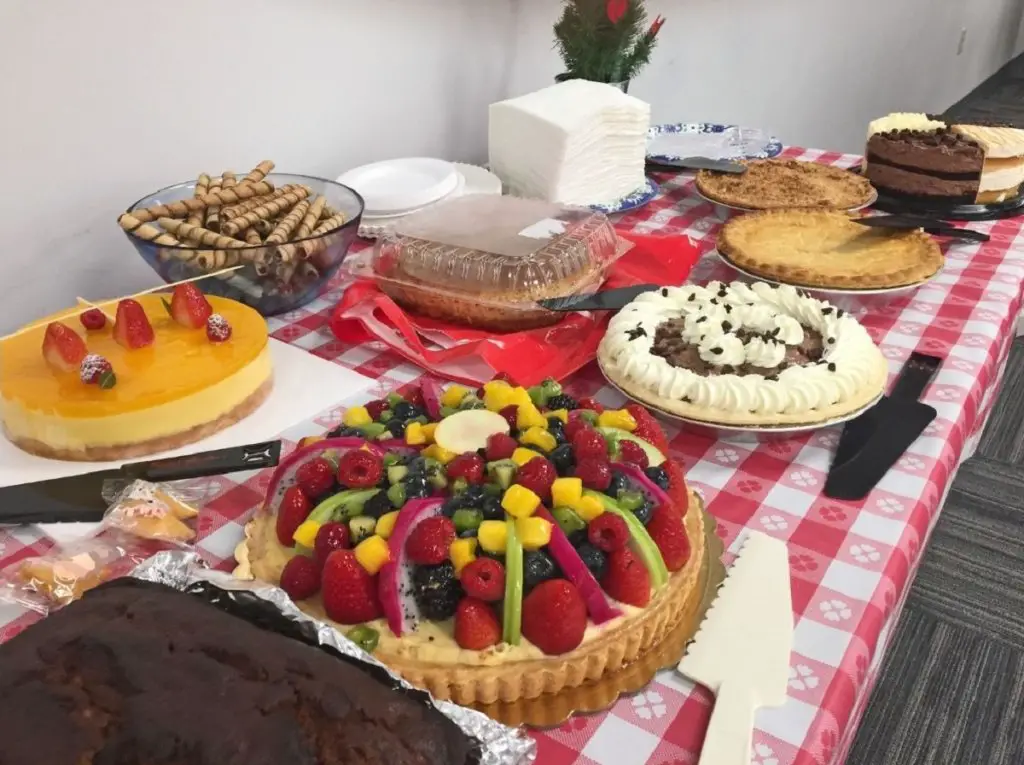 Who Pays For The Repast?
Typically, the family of the deceased pays for the meal. However, in some church families, their funeral etiquette has the church taking care of a post-funeral meal. The funeral committee determines and coordinates the meal, either buys the ingredients and cooks the food or asks individuals to bring particular food to complete the menu.
Growing up in a Catholic home, I remember that my mother was on a funeral committee one month each year. If anyone within our parish passed away during that month, all committee members either volunteered to work the day of the funeral, brought food to contribute, or did both.
In that respect, church members helped to pay for the repast by donating food and volunteering time. After the funeral ceremony, parishioners and other guests went to the parish hall for the luncheon.
What to Expect
Sometimes, the funeral repast is a beautiful celebration of life. You might see a memory table, or people might be asked to get up to reminisce and tell a story open microphone style. Things are much more informal in other situations, and people just chat during the meal.
Saying goodbye to your loved one is never easy, but the funeral meal will help to show you exactly how many people cherished the person as much as you did.