When a firefighter dies, especially in the line of duty, they are entitled to a firefighter funeral in recognition of their contribution to keeping the community safe. There are several types of firefighter funerals that can be held not only for active and retired personnel but for fire service workers and family members.
Funeral arrangements for a fallen firefighter are a very regal affair steeped in history and tradition, much like funerals for police officers.
Who Qualifies for a Firefighter Funeral?
Active and retired firefighters alike qualify for firefighter funerals. Anyone who has watched a little Chicago Fire knows the perils these hard-working civil servants face every day.
However, not just firefighters putting out blazes can be honored with a firefighter funeral. Many department members who are not out there fighting fires are valued team members honored in death. A dispatcher who worked closely with the department may be buried with a firefighters' funeral. Or an administrative assistant who worked in the firehouse qualifies for a firefighter's funeral, even if they never fought a fire and died of a cause unrelated to their job.
Anyone in a job for a fire department, even if not related directly to fighting fires, such as an investigator, receives the official sendoff as well.
Sometimes an immediate family member of a department member is honored with a firefighter memorial service.
Types Of Firefighter Funerals
There are four levels of firefighter funerals, separated by how the person passed away as well as how much formality is desired by the family of the deceased member.
Formal Service: A formal service is typically reserved for a line of duty death. This type of service will include using apparatus, such as fire trucks, for the funeral. There will also be pallbearers and a funeral detail of fire personnel dressed in Class A uniforms. An optional color guard will also be available. Other options include: bagpipers, bell service, badge shrouds, crossed ladders, honor guard, and a station/vehicle bunting.

Semi-formal Service: This type of funeral is for people who are active members of the firehouse but who did not die in the line of duty. It can also be for retired firefighters or those who are affiliates of the department. This includes the same things as the formal service, excepting the use of apparatus.

Non-formal Service: This type of service includes the funeral detail of personnel in Class A uniforms and also may include badge shrouds, bell service, honor guard, and station bunting. This funeral is for non-firefighting personnel, retired members, or affiliates.

Private Service: Sometimes, no matter what the circumstances, the family prefers a private funeral. That is always the family's right. Of course, close friends of the family may show up in Class A uniforms, but the rest of the regalia would likely not be included.
Any family can request less formality and regalia than their loved one is entitled to. A family liaison has the responsibility to ensure the wishes of the family are honored.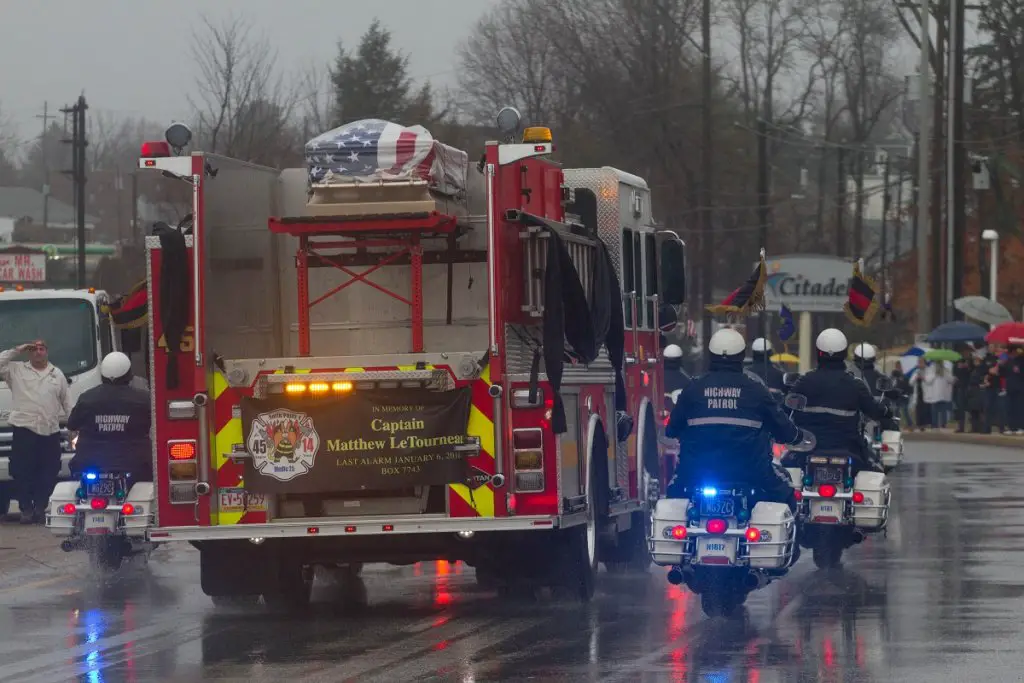 Customs For Firefighter Funerals
There are many customs for the funeral protocol for firefighters. When a firehouse experiences the death of a member, they honor that person in many different ways. TA liaison officer will reach out to the grieving family to see how formal a funeral the family wants and which traditions they want to be included.
Fire Trucks: The use of fire trucks or other apparatus is an honor usually reserved for those who died in the line of duty. The apparatus can be used in a funeral procession or is sometimes used as a hearse.

Hand Salute: As the casket goes past, the officer in command (OIC) will issue the order for the firefighters in the Color Guard to give a hand salute to pay final respects.

Dress Uniform: What laypeople refer to as the dress uniform is called the Class A uniform by firefighters.

Honor Guard: The honor guard dresses in the Class A uniform and guards the body of the deceased during the wake. A very formal honor guard could include up to 18 members.
Badge Shrouds: A badge shroud is a black band that covers part of the badge. It is a sign of mourning in a firehouse.

Bagpipes: One of the oldest traditions of a fire station funeral is the playing of the bagpipes. In tradition, the playing of the bagpipes is a hallowed sound that helps the firefighters to grieve and pay respect to their fallen comrade. This tradition is also known for fallen members of the police department, and they often play "Amazing Grace."

Helmet on the Altar: The firefighter's helmet is traditionally placed on the altar or in another place of honor at the funeral of a firefighter.
Folded Flag: Just like in a military funeral, a firefighter has a flag draped over the coffin. Members of the department, or other firefighters on the honor guard, fold this flag and present it to a member of the grieving family.

Maltese Cross: This cross is a badge of honor, symbolizing the firefighter's willingness to lay down his life for someone if necessary. Sometimes this cross is worked into funeral flowers or displayed in other ways.

Walk Through: During a fire department funeral, firefighters and other dignitaries will walk through at a prescribed time. They each pause before the casket to pay their respects.

Fireman's Last Call: At some point, a dispatcher will say the firefighter's name over the radio in a last call. Also known as bell service, the last call is a somber moment.

5-5-5-5: The code 5-5-5-5 signals the death of a firefighter or mayor. It tells those of the firehouse to lower the flag to half-mast.

Firefighters Prayer: The fireman's prayer is sometimes worked into the funeral ceremony.

When I am called to duty, God, whenever flames may rage; Give me the strength to save some life, whatever be its age. Or save an older person from the horror of that fate. Enable me to be alert and hear the weakest shout, And quickly and efficiently to put the fire out.
Attire And Other Points of Firefighter Funeral Etiquette
A funeral of a firefighter will be very formal, so laypeople should also dress relatively formally. Dark clothes that would be appropriate for a business meeting are appropriate. Firefighters typically wear their dress uniform, also called the Class A uniform.
Firefighters usually also practice badge shrouding by placing a simple black band over their badge to show they and the house are in mourning.
Those part of the honor guard or color guard will wear white gloves.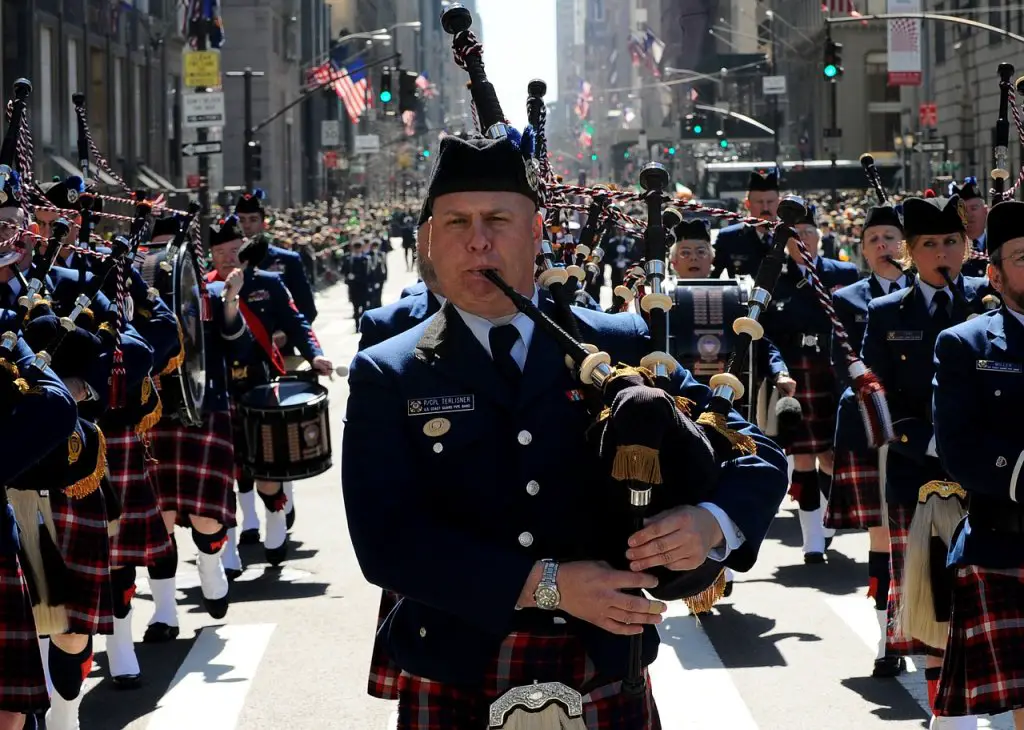 Order of Service
The order of service for a firefighter's funeral will depend on the religion of the deceased. As you know, funeral procedures vary based on religion, family preference, local customs, etc. A general order of service includes:
Welcome: Someone, often a pastor, will welcome the guests.

Prayer and Music: As with any funeral, there will be prayers and music. At some point in the funeral, the firefighter's prayer might be recited.

Scriptures: Most funerals offer some type of scriptures that are funeral appropriate and are meant to offer comfort to the family during their time of need. Depending on what type of church service is conducted, there might be a homily.

Speakers: Depending on how the person died, there may be speakers. A firefighter killed in the line of duty will often be honored by the mayor or fire chief.

Eulogy: Someone close to the deceased will give a eulogy.

Closing Remarks: This could include more prayers, more music, a thank you to people for their support of the family, the fireman's prayer, or something else. Sometimes the last alarm is explained so visitors outside the firefighter family understand what is about to happen.

Last Alarm: The last alarm, last call, or last bell is usually worked into the service (see description below.)

Bagpipes: It is customary for bagpipes to be played at a funeral of a firefighter.

Dismissal: Since a firefighter's funeral is a formal affair where the firefighters are dressed in their dress uniforms, they need to be dismissed by an office in command. The command to "order arms" ends the salute and puts the men at ease.
Last Call
The firefighter's funeral includes the "tolling of the bell," a ceremony where bells go off in a very specific manner. The bell ceremony replicates the old firehouse bells that used to ring when there was a fire.
Before new methods of communication, when a firefighter fell, that information was sent via telegraph. The telegrapher would use fit-measured dashes to tap out the word "fell," then pause, then repeat the message two more times.
Today, the dispatcher calls out the name of the deceased firefighter, followed by a few moments of silence. Then, the person says, "call home," along with the person's name and date of their passing.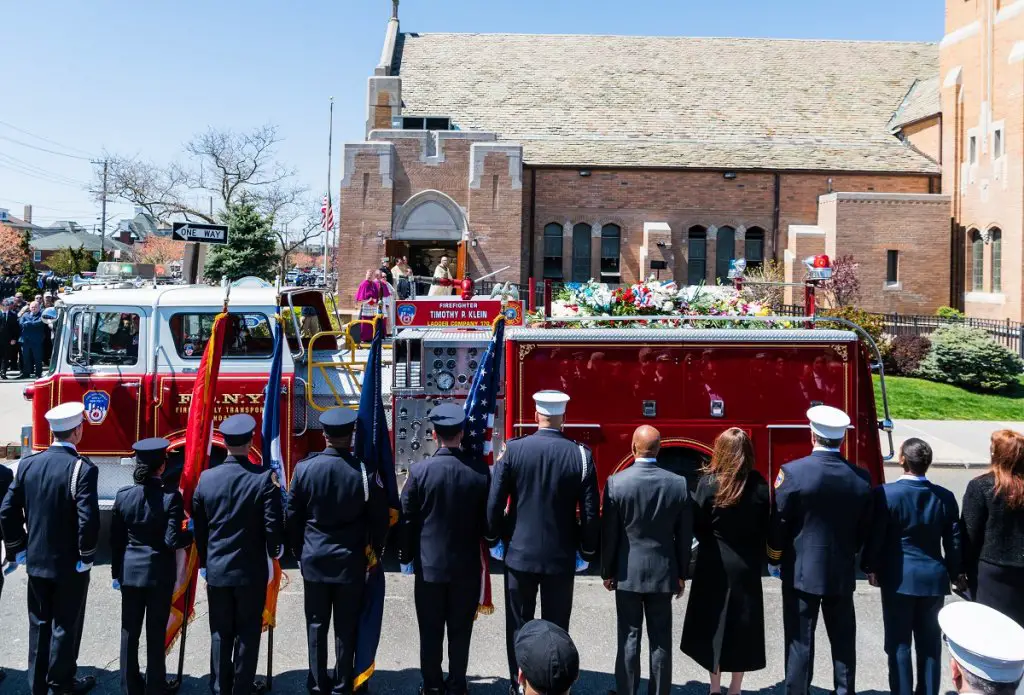 Expressions of Sympathy
When sending your personal condolences to either the family or the firehouse who has lost one of their own, there are many appropriate expressions of sympathy. Vendors like Etsy have many beautiful items tailored specifically to firefighters.
These things might have the black and white version of the American Flag with the red line in the center, which has become a known symbol of support for firefighters. The Maltese cross is another symbol for firefighters.
Another lovely gift would be something with the firefighter's prayer on it or a memorial candle.
Sending food to the family or firehouse so that it is one less thing they have to think about is always a nice gesture, as are flowers. Be certain to tell the florist your flowers are for a firefighter. They are likely to add something befitting that status.
You will note the firehouse is showing sympathy by flying their flag at halfstaff, wearing badge shrouds, and expressing their pride for their fallen member via social media.