When you express sympathy to someone who has lost a loved one, you do not need to say a lot to convey meaningful sentiments. Short condolence messages that avoid cliches can effectively extend your deepest sympathy to a friend, business associate, or loved one.
It's never easy to cope with the loss of a loved one. It's an experience that brings forth a plethora of emotions — from denial and anger to loneliness and depression. And as such, comforting the griever at a difficult time can also be quite difficult. You can help the bereaved move forward by sending a brief, clearly written, and sincere condolence message.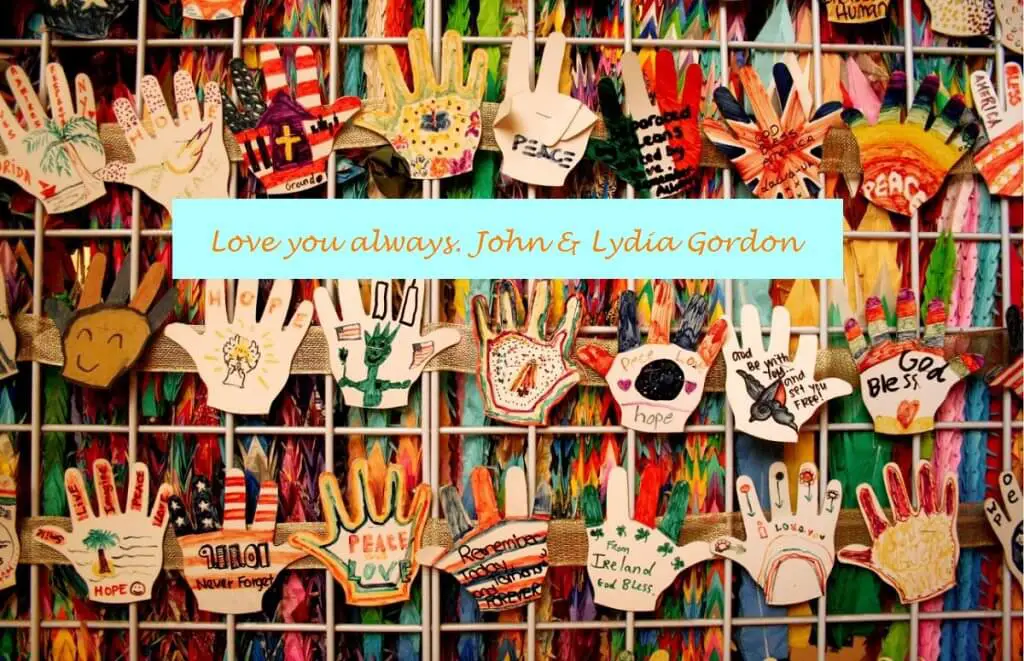 How Long Should A Sympathy Message Be?
Unless you start crafting sympathy messages for a grieving family, you'll never know how hard it is to find the right words and the most appropriate length to encapsulate your sentiments. If you're writing a sympathy card and get carried away, you could even produce a message that's too long.
Though there's no set rule about the length, keeping your sympathy statement succinct is generally advised. Bear in mind that the bereaved have a lot of things to deal with — they are processing their emotions all while preparing and overseeing the funeral.
A good length would be no more than five sentences. Within short condolence messages, you can already express your feelings, share a word or two about the deceased, and even offer support in their time of need.
What Is A Good Short Condolence Message?
When crafted with the utmost sincerity, a concise message can show your deepest sympathy for the loss of a fantastic person. But what is the anatomy of an effective yet short sympathy message?
There's no set structure about it. But generally, it should:
Indicate the recipient's name
State the person who died (e.g., their mom/dad, spouse, brother/sister)
Be personal (for instance, you can briefly bring up happy memories)
Express support and/or offer help
Say your name so that the bereaved can know who it came from (especially if it's a written card, not a text message)
Above all, it should be heartfelt
Below is a sample of something you can write to a grieving person:
Dear ____,

We are saddened by your father's passing. His kindness as our neighbor brought forth wonderful memories we'll always treasure. Know that you are included in our prayers at this time of loss. You have our love and support.
With sincere sympathy,
______ and family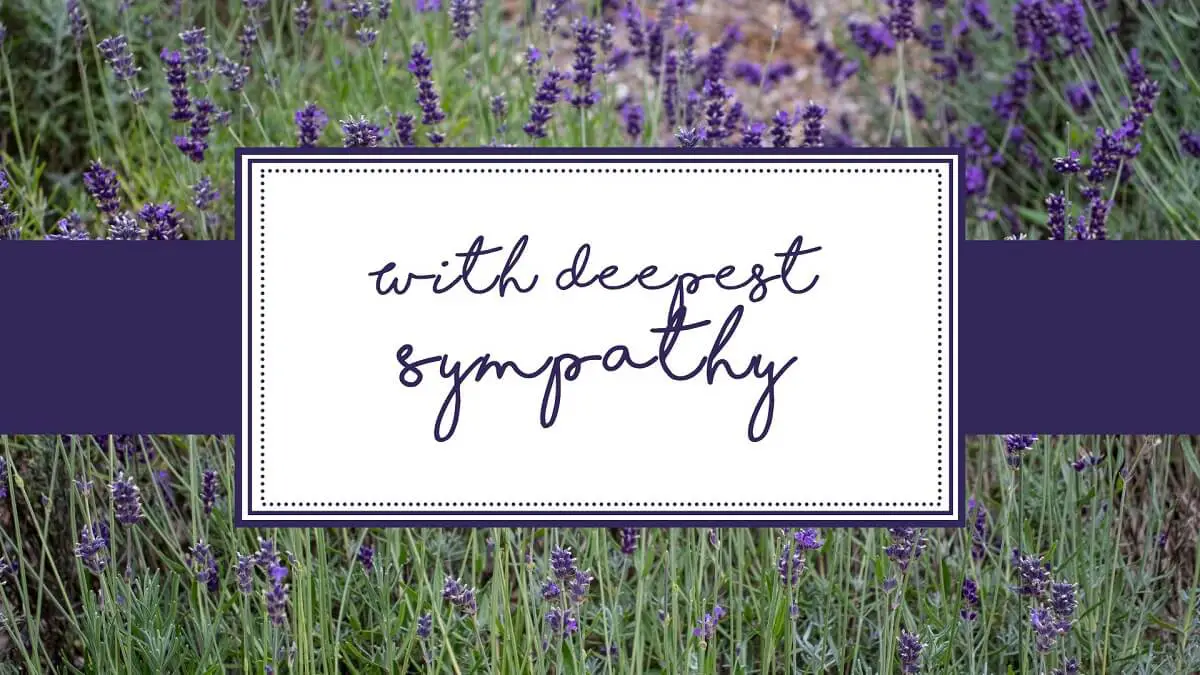 How Do You Send A Simple Condolences Message?
If you choose to send condolence messages through a sympathy card, you have the following options:
Pick a template card from an online retailer, customize a message, and have them mail it to the bereaved.
Buy a sympathy card from a physical store and mail it yourself. You can also choose to send it alongside a sympathy gift.
Create a card yourself. Many free and low-cost programs can help you do this. Many printers come with software templates for making cards. You can print your message on the card.
If you live near the funeral service venue or the home of the griever, personally deliver the condolence card.
Nowadays, you can also express your deepest condolences with the help of modern technology. You can immediately and efficiently convey your sentiments by sending a text message, an email, or a social media chat. If you're comfortable doing any of this, you're free to do so.
Just as you'd write a message on a card, you should keep it concise and heartfelt. To make sure it's written in a presentable manner (e.g., the wordings are clear), you can also create a draft in a separate application first. Copy-paste the text and double-check that it is error-free and that you're sending it to the right recipient.
Also, remember that sympathy messages aren't only just sent after the death of someone. You can send sympathy cards and digital messages during important occasions such as birthdays and death anniversaries.
Cliches To Avoid
Anyone would want their words of sympathy sent across with lots of love. But, unknowingly, you could end up saying the wrong thing — especially if you aren't aware of these condolence cliches:
Referencing details about the death of the deceased
Telling them that the departed is in a better place or it was their time to go
Stating that you know how it's like to have a hard time after losing a loved one
Assuming what the bereaved feel and their capacity to cope
Offering something you can't deliver
What Is A Good Condolence Message For A Coworker?
When a coworker is having a time of sorrow following the death of a loved one, it's common courtesy to at least send them a condolence message. They would appreciate it if someone from their workplace acknowledges what they are going through.
The theme of your sympathy note depends on your relationship with your colleague or if you know the departed personally. Below are some ideas:
"Sending healing prayers to you and your loved ones. May God give you the strength you need."
"Remembering your wonderful mom. May your loved one's soul rest in peace."
"Your father was a role model to all of us. He will be sorely missed."
"So sorry for the loss of your sister. I can't imagine the depth of your loss."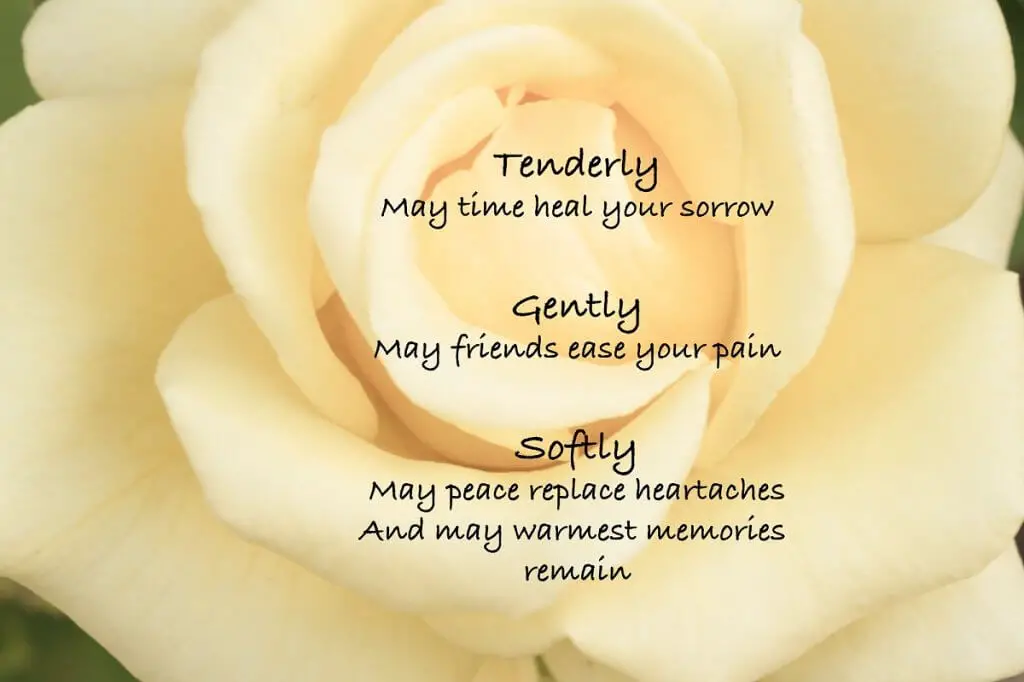 What Is A Good Message To Say To A Friend Who Has Lost A Loved One?
When your close friend loses someone, and you're offering your heartfelt condolences to the family, you can even be more personal. Because you know the griever more profoundly, you can write a message that you know they will appreciate.
You can also include Bible verses, especially if your friend is religious. You can add sympathy quotes from an author that they admire. You can also state positive attributes of their departed family member. Here are some examples:
"Take solace in the fond memories of your mother. She was one of the best people I've ever known. I pray for your heart to be healed."
"Your sister had always been a source of inspiration for both of us. I was devastated by her loss. Let me know if I can help you with anything."
"People like your grandma are rare. She's a beautiful soul I'll always be thankful for. You're included in my prayers."
"Offering my sincere condolences. With a heavy heart, I sympathize with the passing of your grandfather."
"I'm shocked by the news of your brother's passing. He's a supportive person and I know how proud you are of having him as your brother. My thoughts are with you."
More Examples of Powerful But Short Condolence Messages
Whether you're saying your condolences in person, via a phone call, or through a card, the important thing is to express it genuinely. Below we've listed down some more variations of words of condolence to help you out:
"Thinking about you and your family in the time of grief."
"May your sister's loving memories give you strength to go on."
"Please accept our sympathy. Your loss is heartbreaking to us."
"In this sad time, we will be available when you need us."
"Our prayers are with you in this sorrowful time. May God lighten the pain you feel."