A candlelight vigil is an outdoor assembly of people carrying candles often called to protest injustice or mourn death. The vigil is head after sunset, so participants carry candles and listen to speeches. Some vigils are held for religious purposes.
A candlelight vigil is a powerful way to bring people together for a shared purpose. Whether you are mourning someone, or trying to raise awareness regarding something happening locally or globally, a vigil is a quiet and peaceful event.
You can create a small and intimate service or have a large public Facebook event, and both can be vigils – just for very different purposes. So what is a vigil? Why do people host them? And what are the steps to holding one?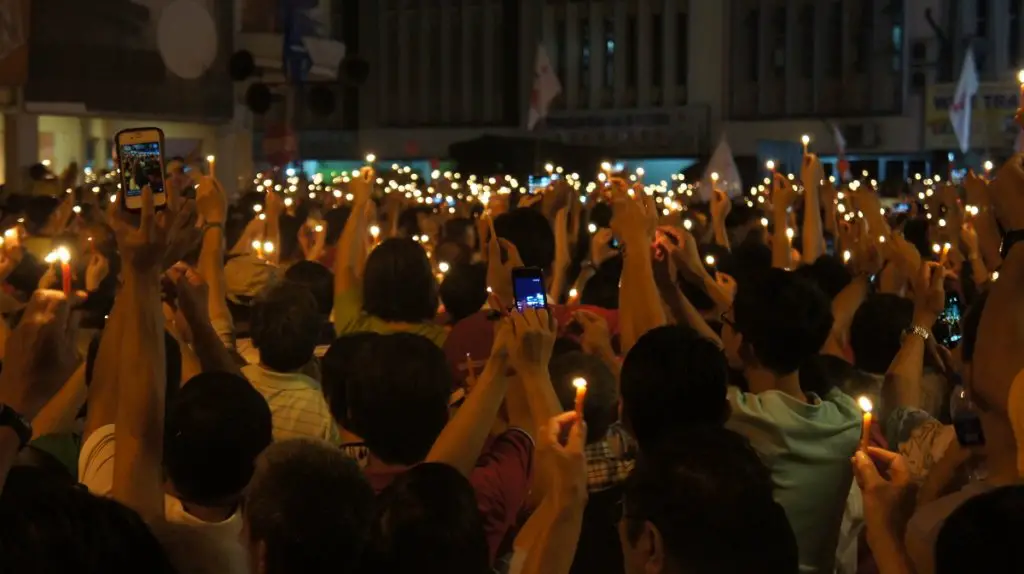 What Is A Candlelight Vigil?
A candlelight vigil brings together a group of people for a united purpose when the gathering takes outside, usually after dark, and those in attendance light candles. It can be a candlelight memorial, a prayer vigil, or a peaceful rally.
The vigil often includes speeches to inform and motivate the crowd about the issue, memorials, testimonials of shared experiences, poetry, prayers, or prose, and music.
What Is The Usual Purpose Of A Candlelight Vigil?
A vigil can be held for many reasons.
Awareness: It can be to raise awareness of a cause.
Protest: Vigils can be held in protest of something happening.
Prayer: Sometimes, the sole purpose of a vigil is to bring people together to pray.
Memorial: A beautiful memorial idea is to have loved ones and friends gather in a vigil to remember someone who has either recently passed or to commemorate the anniversary of that person's death.
Fundraising: To raise funds for a cause, a vigil is an excellent way to raise awareness which can also result in increased funds.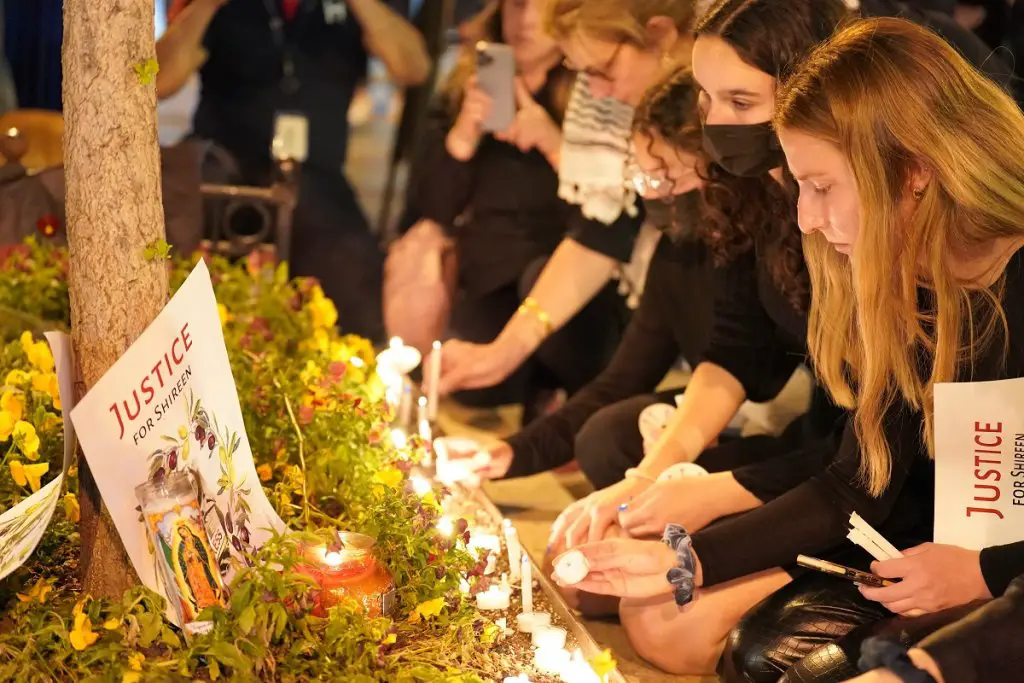 How Do You Plan A Candlelight Vigil?
Whether you are saying goodbye to a loved one, remembering someone who has passed on the anniversary of their passing, or raising awareness for a cause, there are some simple steps to setting up a vigil.
Get The Proper Permits: Some municipalities require permits for gathering on public property. Even if you technically do not need one, having one will be helpful if any issues arise. As it may take time to get the permit, allow plenty of time before the event for the oft-tie slow wheels of justice to move.

Start to Invite People: There are many ways to do this. You can create an event page on social media or email or text people to invite them, or even call local media to help you let people know. If it is part of a funeral service, ask that the information be put into the obituary as well as the funeral program, so people know that it will be happening.

Choose a Location: Where will you have your vigil? It can be anywhere from a public park to a parking lot of the auditorium where an event is happening to a grassy area outside of a church. If you are protesting a local law, you might gather outside of city hall, whereas a funeral vigil might be right outside the funeral home.

Determine a Time: You should also determine what time your event will be. It is okay to say "immediately after the service" or "post-meeting." Another option is to say that the event will be held "at dusk" or "at 6 PM."

Gather Materials: If you are hosting the vigil, anticipate needing to supply some materials. You need candles, lighters, and perhaps drip protectors. If you plan on speaking, you might want audio equipment and a sound system.

Contact Person: When holding an event to raise awareness to a specific cause, you will want to decide who should be the point of contact in the event of questions that may arise. Also, someone must take the lead on sending out notifications, etc. Make their contact information available to people.
Determine Who Will Speak and What to Say: Vigils can include a small memorial service, people being invited to say a few words, a moment of silence, or music.

Plan B: What will happen in the event of inclement weather? If there a "Plan B" such as an auditorium or inside of a church where your group can gather?
Are Candles Typically Used At Candlelight Vigils? What Kind?
When people gather for a candlelight vigil, they can technically carry any kind of candle. If you are planning a vigil and want to gather items together, there are different kinds you can use.
Tapers: When you use a taper for your vigil candle, make sure you bring drip protectors. Those are just round paper discs that go around the candle and over your hand. Tapers are long, thin candles.

Tea Lights: Another popular candle to give for vigils are tea lights. Although those are not as easy to hold, so some people choose to use the tea lights in bags to illuminate the grounds of the vigil.

Battery Operated Candles: There are also battery-powered tapers or otehrsmall, battery-operated candles available that can either be held alone or placed in a small votive. This is a nice option if you anticipate having children at the event.
What Can I Expect At A Candlelight Vigil?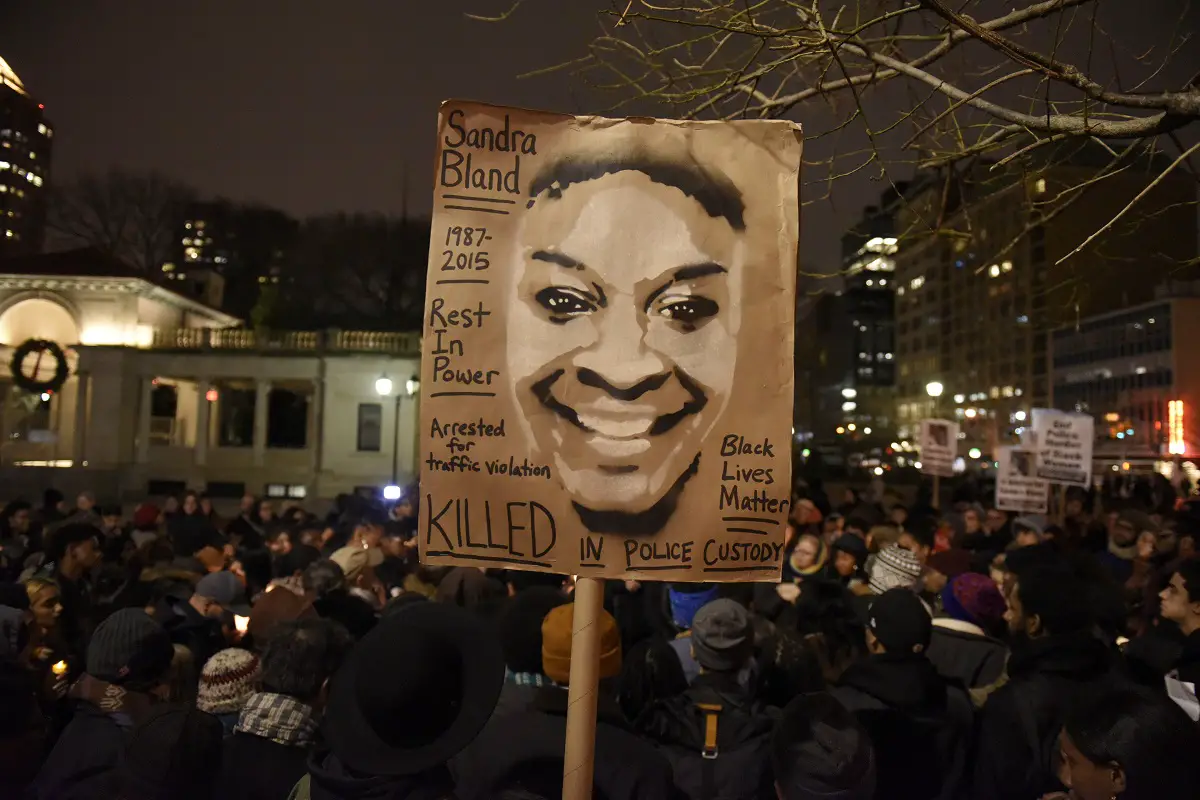 Candlelight vigils vary a great deal depending on the purpose. A vigil is sometimes a full candlelight service, such as in the case of some Catholic services. Vigils are also a great thing to incorporate into a memorial service after a wake, and you can provide memorial candles in memory of your loved one.
You can expect some or all of the following:
Prayers: No matter why the vigil is taking place, prayers are often said.
Music: Sometimes you can say everything you need to in a song or two, so there might be music.
Open Microphone: Another thing that happens is the host might invite people to step up and speak. This is true whether it is a service for a funeral, a memorial service or to raise awareness to a cause or public happening.
Emotions: Don't be surprised if emotions run high at a vigil.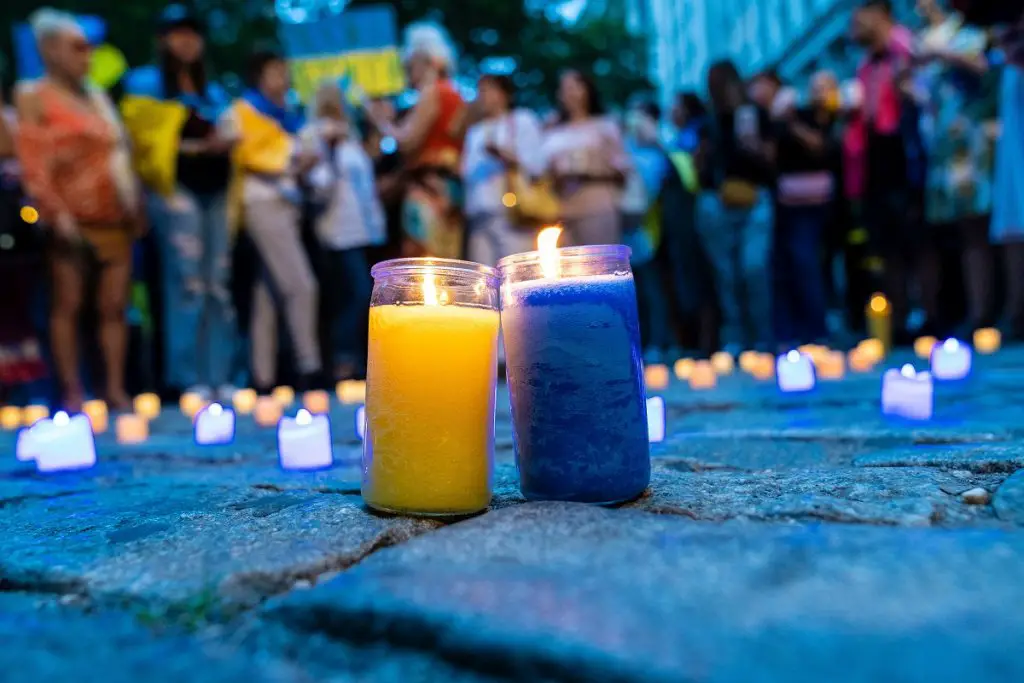 What Are Examples Of Recent Candlelight Vigils In The US And Around The World
Elvis Week: In commemoration of the 45th anniversary of the death of the King of Rock and Roll, Elvis Presley, fans flocked to Graceland to participate in candlelight vigils. The vigil is considered the cornerstone of this annual week to celebrate Elvis and his impact.
Tiananmen Square: For years, protesters appeared in Tiananmen Square for a candlelight vigil in remembrance of the Tiananmen Square massacre of 1989. Of late, the Beijing government has forbidden this public display of outrage in Hong Kong. Now, these vigils are popping up across the globe to raise awareness of their suppression.
Pulse Club Shooting: After a gay nightclub was shot up in 2016 in Orlando, Florida, killing 49, vigils have been held annually. The vigils spread worldwide with messages against violence. Recently, the owner of Pulse spearheaded a vigil for the school shooting in Uvalde, TX.
Domestic Violence: Many vigils are held each year to raise awareness about the pervasive problems of domestic violence throughout the US and the world. These are often held in October, Domestic Violence Awareness Month.
War: Holding candlelight vigils for those who are victims of war and violence is common and topical. The recent aggression against the Ukraine is a recent example of people coming together to pray for the safety of a suppressed people
Roe v. Wade: After the recent Supreme Court ruling that overturned the 1973 law that gave women the constitutional right to have an abortion, candlelight vigils and other protests were held across the country.