A casket holds the body or cremated remains during visitation, transportation to the services and cemetery, and  burial. It can be one of the largest expenses at a funeral, but the cost can be kept in check by selecting a moderately-priced unit, checking for the best price, or renting one.
When someone loses a loved one, there are so many things to think about. One of the decisions that often needs to be made is what kind of funeral casket to purchase. You might be surprised that there are choices far behind the traditional wood casket. Stainless steel, solid wood, fiberglass, metal caskets areavaiable, as well as many in natural fibers for green burials and cremations.
A casket holds the body to be buried or entombed.. It also presents the body viewed by mourners in an attractive and respectful manner. When it is time to transport the body to the service or the cemetery, a casket is designed to make moving the body easier. At the grave, the casket is placed inside a vault and covered with a blanket of earth.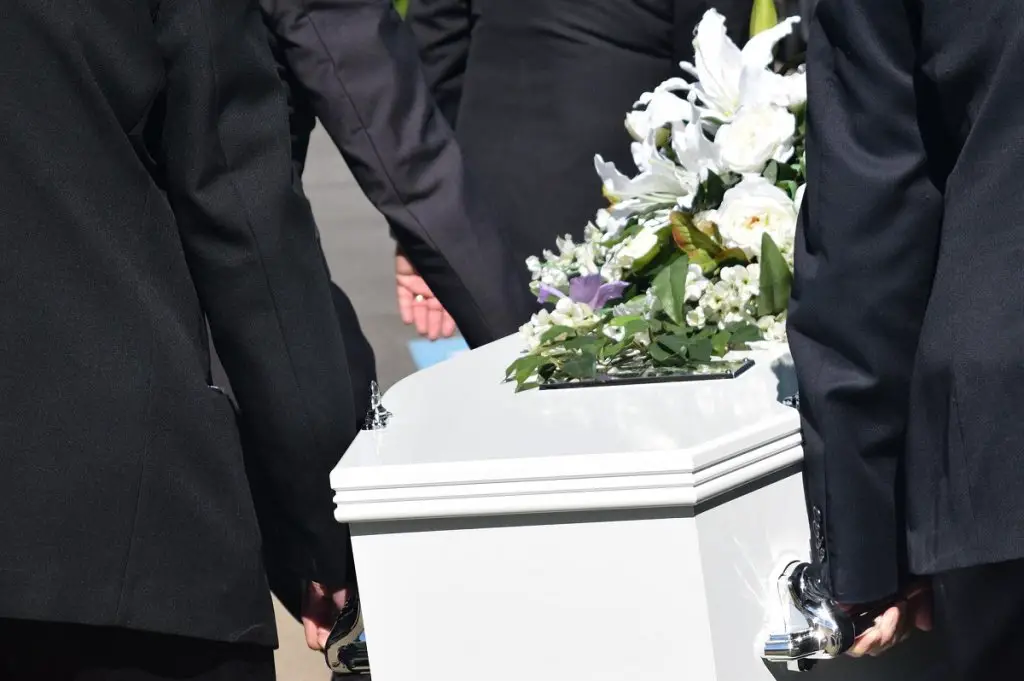 Casket Features
There are a multitude of features to consider in a quality casket.
Choice of materials. A traditional casket can be various grades of wood, fiberglass, metal, or even cardboard in some cases.
Half couch or full couch styling. Caskets have a lid that is either full or cut in half, so they are referred to as either full or half couch. If half of the person is shown and the casket is partially open, that is half couch. Full couch caskets put the entire person on display.
Lining. The interior of the casket is covered with a fabric lining that is usually made of polyester, satin, or velvet. The material may be promoted as leak-proof or puncture-proof.
Commemorative panels. The part of the casket viewable while open may be tufted, pleated, or embroidered with a few words, a Scripture, or even a picture, for an attractive look.
Exterior features. Handles facilitate transport, but ornamentation enhances appearance.
Internal lift hardware. Tilts the casket so the body can be viewed at the best angle for optimum viewing.
Memory tube. A small glass tube screwed into the casket ensures that the occupant will be identifiable even if the casket becomes dislodged or unearthed from its resting place.
Gasket or seals. Some caskets claim to have a protective gasket that makes them "hermetically sealed." This only protects the casket, not the body – and may speed up the rate of body decomposition!
When making funeral arrangements, the family can choose half or full couch stying if the body will be viewed by mourners after embalming. If there will be no viewing of the deceased, the casket remains closed, so the opening style doesn't matter.
To get a high-quality casket, you don't need to break the bank. Embellishments are for the living. The body decays after death no matter what type of coffin it is in. The Federal Trade Commission's Funeral Rule prohibits any claims that a casket with a special seal can preserve a body forever.
While funeral costs can get quite high, a good funeral director will help to steer you in a direction that works for you and your budget. When you go to make funeral arrangements, whether you are pre-planning your own funeral or taking care of things for a loved one, don't be afraid to ask questions.
What Determines The Price Of A Funeral Casket?
You can spend a lot of money on a casket as the features determine the cost. The biggest component of cost is the material the casket is made of. Wood caskets are the least expensive, followed by fiberglass ones.
Caskets can also be made out of metal. The price goes up depending on the gauge steel used. Both steel and stainless steel caskets are sold by gauge size.
Very wealthy people may find themselves purchasing a casket made of a precious metal such as copper or bronze. A casket made of these materials is significantly more expensive. A Promethean bronze casket can sell for upwards of $20,000. George Floyd, Arethra Franklin, and many other entertainers were buried gold caskets or bronze ones overlaid with gold.
The style of the casket can also bring up the price a bit. Some caskets have very ornate decorations carved into the wood or painted on the surface. You will also pay more for a casket with fancy handles or special fabric lining the inside.
If you are looking for a casket to fit a larger person, you may need an oversize casket. You won't be surprised to hear that these cost more than the traditional casket that is anywhere from 24 to 27 inches wide.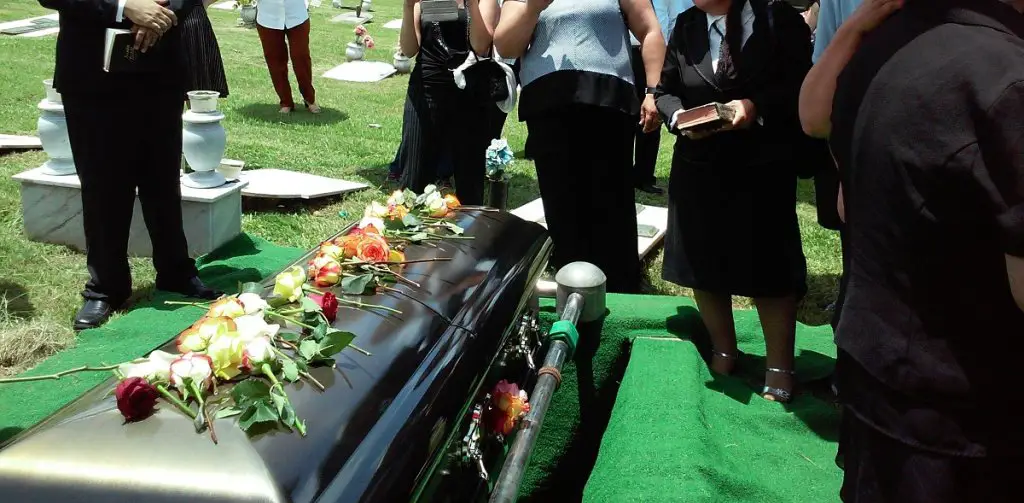 How Much Do Caskets Cost?
The average cost of a casket is between $2,000 – $5,000. The casket is often the most expensive part of the funeral. However, it does not have to be. It is important to note that casket prices vary depending on a few factors.
You can find simple wooden caskets that are very reasonably priced, or you can spend a small fortune on a solid mahogany casket with a velvet interior. What you choose depends on your personal preference and budget.
Here are some sample costs:
Simple wood caskets can be less expensive than fancier counterparts. A casket can be anywhere from $800 – $2,000 if it is simply made and not terribly ornate.
Choosing a hardwood casket will cost you considerably more money. These wood caskets can be anywhere from $2,000 – $10,000.
Metal caskets are usually somewhere from $1,200 – $5,000, depending on how fancy they are.
Cremation caskets can be as low as $20 and go up toward $1,000. When choosing a cremation casket think the simpler, the better. You can always choose to rent a funeral casket for a viewing and then purchase one for the cremation.
There are the caskets made of precious metals, which are off the charts expensive for the average person.
Can You Rent A Casket?
Are you surprised to hear that you can rent a casket? This is listed online under "things your funeral director does not want you to know." Sometimes budget requires those planning the funeral to consider the thrifty choice. You might save money by renting a casket for the funeral service and then burying your loved one in a less expensive option.
A more common reason to rent a casket is that the body will be cremated after a public viewing in the rented unit. After use, the casket is cleaned and put back into stock.
Casket rental is not a cheap option as the average cost may run between $725 and $1,250, including cloth linings. What you are paying is a convenience fee that covers cleaning the casket and transferring the body.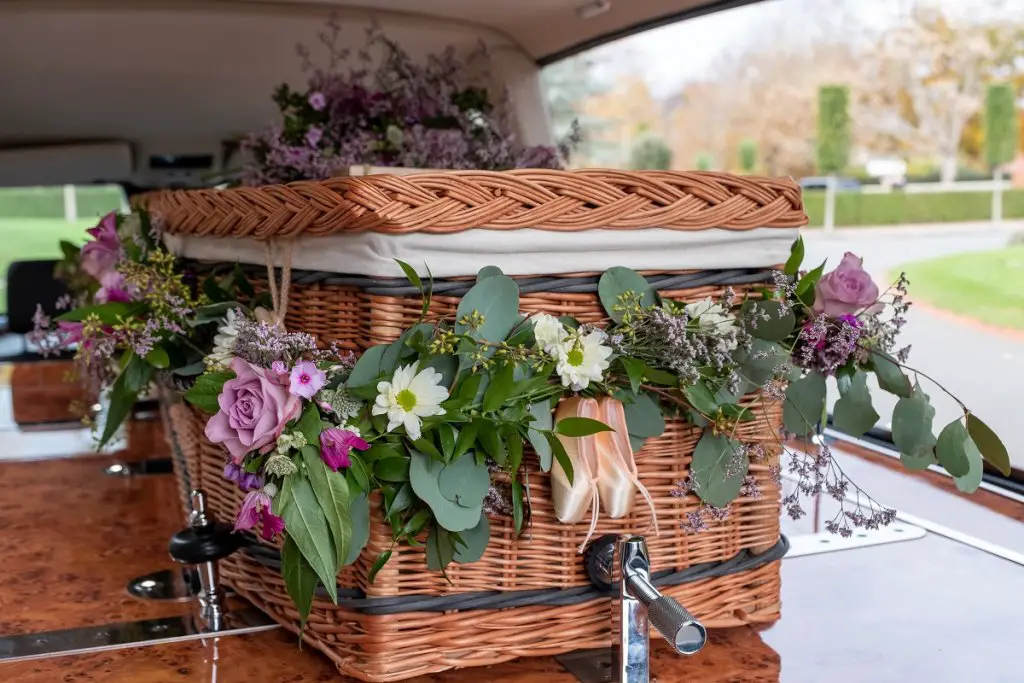 Can You Opt For A" Green Casket"?
In the United States, the casket is often seen as a focal point of a funeral and burial. However, many people whose last wish is for the carbon footprint of their burial to be less significant opt for a green casket.
Green caskets are made from biodegradable materials such as bamboo, cardboard, softwood, or other materials that will decompose quickly and naturally. The caskets made for a green burial are free from paint, varnish, and other items that would harm the environment. They may even be DIY creations made by hand.
What Is A Cremation Casket?
If you are planning to be cremated, you will need some type of cremation container. A cremation casket can be made of wood or cardboard but cannot have any metal at all on it. Most green caskets can double as cremation caskets.
Do You Have To Buy A Casket From the Funeral Home?
You do not have to purchase your casket from a funeral home. If you are unhappy with the price list or the options displayed at your local mortuary, you can seek a casket from other avenues. The FTC Funeral Rule clearly states that consumers can buy a casket anywhere they want and have it shipped directly to the funeral home, which, according to federal law, cannot charge a fee for a casket you bring in.
Many casket companies plus retailers such as Amazon, Costco, and Walmart sell overnight caskets. These can be purchased in everything from poplar to hardwoods. Amazon, for example, sells metal or rattan caskets for natural and green burials starting at less than $1,000. A savvy consumer might look at online prices before seeing how similar funeral home prices compare.
Don't let the unspoken funeral rules about getting a fancy casket or buying it from the funeral home force you to make a decision you are uncomfortable with. You can get next-day delivery in many styles of caskets if you choose to shop online. Furthermore, you don't have to spend a lot of money to give your loved one a beautiful funeral.