In Loving Memory quotes do not always use these words but express the sentiment that you remember and honor a loved one who has died. These quotes are useful in sympathy cards, eulogies, obituaries, social media posts, texts, tattoos, and other tributes.
If you're struggling to find the right words to say to someone during a difficult time, seeing examples of other remembrance quotes can be helpful.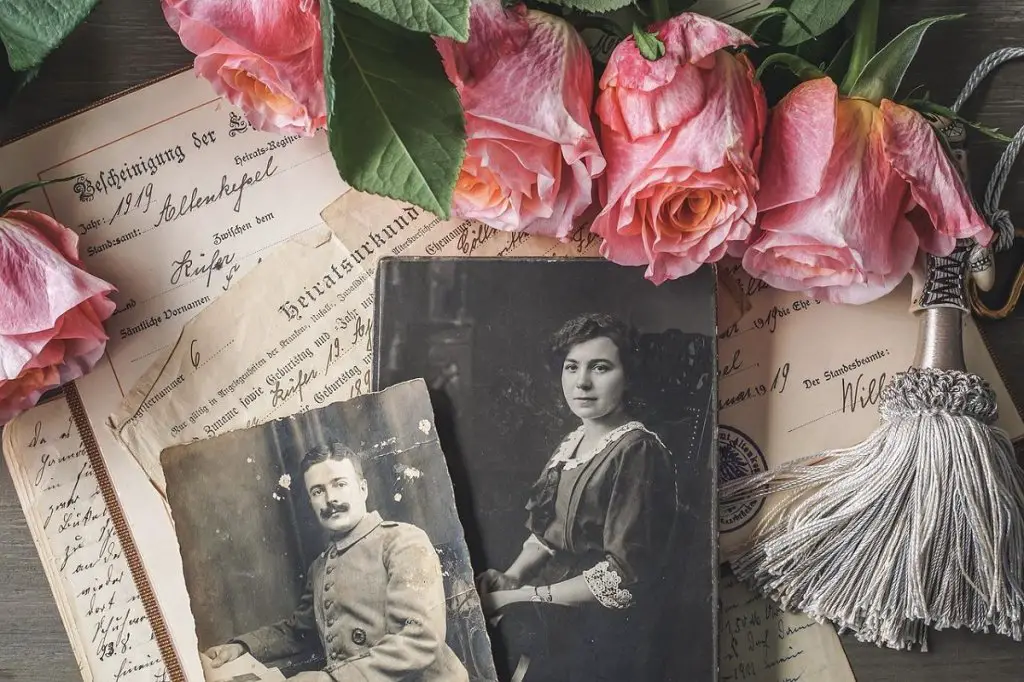 What Is The Meaning Of In Loving Memory?
"In loving memory" is often used when someone dies and something is dedicated in their name to honor their legacy. For well-known community members, that might be a library or bridge. For Aunt Marge, that might be a tree in your backyard. But the phrase doesn't have to pertain to a physical dedication; it could also be something you are doing to honor the memory of a loved one who has died. For example, "We're spending the day volunteering in loving memory of my dad, James."
How Do You Use In Loving Memory?
For its most simplistic use, put the phrase "In loving memory" after what you're doing and before the deceased's name.
[Dedication] in loving memory of [Deceased's Name].
Here are some examples:
"Thank you for coming to the memorial service today in loving memory of Jane."
"This tree is dedicated in loving memory of Aunt Marge."
"I'd like to donate to the foundation in loving memory of James."
Some other ways to honor a loved one's memory include:
Hold onto keepsakes (i.e., wear your dad's watch or have a quilt made out of your mom's dresses).
Donate or volunteer with their favorite charity.
Plant a tree or garden in their memory.
Share photos and stories with friends and family (especially small children to keep their memory alive).
Live your own life to the fullest.
What Do You Write In A Memory Post?
A memory post, also called a remembrance message, condolence card, or sympathy message, is something you write to someone mourning the loss of a loved one. If you knew the deceased, this is a good opportunity to share a favorite story or memory together. You can acknowledge that they're gone, but not forgotten. And you can offer your condolences and reassure your friend that you're there if you need them.
For example, "In loving memory of Fred, who is gone but will never be forgotten. His quick wit got us out of a jam or time or two, and I will always be grateful for his friendship. Know that I am always here for you as well."
A memory post can also be something you do for yourself, and you share it on social media, in a card or letter to family members, or in some other way where others will see it. For example, if you plant a garden in your mother's memory, you can take pictures to document the journey and share it on social media with the caption, "I planted a rose garden in loving memory of my mother, who was an avid member of our local garden club and found solace reading among her flowers."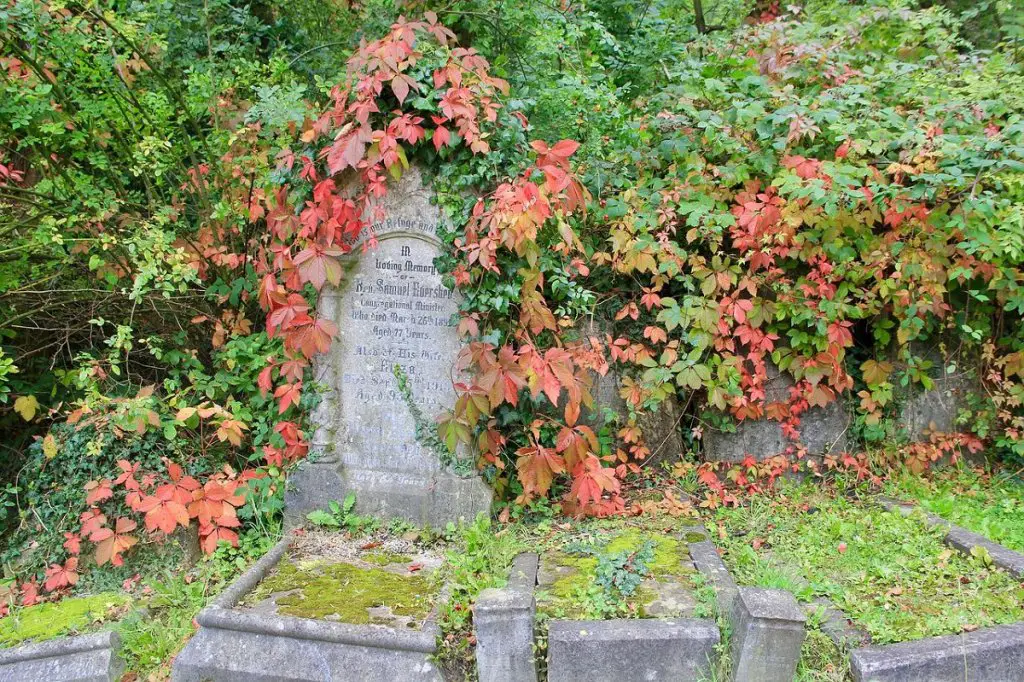 What Do You Want People To Do When They See Your In Loving Memory Post?
When people see your memory post, they should recognize that you're honoring the memory of a loved one who has died. The appropriate response is words of condolence, such as "I'm sorry for your loss," "May he rest in peace," or "I'm here for you during this difficult time."
Other Ways To Use In Loving Memory Quotes
It's also common to see the phrase "in loving memory" by itself below the deceased's picture on the funeral program. It's also a popular phrase to include in a tattoo or other piece of artwork. If something physical is being dedicated, like a garden, paver, or hiking trail, it's also common to see the phrase engraved or painted on a sign telling visitors that the location has been dedicated in honor of someone who has died.
Of course, in loving memory quotes are also engraved as the epitaph on headstones. These can be personal inscriptions, known quotes, or other uplifting messages to memorialize the deceased.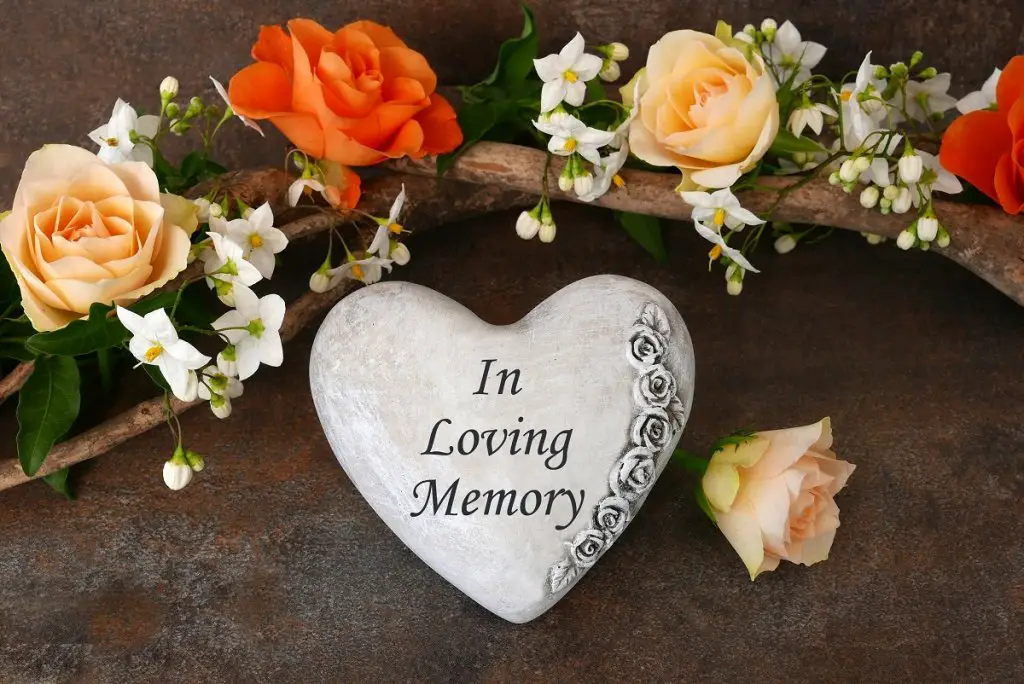 70+ Examples Of In Loving Memory Quotes
You don't have to use the exact phrase "in loving memory." There are countless ways to express your condolences and honor the memory of a loved one who has passed away. Choose from simple, short phrases, known quotes, or brief speeches given for remembrance.
"A life spent making mistakes is not only more honorable, but more useful than a life spent doing nothing." – George Bernard Shaw
"As is a tale, so is a life: Not how long it is, but how good it is, is what matters." – Seneca
"Death ends a life, not a relationship." – Mitch Albom
"Death leaves a heartache no one can heal, love leaves a memory no one can steal" – Irish proverb
"Even though I walk through the valley of the shadow of death, I will fear no evil, for you are with me; your rod and your staff, they comfort me." – Psalm 23:4
"Free at Last, Free at Last, Thank God Almighty I'm Free at Last!" – Martin Luther King
"God will wipe away every tear from their eyes, and death shall be no more, neither shall there be mourning, nor crying, nor pain anymore, for the former things have passed away." – Revelation 21:4
"Grief is like the ocean; it comes on waves ebbing and flowing. Sometimes the water is calm, and sometimes it is overwhelming. All we can do is learn to swim." – Vicki Harrison
"I expect to pass this way but once; any good therefore that I can do, or any kindness that I can show to any fellow creature, Let me do it now. Let me not defer or neglect it, For I shall not pass this way again." – Etienne Griellet
"Lights will guide you home." – Coldplay
"May love be what you want to remember." – Darcie Sims
"The song is ended, but the melody lingers on." – Irving Berlin
"There are no goodbyes for us. Whenever you are, you will always be in my heart." – Mahatma Gandhi
"There is No Light Without a Dawning. No winter without a spring. And beyond the dark horizon. Our hearts will once more sing ….For those who leave us for a while have only gone away. Out of a restless, care worn world Into a brighter day"– Helen Steiner Rice
"To live in hearts we leave behind is not to die." – Thomas Campbell
"Well done, good and faithful servant." – Matthew 25:21
"What is lovely never dies, but passes into another loveliness. Star-dust or sea-foam. Flower or winged-air." – Thomas Bailey Aldrich
"Don't cry because it's over; smile because it happened" – Dr. Seuss
"Today is only one day in all the days that will ever be. But what will happen in all the other days that ever come can depend on what you do today." – Ernest Hemingway
A long life well lived
A loyal and trusted friend
A Piece of our Hearts, Is Now in Heaven
A soul, resting eternally
Always adored, always missed.
Always in Our Hearts
Always in our Hearts & Thoughts
Always on my mind, forever in my heart
Forever in our hearts, and remembered with love
Gone but never forgotten
I miss you, mom. More and more as each day passes
I will forever hold you in my heart
I will hold you in my heart until I can hold you again in heaven
I will miss everything you did for me, dad. I can't describe how much you brought to my life.
I will remember my mom until the end of time. She will always be with me.
If love could have saved you, you would have lived forever.
In God's care
In loving memory of one so special, whose light we lost far too soon
In memory of my mom, may she rest in peace and her legacy live on after her
In our lives for X years, but in our hearts forever.
Loved beyond words, missed beyond measure.
Never forgotten, we will always love you.
Our best friend
Our Little Piece of Heaven
Our love is eternal
Raising a toast to the incredible memory of such a special person. Rest in peace.
Remembered Always
Remembering the truly amazing woman my mother was and how much I miss her
Respected, Loved, Adored, and Missed
Rest in peace
Sending prayers of remembrance for your loss
Sometimes the smallest things take up the most room in your heart
Still loved, still missed, and very dear
Such a special person
The sun has set on an amazing life
To the memory of a man so beloved and special, one who made us happier than we thought we could ever be
To the memory of our dearly departed friend – we will miss you with all our hearts.
Today we look back on a friend and loved one and mourn their passing. You shall never be forgotten.
Today we remember your life and celebrate all the wonderful memories we have
Until we meet again in heaven
Until we meet again
We may have lost you, but your spirit lives on long after you're gone
We miss you more each day
We were given a gift – of having you
We will cherish the memories we have of you and remember you're amazing life.
With a love that will echo through the ages
With us for eternity
You leave behind some of the most cherished memories I have, dad. You will always be a part of me.
You will always be with me
You will never be forgotten and will live on in our hearts.
Your legacy lives on in us, your loving family.